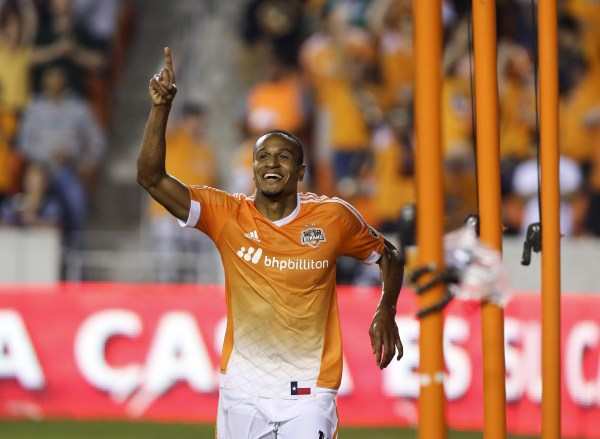 Photo by Troy Taormina/USA Today Sports
By LEOPOLDO PONCE
After ten seasons of being a Major League Soccer club, the Houston Dynamo have only a couple of players from their inaugural roster left. One is team captain Brad Davis, and the other is Ricardo Clark, who left the team after the 2009 season for a stint in Europe before returning in 2012 to a revitalized, yet rebuilding team following the loss of Geoff Cameron.
After suffering through injury woes last season, Clark has become an integral player in the Dynamo's game plan, but his contributions have really been highlighted in the past two games. Not only was he one of the three goal scorers against the Montreal Impact but also the lone goal scorer for the Dynamo against D.C. United.
Clark attributes his current success to his ability to stay in rhythm, something previously not afforded to him due to health, which included a major concussion issue last season. In addition, Clark was quick to give credit to his new manager, Owen Coyle, and his teammates for helping him to recover form.
"This season I've been able to stay healthy," Clark said, "while last season I wasn't able to stay in rhythm due to being out with a concussion for what I think was two months.
"I attribute [current success] to Owen encouraging me to get in the mix especially when the ball goes out wide…as both of my goals have come from plays that were out wide," Clark added. "Also to the runs that my teammates make, and reading where they are going in order to fill the space and get the ball in the back of the net."
It is normal for a box-to-box midfielder like Clark to see his game slow down due to the wear and tear of being a 10-plus year veteran of professional soccer. However, Clark has not been a victim due to the extra work and planning that he puts into his training regiment before and after practice, helping pave the way for his hot start to the 2015 campaign.
"I'm always trying to do extra work before and after practice," Clark said. "I attribute [stamina] to that and just putting in the effort to stay fit, be it diet or doing exercise before or after practice. I'm always looking at ways to stay at my best form."
This rejuvenated Clark has eased a Dynamo fan base that at one time last season feared they were seeing the last of him on the field due to concussion issues. However, Clark is not concentrating on what may or may not happen at the end of the season or his plans for the future. At the moment, he only has eyes for the next game on the schedule.
"Right now, I'm just focused on Saturday," Clark said. "I'm just focused on getting some more work done after practice, and then the day after that. I'm just taking it one day at a time, and doing the best that I can do. After the season, we'll just see where it all stacks up and make a decision after that."