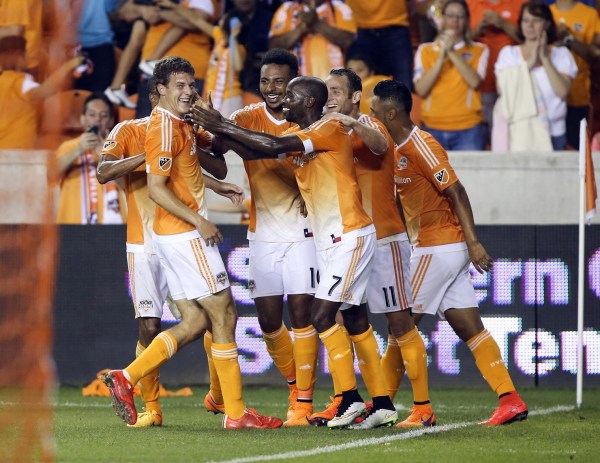 Photo by Troy Taormina/USA Today Sports
BY LEOPOLDO PONCE
There were two major takeaways for the Houston Dynamo coming out of the game against the Montreal Impact. One of them was the end of their 259 minute scoreless drought, and the other was a rookie by the name of Rob Lovejoy.
Rob Lovejoy came into the game at the 64th minute, and in just 16 minutes already had an assist and a goal to his name. To many this may have come as a surprise, but this is something that Dynamo head coach Owen Coyle has been working on since day one.
Coyle is not shy about the fact that he is trying to build competition within the team for positions, which has been done by creating a mix of younger and older players, and giving ample time on the field to any player that merits it. With the mix of talent, Coyle looks to continue "to bring youthful dynamic players to complement the experienced ones".
For Coyle, Lovejoy's play was the culmination of many of the things the club had been building towards. With one of the team's younger players shining, Coyle praised the group's unity and ability to adopt a team attitude.
"The goal was great but the celebration was even better because all of his teammates showed the warmth and the care they have for him," Coyle said. "Every one of them came and gave him a big congratulations, which is the team dynamic, togetherness, and group mentality that we want."
That dynamic contributed towards the club ending its scoreless drought, one that Coyle doesn't believe was strictly due to the team's inability to possess the ball consistently.
"We want to control possession," Coyle said, "but the important thing about possession is for all your possession you must have a cutting edge, and that's what we brought the other night on the counter attack."
That cutting edge and counter attacking soccer is something that he wants to take to their upcoming away fixture against D.C. United.  He feels as if the team is due for their first away victory especially considering their form on the road against both the LA Galaxy and Seattle Sounders in prior weeks
"From both away games [at Seattle and L.A.] I feel we don't have the points that we deserved from those performances," Coyle said. "What we must understand is that if we keep on delivering those performances then results and points will eventually come.
"I've always had the belief that home or away you always need to go in and try to win matches, but we have to make sure that we are preparing mentally as well as physically," Coyle said. "We will try to win in D.C. Will it be tough? Yes. Are we capable of it? Of course we are. That's the mentality that we are going to be taking into the game."