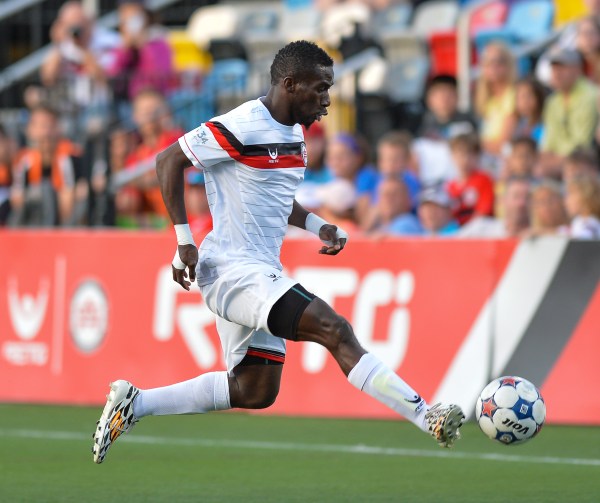 Photo by Atlanta Silverbacks
By RYAN TOLMICH
Hailing from the African nation of Sierra Leone, Atlanta Silverbacks forward Shaka Bangura has made his share of sacrifices to see the world while in pursuit of his professional dreams.
After departing Sierra Leone as a teenager to move to the United States, Bangura's career has seen plenty of twists and turns. Having played in Puerto Rico, Cyprus, Thailand and Indonesia, Bangura has always taken the road less traveled, a road that has now seen him return to his second home of Atlanta.
Bangura arrived in College Park, Georgia as a 16-year-old boy in pursuit of a better life and his soccer dreams. Now, 13-years-later, the forward has helped boost his team with a pair of goals in the Silverbacks' opening three games, writing a new chapter in a story that really began with a move away from his comfort zone as a teenager.
"I think it's just, as a young boy, friends that you grew up with, you're not seeing them," Bangura told SBI of his move to the U.S.. "You're leaving them back there. You're waking up every morning, getting ready to go to school with your friends, and then I wasn't seeing them when I woke up, and especially my mother and grandmother who are back there. Just the people I was surrounded with, that was a big factor for me, but as time goes on, I started adjusting. I made new friends here, and that made it feel like home. Things got better.
"It's always tough to leave your family behind, especially your mother, but it's also everybody's dream to come to the States. When the opportunity presented itself, I knew I was going to take it. It was just hard to leave your family and friends there. I came with my sister, which makes it easier, and my dad was also here. That helped me out a little bit, but it's always difficult to leave your family behind."
After starring at Montreat College and playing for three teams in three years following his departure, Bangura's career took a turn away from the U.S., leading to a stint in Cyrpus with Anagennisi Dherynia.
Stops with Thailand's Samut Songkhram and Indonesia's Barito Putera soon followed, leading Bangura on road that introduced him to a variety of different cultures and climates.
In the end, Bangura was drawn back to Atlanta. He signed with the Silverbacks late last season, allowing the forward to come full circle, in a way, with a return to a place he has adopted as home.
"I think traveling and always playing in a different country is something that I always wanted to do, and once the opportunity presented itself, definitely I was ready to take that adventure," Bangura said. "As far as it helping me, it's just the different styles of play, the different coaches, the different perspectives about the game. Now that I've been out there and putting it together, I think it actually helps my game a lot in terms of experience and being around people and relating.
"I consider Atlanta my second-home. It's a blessing. Every soccer player wants to play in a place that they call home. I feel pretty confident because you have your family and your friends and people you grew up with coming to support you. It gives you extra drive to do well. I feel pretty good about it."
If Silverbacks head coach Gary Smith had his way, Bangura's journey would see the forward return to where it all started, albeit in a much different light.
On the heels of Bangura's early performances, Smith continues to be impressed by the forward's ability to adapt and adjust to the team's system, prompting Smith to call for Bangura's inclusion in the national team of Sierra Leone.
"I think maybe he deserves some attention from his national squad," Smith said, "and it might be early days and I can maybe sound a little bit over the top there. The thing that's impressed me about Shaka is that, when I came to the club, he was very much an off-the-shoulder, second striker that worked off a big guy and looked to get in behind all the time. I've played him in a slightly different role and his ability to understand his job within the group, with or without the ball, has been excellent.
"His appetite to learn and to work during the week has been absolutely spot on and the product that he's produced in all three games has been instrumental in our points tally. He's been great for us and I've been astounded, if I'm honest, with how much he's taken on board, the workload he's endured and what he's offered the team. He's been great."
That greatness has come on the back of sacrifice, of which Bangura has seen plenty.
Having left his country and his family behind on a journey that has taken him all over the world, Bangura has been on quite the adventure, one that he is excited to continue as his career pushes on in Atlanta.
"Coming out here to the States helped give me the opportunity to come and realize my dream of playing as a professional," Bangura said. "I used to have a friend, a friend that I came here with, that told me to continue working hard, and I always have that in the back of my head: work hard to reach your dream. Here I am today working hard and trying to get better every day.
"People don't always understand that. Working hard, even if it's behind closed doors, it's not easy. It requires a lot of sacrifice. You have to give up a lot of things sometimes. I'm really glad. I'm just going to continue getting better. It's not over yet."