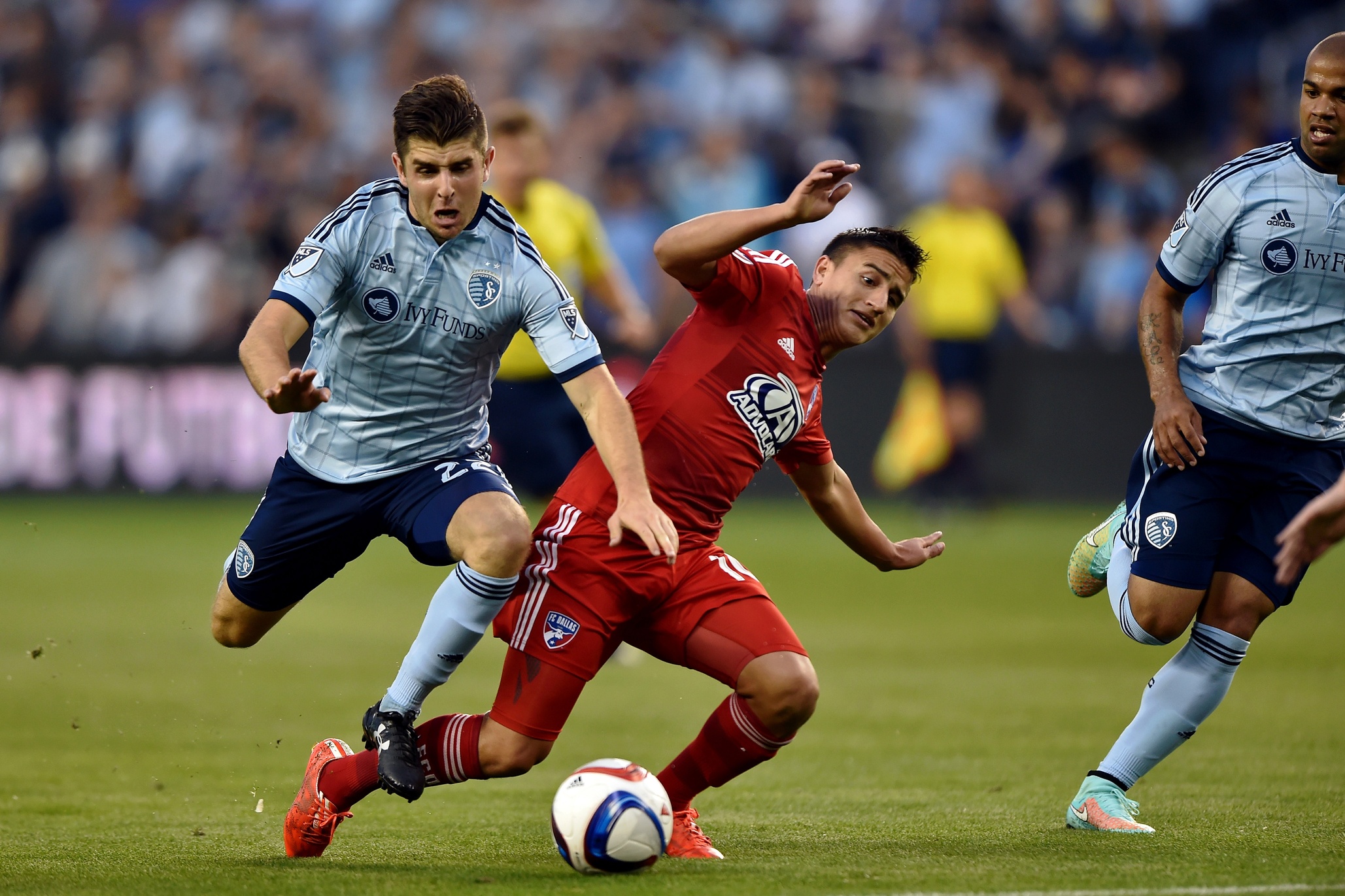 Photo by Peter Aiken / USA Today Sports Images
By SKYLAR ROLSTAD
With Sporting Kansas City's below-par home record of last season, one might have expected the team to have trouble welcoming Western Conference second-place side FC Dallas to Sporting Park.
Instead, Sporting KC extended its unbeaten streak to six games with a controlling 4-0 win.
Krisztian Nemeth recorded his third goal in his last two games at Sporting Park and also added an assist. Sporting's supreme defense also ruled the night as center backs Matt Besler and Kevin Ellis held FC Dallas to a single shot on goal.
Sporting dominated the first half, frustrating FC Dallas into nine first-half fouls. Things got even worse for the visitors just before the halftime whistle, as center back Zach Loyd was sent off with his second yellow of the game for a foul on Nemeth.
By the final whistle, FC Dallas had only managed five shots with one on goal. Sporting finished with 12 shots, six of them on goal.
FCD's first shot of the match was recorded in the 10th minute, with an off-target effort from striker Blas Perez. But until the second half, FC Dallas didn't even come close to now-set-in-stone starting goalkeeper Tim Melia.
From a set piece in the 19th minute, Sporting KC struck first. Kristian Nemeth added a sixth goal on the year with a close-range header after Ellis lost his mark and headed Graham Zusi's free kick back across goal.
"I'd be hard pressed to find any striker as good as him in our league right now," Benny Feilhaber said after the match. Feilhaber scored a goal on the night courtesy of a Nemeth assist.
Rookie Connor Hallisey, receiving his first career start, found himself two shots in the first half. He registered his team's first shot of the game with an effort driven right to the arms of FC Dallas goalkeeper Dan Kennedy in the 12th minute.
He later recorded his first career assist with the service to Zusi for the game's fourth goal.
Amadou Dia, Sporting's other first round SuperDraft pick, also started in the match. In the 83rd minute, Sporting's third rookie, Saad Abdul-Salaam, was subbed in.
At the beginning of the second half, FC Dallas quickly found its second shot of the game, and only shot on goal, in the 48th minute. Tesho Akindele stabbed a cross toward goal and forced Melia into his only save of the night.
Sporting jumped on its man-advantage three minutes later and extended the lead to 2-0 when Nemeth dribbled his way near the FC Dallas six-yard box. Benny Feilhaber tapped home Nemeth's pass, which sent the ball out of Kennedy's reach.
It only took until the 58th minute for Ellis to knock a Zusi corner kick in with his head for a 3-0 lead. Zusi continued the onslaught with a low driven shot into Kennedy's bottom left corner in the 64th minute. The goal was assisted by Hallisey.
"That was the best ive felt all season so far," Zusi said in the post-match press conference. "It's good to get on the scoresheet but I'm more impressed with the team's performance."
Zusi had previously been sitting out with a concussion sustained in Sporting's 1-1 draw with DC United on May 9. The goal is Zusi's first on the season in 10 appearances, nine of them starts.
"He looked like his normal self, and he's a really good soccer player," Matt Besler said of Zusi's return to the first team. "He makes things happen on the offensive side of the field."
With the win, Sporting moves into second place in the Western Conference with 21 points, level with FC Dallas and two behind the first-place Seattle Sounders. FCD will try to bounce back against San Jose on June 7, while Sporting remains at home to face the Sounders next Saturday.