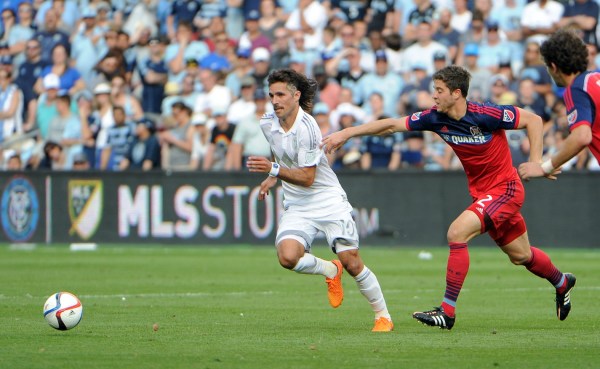 photo by Jerome Miron/USA Today Sports
By FRANCO PANIZO
Two weeks ago, Roger Espinoza teased Benny Feilhaber about his lack of goals. Feilhaber responded in the best of ways, striking twice in the very next game to punctuate a strong month that saw him either score or create more than half of Sporting Kansas City's goals.
Feilhaber had quite an April, as he directly involved in five of the club's eight April goals. The veteran midfielder bagged a brace against the Houston Dynamo on April 25, which included a dramatic volley in the 95th minute that gave Kansas City a 4-4 draw, and assisted on three more goals during the course of its three other matches. He also set up numerous other opportunities that were just narrowly missed or mis-hit.
While it was the 30-year-old Feilhaber's offensive contributions that grabbed plenty of national attention, he also helped his club by doing all of the little things defensively. Feilhaber looked as involved as he's ever been on that side of the ball, getting stuck in, tracking back and breaking up numerous plays to help win possession for his team.
He looked more like a complete two-way player and less like the offensive-minded playmaker that a few years ago didn't have the chops defensively, a development he attributes to Sporting KC head coach Peter Vermes, as well as improved fitness.
"I used to be a guy that didn't have the best fitness, and I definitely got tired throughout games," Feilhaber told SBI last week. "When you get tired you tend to lack in some areas, typically the area that you're weak at, so that's always been the defensive side for me.
"Now that I have that in place, I can do more of the running and then I'm able to, in those moments, to kind of track back, help my team defensively and at the same time do the pressing and help my team win balls and bring energy to the position. I think that's definitely one of the things that's most improved and most allowed me to become more of a two-way player."
Feilhaber has been honing his defensive skills for more than two seasons now in Kansas City under Vermes, who first coached the midfielder with the U.S. Under-20 Men's National Team back in 2005. Even then, Vermes thought it was "evident" that Feilhaber had the ability to play both sides of the ball.
But whether it was because of his skill set or because of where his coaches thought he best fit, Feilhaber found himself in a more offensive-minded role throughout multiple stops early in his career. He was mostly tasked with winning possession, keeping it and creating chances for his teammates and himself.
At Sporting Kansas City, that is no longer the case.
"The role that we have for him here is that he has to be able to play both sides of the ball," Vermes told SBI. "In his time here, he's gotten better and better as each year has gone on and I think he really understands how important it is to value that (defensive) aspect and how much of an impact positively it has on the rest of the team as well when all players are all in pursuit of the ball when they don't have it."
As good as he's looked without the ball in 2015, Feilhaber's bread and butter continues to be what he can do in the attack. His technical qualities, vision and ability to pick out that deadly final pass have all been on display this season, even more so than in his first two years in Kansas City.
So far, the numbers reflect that. Feilhaber's two goals and five assists through the first two months of the season have him in good position to break both his MLS-highs of four goals and seven assists. He also stands a strong chance of surpassing his Sporting KC statistics from 2013 and 2014, when he tallied three goals and four assists and four goals and six assists, respectively.
A big contributing factor in Feilhaber's larger offensive output is his improved fitness – he admittedly has taken that "a lot more seriously as he's gotten older" – and another is having a defensive midfielder like Espinoza playing behind him.
In fact, Feilhaber believes Espinoza has a "big influence" in his individual success this year.
"Roger is a guy that you always know he's in the back helping you out in any kind of mistake that you take," said Feilhaber. "So it allows you to kind of maybe take some more risks going forward because you know he can cover all that space in behind you. Guys on our team, we realize it goes a little bit unnoticed sometimes the amount of running, the amount of work, the amount of how he breaks down the other teams attack.
"But it really helps me be able to feel free to not only go further up the field offensively, but to press higher up the field and create problems for them defensively on our side. He's a wonderful player, and for me it's really opened up some things for me on the offensive side of the ball."
Maintaining this level of two-way play is now the key for Feilhaber, especially since Sporting KC is now in the loaded and competitive Western Conference. The club currently sits in fifth place, four points away from both first and last, and is in need of more consistency in order to make a more permanent move up in the standings.
A way to find that might be to play through Feilhaber some more, as he's shown so far this year that he is more than capable of handling the load – both offensively and defensively.
"It's something that I've been working on for three seasons now," said Feilhaber. "Obviously Peter is very big on the defensive side of the ball, not only in a defensive posture but also the pressing that we do, which is mostly in an offensive posture but it does require a lot of work.
"It's something that I definitely tried to improve in my game, and that's been necessary to for me to play on this team. Looking back on how I was three years ago, it's night and day."