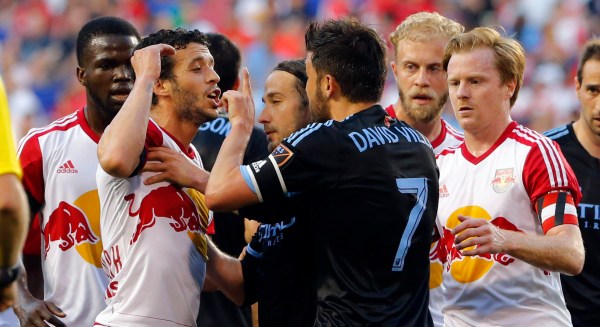 photo by Noah K. Murray/USA Today Sports
By FRANCO PANIZO
NEW YORK — New York City FC and the New York Red Bulls were reluctant to use the word 'rivalry' last time out.
That is not the case anymore.
NYCFC and the Red Bulls will write the second chapter of their fledgling rivalry on Sunday, as they square off in a rematch of the electric inaugural affair that took place back on May 10. The scene will shift from Red Bull Arena to Yankee Stadium this time, and more than 40,000 tickets have been sold for the next installment of the battle for New York supremacy.
Both clubs enter the match in vastly different forms than when the Red Bulls topped NYCFC, 2-1, on Mother's Day. Whereas the Red Bulls were the more in-form team a month ago, they now are mired in a rough stretch that has seen them win just once in their last six games. NYCFC, meanwhile, has vastly improved and is riding a three-game winning streak that has brought it within striking distance of a playoff position.
Still, as the first match showed us, recent form and records will likely all become secondary once the ball gets rolling on Sunday.
"I think it's pretty fair to be able call it a rivalry now," said Red Bulls captain Dax McCarty. "I would've liked to not have that red card in the first game, but you could see the intensity on the field. It means a lot to the guys. It means a lot to our players, I know it means a lot to their players.
"When you hear things like 45,000 tickets sold or whatever it is, that's the stuff you really look forward to as a player. It gives you goosebumps, and those are the games you want to play in. It feels real, it feels like a good rivalry."
As good as it might feel, there is no real bad blood between the two clubs. Evidence of that came on Thursday as both clubs had players and coaches pose for photos together and take turns answering questions at an MLS-organized press conference in New York City.
Sure, there is still a level of competitiveness that is being driven by their rabid fanbases and the players' desire to claim bragging rights in a city that loves its winners. But the animosity and tension that most of the biggest rivalries in soccer share is missing in this New York feud, mostly due to the fact that it is still in its infancy.
Regardless, tempers will probably flare on Sunday as the majority of the league turns its eyes to the Bronx. It happened in the first meeting – there was plenty of pushing and shoving as the match wore on – and probably will again as the two teams try to impose their wills on one another.
"(The Red Bulls) play a high-tempo game, they try to press you in your half of the field, and they make it difficult for teams to build out," said NYCFC head coach Jason Kreis. "We happen to be a team that wants to build out and dictates the tempo of the game, that wants to be a high-possession group. I think it's an interesting match-up.
"Obviously, the Red Bulls did a better job in the first game, that's why they won the game, but I feel that we're a much better, much improved and a different team now than we were just that short time ago. I think it's going to be a very intriguing match on Sunday."
NYCFC enters the match with a slight advantage. The expansion club was off during Wednesday's jam-packed slate of games, and has had the entire week to prepare for the Red Bulls. Jesse Marsch's side, meanwhile, played the second of three games in an eight day stretch on Wednesday, and now faces a short turnaround with fatigue accumulating.
The good news for the Red Bulls is that they gained confidence by winning that Wednesday fixture, defeating a nine-man Real Salt Lake side, 1-0, at Red Bull Arena. They also counted on some reserves in that match, meaning that the strongest starting lineup is likely to take the field vs. NYCFC.
"We should have some fresh legs on the field, and I think this will be close to our first group," said Marsch. "We haven't really been able to put that on the field quite yet this year. We're not totally certain. We're still checking in with guys physically to see where they're at and how they're coming along, but I expect us to be ready to go.
"This isn't a game that's going to require a lot of mental motivation from me or big speeches. It's just a matter of getting our team prepared, making sure that we know what to expect and then letting them go out on the field and do their jobs and compete at a high level. We'll be ready, that's for sure, no doubt."
Fans of both teams appear ready to their part to boost the rivalry, with the match expected to be a sellout crowd of 48,000 by the time proceedings kick off on Sunday. If the first meeting between these teams was any indication, Sunday's clash should offer another memorable atmosphere.
"People came out in great numbers and it seemed like everyone was really excited about the night," said NYCFC defender Chris Wingert. "Hopefully we continue to grow that, and it sounds like that's already the case with 40,000 tickets sold. We're looking forward to it."
Added McCarty: "For that to be the first game to play against them, in our stadium, for it to be that loud, that vibrant, that electric, it was truly eye-opening for me how much it means to this city and how much it means to both fanbases."