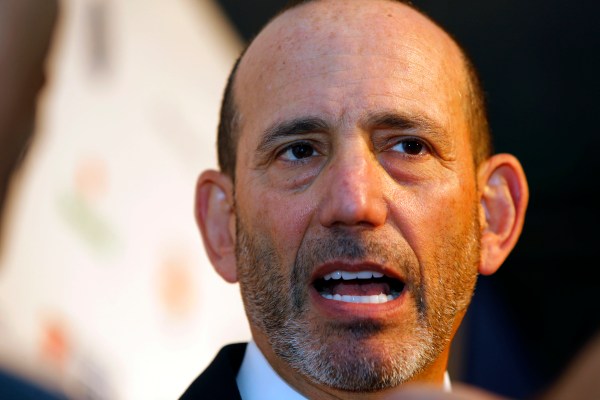 photo by Noah K. Murray/USA Today Sports
By FRANCO PANIZO
NEW YORK — Working out a deal to build a soccer-specific stadium is almost never easy.
Miami and New York City are serving as a reminder of that.
MLS commissioner Don Garber gave brief updates on David Beckham and NYCFC's respective pursuits for stadium deals on Thursday by essentially saying that there are no updates to give. Beckham is currently trying to finalize a stadium deal in Miami to officially be awarded an MLS expansion franchise while NYCFC is trying to find a suitable location for a soccer-specific venue of its own.
There has been a lack of substantial progress in both markets in recent months, but reports have linked Beckham's group with a site near Marlins Park just west of downtown Miami. Garber, however, did not sound overly enthused when talking about Miami's search for a stadium despite saying he remained optimistic in the South Florida metropolis.
"We're spending a lot of time on the subject, and there's been some momentum," said Garber. "I was down there last month and meeting with some city leaders. I can't give you any update based on what's happened the last month or so, but we hope to continue to work on that project. We'd love to be Miami."
In New York, NYCFC is still looking for a place to build a stadium of its own. The expansion club currently plays home games at Yankee Stadium thanks to a baseball-to-soccer field conversion that takes 2-3 days, but that arrangement was said to be a temporary fix that would last, at most, a few years.
NYCFC has not provided much in the way of updates recently, and Garber also had little to say regarding the situation.
"These guys continue to do what they can to work on that project," said Garber. "Having worked for a really long time on a project for the (New York) Red Bulls, (we know) these things take time. They're a very focused, passionate ownership group and they know that it's got to continue to be a priority, but nothing for me to talk about."
Some have speculated that NYCFC's search for a stadium may lead the club to look at locations outside of New York City's five boroughs, but Garber stated that is not something  that New York City FC is considering.
"It's a five-borough project. That's what they're focused on," said Garber. "They're very, very focused on building in the five boroughs, as well they should be. They're a New York City team, so their focus is 100 percent around building in the five boroughs."