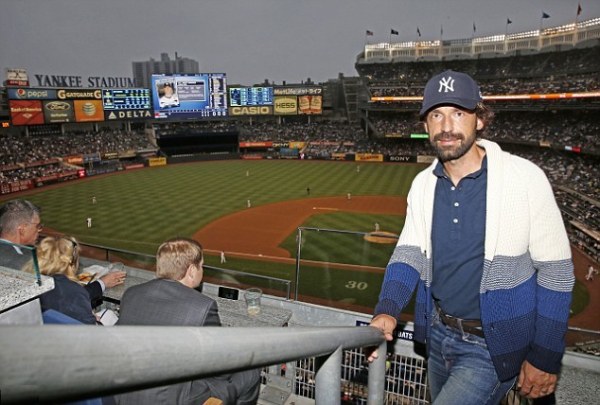 By IVES GALARCEP
Rumors of Andrea Pirlo joining New York City FC have been floating around for months, but the talk reached a fever pitch over the weekend after Pirlo spent a few days in New York City, and also spent a day at Yankee Stadium with NYCFC leadership.
Multiple reports began dropping of a Pirlo-NYCFC deal being done, starting with a Sporting News report late Saturday night that state he would be unveiled on Friday. Italian  newspaper Gazzetta dell Sporte claimed Pirlo would join NYCFC in 2016, while the New York Daily News reported on Sunday that Pirlo was "on the verge" of signing with the MLS club, and says the acquisition will give NYCFC the most expensive roster in league history.
The series of events are, on one hand not all that surprising, but Pirlo's arrival would be somewhat surprising if only because of comments made by NYCFC head coach Jason Kreis back when the club was linked with Xavi earlier in the season. Kreis suggested the club wanted to sign a younger third Designated Player to go with the two DP signings currently on the books (33-year-old David Villa and 37-year-old Frank Lampard).
The Daily News report suggested Pirlo's acquisition was driven by NYCFC's parent company, City Football Group, which owns Manchester City. That might explain how it went down even after Kreis' previous comments about wanting a younger DP.
However it actually went down, everything is pointing to the World Cup winning midfielder joining Frank Lampard as summer reinforcements for an NYCFC team that suddenly looks like a real threat in just its first year of existence.
What do you think about Pirlo's impending arrival? See NYCFC being a force in year one with the arrivals of Pirlo and Lampard?
Share your thoughts below.