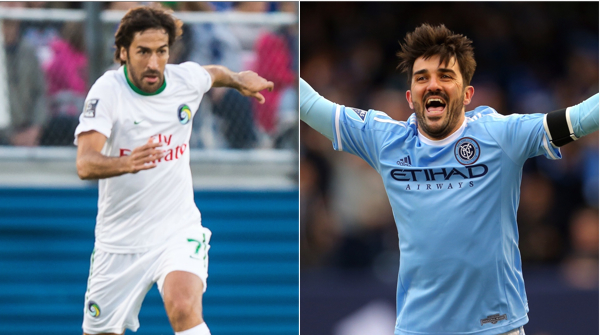 By RYAN TOLMICH
Long before the New York Cosmos kicked a ball to start the 2015 season, head coach Giovanni Savarese stated his intentions of making a run through the U.S. Open Cup. That run continues on Wednesday in a matchup that has even more implications than just a typical tournament match.
The Cosmos play host to New York City FC on Wednesday, marking the first matchup between the two New York-based clubs. For Savarese, Wednesday's clash presents a series of opportunities to not only see his team advance in a competition the club so desperately covets, but to further the game in a city that is starting to become a hub of soccer culture.
"I think these are the great matches to build soccer and this sport in the United States, especially now in this city, New York City, that we try to be the most important city in this sport," Savarese said on a conference call. "Now with three professional clubs in the area, for us, this match is great and for the fans, we're glad there's going to be a good crowd for New York City Football Club coming in. I think the atmosphere is going to be tremendous.
"We need more matches. When you talk about Europe and some of the derbies, they go back years before, and now we're starting to build the new history of soccer in New York with these kinds of matches. Last year we played the New York Red Bulls, and the New York Red Bulls have played New York City Football Club, and now we get to play New York City Football Club. Our mentality is to give the best opportunity for the fans to be proud and to be able to compete and get the win."
While much of the focus will remain on the off-the-field opportunities for both sides, Savarese was quick to point out that both sides pose a series of on-the-field problems for one another.
NYCFC, led by David Villa, is rounding into form, riding back-to-back wins after enduring a brutal 11-game winless stretch. Meanwhile, the Cosmos enter fresh off of an undefeated Spring campaign in NASL play.
With both teams entering on just four days rest, Savarese expects NYCFC to field as strong a lineup as possible, despite the Cosmos built in advantage of having a few weeks off following the conclusion of the Spring campaign.
NYCFC head coach Jason Kreis agreed with that sentiment, admitting the game's importance for NYCFC's lofty goals. With the tournament's winner claiming a CONCACAF Champions League place, Wednesday's match presents an opportunity for NYCFC to seize a spot in the country's elite.
"We're not going out there as if we're playing some type of friendly. We're in an Open Cup and we're there to win trophies," Kreis said. "For me, it's one of the most advantageous because you only have to win four or five games and all of a sudden you've won yourself a trophy and you've gotten yourself into the CONCACAF Champions League. For me and this club, that's going to be a big goal."
While Kreis remains focused on continental play, Villa, a veteran of plenty of Spanish derbies, sees an opportunity to build a rivalry. Having already faced off with the Red Bulls this season, Villa sees the matchup with the Cosmos as another chance to recapture that European feeling as two rival teams in close proximity butt heads with trophies on the line.
"It's obviously a very important game for us," Villa said. "Now we're going to start our first game in the Cup and we'll be playing in two competitions. We want to get as far as possible in this U.S. Open Cup.
"It will be an attractive game for the fans because the Cosmos are a different derby. We have obviously played the Red Bulls in MLS, but this is a derby that we can only see in the cup, so I hope we continue on this good run and win."
Both sides understand that bragging rights will certainly be on the line, despite the relative newness of the rivalry.
Having both already experienced a rivalry matchup with the Red Bulls, the pair of teams know the importance of each and every matchup. Last year's U.S. Open victory over the Red Bulls was a season highlight for the Cosmos, while NYCFC's defeat earlier this season sent the club to an even lower depth during the club's winless run.
Despite that, Savarese says that Wednesday's matchup is about much more than just being the best in New York, a claim he will leave to the city's population to decide. Rather, the matchup is meant to serve as a proving ground, one that can show that the Cosmos are on equal footing with each of their local rivals.
"I think for us more than being the best team in New York, I think that's more for the fans, but I think for us it's more about demonstrating that we can compete and that we are a team that is difficult to beat, a team that can play with anyone," Savarese said. "We demonstrated that last year, but we very seriously want to demonstrate that in New York, we're not behind anyone and that we're a very tough team, a strong team.
"We're coming with the mentality that, for us, it's a big match and we want to win this match, but it's more for us to demonstrate that we have a very good team and for the fans to claim maybe who's first in New York."