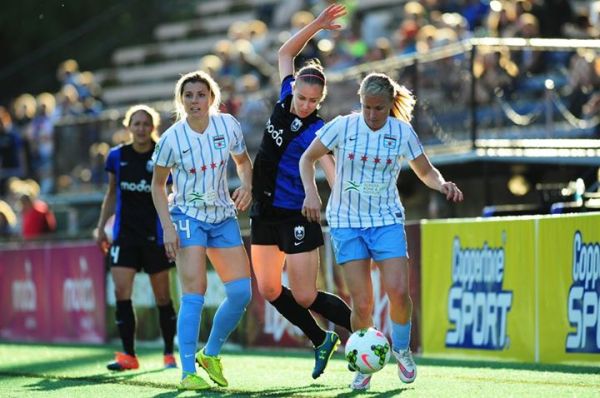 By SKYLAR ROLSTAD
In one of the lowest-scoring weekends in the season so far for the National Women's Soccer League, the top-of-the-table Chicago Red Stars stayed above the competition, though with an unexciting scoreless draw against the Seattle Reign.
While the Western New York Flash had the weekend off, Sky Blue FC did what it could to gain a point from the Houston Dash, a team that has got along well since losing its national team stars Morgan Brian, Carli Lloyd and Meghan Klingenberg.
Here's a closer look at this past weekend's NWSL action:
SPIRIT BOUNCE BACK TO TOP THORNS
The Spirit bounced back from a loss to the Western New York Flash last weekend by staying within reach of first-place Chicago with a 2-1 win over Portland.
Crystal Dunn has been one of the top players in the league in recent weeks. The Spirit defender scored another goal in this game, a 27th minute strike which would prove to be the winner.
Here are the match highlights:
BREAKERS TOP FC KANSAS CITY
While FC Kansas City typically can control a match, the team was thoroughly beaten in Boston on Saturday by a 1-0 scoreline.. The Breakers' 19 shots dominated Kansas City's nine in a second-straight defeat for Kansas City.
Boston, on the other hand, has rebounded from a 3-0 thumping against Chicago earlier in the month with a three-game unbeaten streak. The Breakers have claimed seven points from their last three games and have risen to third in the standings.
Here are the match highlights:
REIGN, RED STARS PLAY TO SCORELESS DRAW
The Chicago Red Stars earned a point with a scoreless draw in a Seattle road trip to stay two points ahead of the Washington Spirit with 15 points on the season.
The Reign and Red Stars simply did not combine for an eventful game and managed to cancel each other out for a scoreless draw.
Seattle remains in the bottom half of the NWSL table, although the club has only played six matches so far (every other team has played seven or eight) and is third in the league in scoring with 11 goals.
Here are the match highlights:
SKY BLUE FC EARNS DRAW WITH DASH
Sky Blue FC brought itself into a bottom-of-the-table tie on points with the Western New York Flash this weekend by battling for a 1-1 draw against the fifth-place Houston Dash, although Sky Blue was close to claiming a win.
Amateur call-up Allie Bailey scored her first ever NWSL goal in the 86th minute to bring the Dash a draw. Sky Blue FC's goalscorer, Hayley Haagsma, also put a debut goal in the back of the net in the 11th minute.
Here are the match highlights: