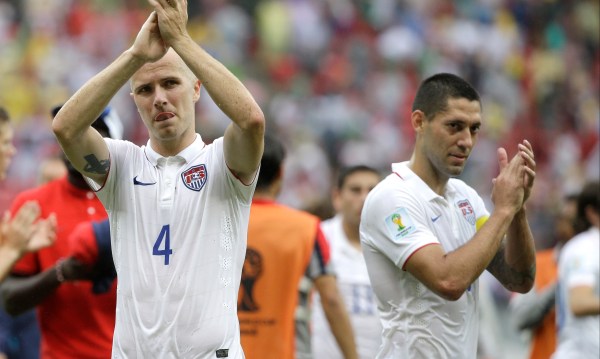 By FRANCO PANIZO
Clint Dempsey has served as the U.S. Men's National Team captain for the past two years, but his recent referee fiasco combined with another lynchpin's strong international performances might pave the way for a change next month.
The U.S. will begin its quest to win a second consecutive CONCACAF Gold Cup early next month, and one of the many things head coach Jurgen Klinsmann is likely to consider is who should be his captain for the first major tournament of the new World Cup cycle.
While it has been Dempsey who has mostly sported the armband since 2013, Michael Bradley has made a real good case for himself in recent months. Bradley has led the Americans in Dempsey's absence in a number of the U.S.'s most recent friendlies, and been a major contributor with his impressive outings and leadership qualities in wins over Mexico, the Netherlands, and Germany.
Further helping Bradley's cause is Dempsey's recent run-in with a referee during a U.S. Open Cup loss, one that saw the Seattle Sounders take the official's notebook and rip it up. Klinsmann sounds unlikely to punish Dempsey for that incident, but could be tempted to name a new captain in Bradley after seeing the Toronto FC ace turn in such consistently positive performances.
Klinsmann may also take into account that Bradley has been an integral part of the Americans' preparations for the Gold Cup. Whereas Dempsey has only played in two friendlies this year back in the annual winter camp, Bradley has started all seven of the U.S.'s exhibitions.
Neither Dempsey or Bradley would make a bad choice for captain next month, and both will surely help lead the Americans regardless of who wears the armband. Still, a decision will have to be made by Klinsmann in the coming days as the CONCACAF tournament approaches.
With that, we pose the question to SBI readers: Who do you think should be the U.S. captain during the Gold Cup? Cast your vote after the jump.

[polldaddy poll=8948314]
Should it be Dempsey or Bradley who is the USMNT captain during the Gold Cup? Think you cannot go wrong with either? Should it be someone else entirely?
Share your thoughts below.