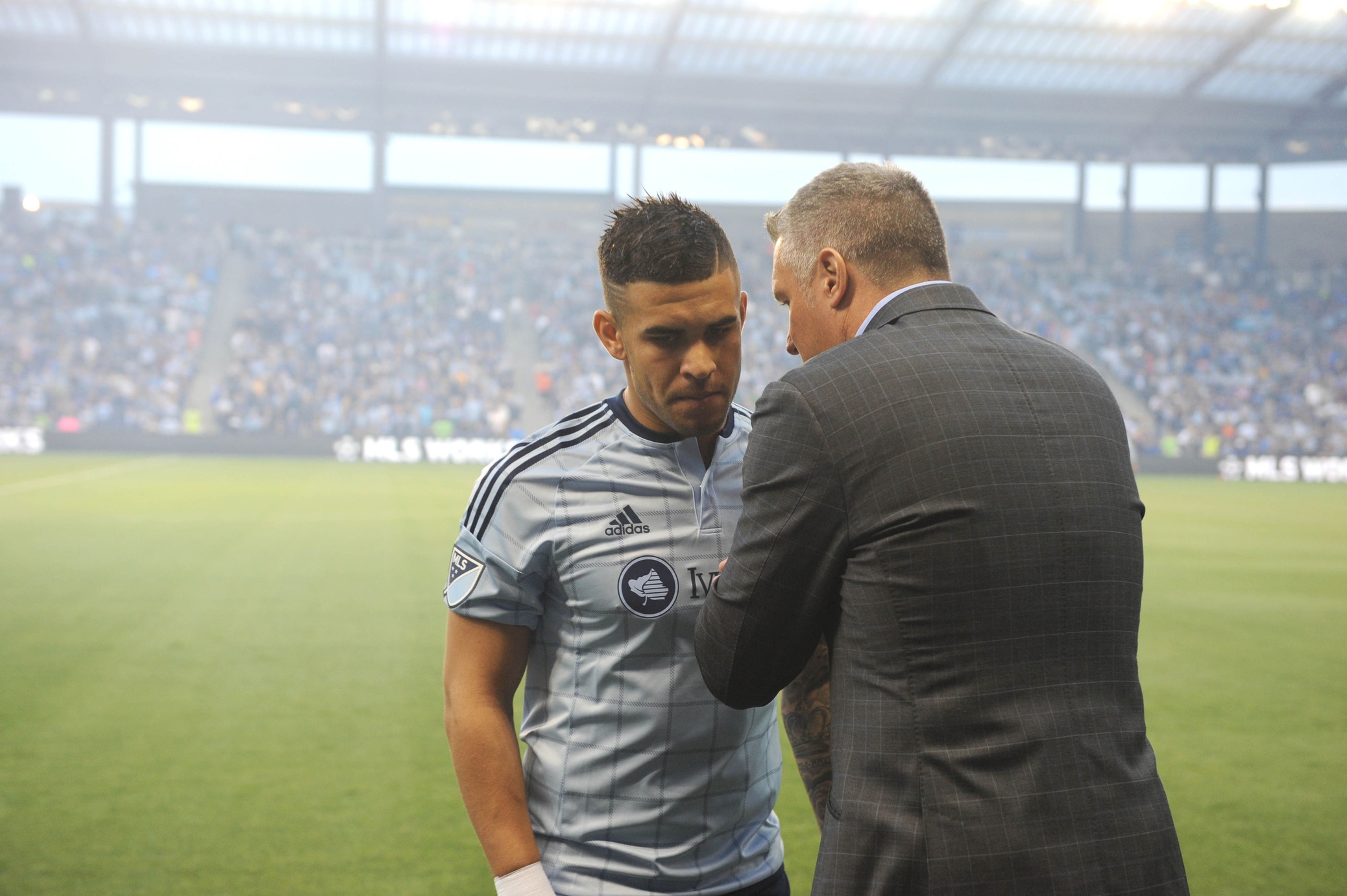 By SKYLAR ROLSTAD
Sporting Kansas City might get a boost up top this weekend.
Dom Dwyer returned to Sporting KC's practice earlier this week. He has been kept out of the previous two games with a groin injury, but could make his way back onto the field i n Kansas City's clash with the Seattle Sounders on Saturday.
In the team's press conference on Thursday, head coach Peter Vermes said Dwyer, who is nursing a few other minor knocks in addition to the groin problem, is "questionable to probable."
With Krisztian Nemeth out on international duty and Dwyer not at full health, Vermes said Sporting KC draft pick James Rogers could see his first minutes of the season at center forward.
Here are more Sporting KC notes:
SINOVIC DOUBTFUL FOR SOUNDERS CLASH
Sporting KC defender Seth Sinovic warmed up and participated in non-contact training during the week but sat out for most of Tuesday's practice. He was declared doubtful with a concussion.
Marcel de Jong's return to health comes at a good time for the Canadian international. De Jong will most likely be starting at left defender on Saturday.
Jacob Peterson did not play in Sporting's 4-0 win over FC Dallas last week due to a right hamstring strain. He is, Vermes said, "questionable to probable" for Saturday along with Dwyer.
Paulo Nagamura is out due to a lower back strain. He trained away from the rest of the team during the week.
MELIA TAKES STARTING ROLE
Tim Melia's second game as set-in-stone starter in goal will be Saturday. Chilean goalkeeper Luis Marin unexpectedly parted ways with Sporting KC last week due to personal reasons. Marin has since signed with Chilean side Palestino.
NOTA I LUIS MARÍN: "LLEGO A UN CLUB CON MUCHA HISTORIA EN CHILE" http://t.co/TV5xusUWdj pic.twitter.com/7ZKG7uyDvs

— Club Deportivo Palestino (@CDPalestinoSADP) June 4, 2015
Melia isn't one to reflect on how he came into the role, but looked forward to leading the team into its matchup against Seattle.
"Obviously this team has helped me tremendously," Melia said, "but [starting is] just something that I've worked for for quite some time now."
SEATTLE MATCH-UP LIKELY TO RESEMBLE MOST RECENT ONE
Two weeks ago, Sporting KC played in Seattle against the Sounders to a scoreless draw. The game was a battle for Sporting but the team happily left the field with an away point. Sporting was missing Dom Dwyer, Roger Espinoza, Seth Sinovic, Marcel de Jong, and Graham Zusi.
Sporting escaped the game with 35 percent possession.
"We're just giving everybody a taste of their own medicine," Vermes said of the draw in Seattle after voicing some frustration at teams' tendencies to bunker on defense at Sporting Park.
This time, Dwyer is likely not to play again. Sporting is also missing Nemeth, Peterson and Nagamura.
For the Sounders, Clint Dempsey is expecting a child soon and may have to miss the game. Midfielder Osvaldo Alonso was handed a suspension by the MLS Disciplinary Committee and will miss the game. Sounders defender Brad Evans is away with the United States national team and striker Obafemi Martins could miss the game after having nose surgery.
However, the Sounders may start new midfield signing Thomás on Saturday for his Sounders debut.
VERMES IMPRESSED WITH NEMETH'S START
Nemeth was named MLS player of the month for May on Thursday. Since joining Sporting KC, he has scored six goals. Nemeth had three goals and two assists in the month of May.
Peter Vermes said he was surprised at how quickly Nemeth has seen success.
"The one thing I think hes starting to learn more, here, is the defensive side," Vermes said. "I'm surprised at how fast he's adapted but I'm not surprised at his quality."
Nemeth's game has improved, but Vermes said it has also become more complete as his strength and physicality improves.
"He's getting something here that I don't think he's necessarily going to get in Europe," Vermes said. "We pay attention to the physical side of the game here and he's getting stronger."
When you're building yourself up one of the difficulties is that you're surviving, you're not dominating. In some moments I think he's shown that he can dominate."
Nemeth has been named to the Hungary squad for a friendly against Lithuania on Friday, June 5 and a Euro 2016 qualifier against Finland on June 13.
Nemeth will not be available Saturday due to the call-up.