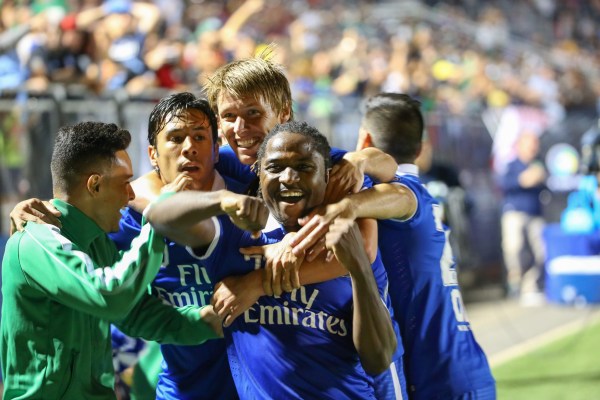 Photo by Anthony Gruppuso/USA TODAY Sports
By RYAN TOLMICH
For the New York Cosmos, Wednesday's night matchup with New York City FC was about much more than just laying claim to some Big Apple bragging rights; it was about sending a message.
The Cosmos erased a 2-0 deficit Wednesday night, coming from behind to top NYCFC on penalty kicks, 4-3, to advance in the U.S. Open Cup.
For months, head coach Giovanni Savarese has talked up the U.S. Open Cup and its importance to the team, making Thursday's matchup with their cross-city rivals about much more than a potential rivalry or New York City dominance.
Savarese says that the Cosmos come into every game with a point to prove, but the head coach admitted that Wednesday's game did give the Cosmos that bit of edge. Taking down, and beating, a local MLS side for the second season running gives the Cosmos something the team so desperately desires: legitimacy.
"We don't look at it like we're the best team in New York," Savarese said after the game. "We look at it as that people have to know that we can compete with anyone in the United States. Every time that we take the field, we are a competitive team. As I've said before, if the fans want to talk about that, that's on them.
"I have to say that they played a very strong match today. New York City Football Club took this seriously, we respect that, and they came to give us a fight, which is what we wanted. As I said before, we really believe in our team. We believe that we can compete with anyone. We have a very strong mentality. We have some interesting players, so I think that we are a team that can compete."
Compete is exactly what the Cosmos did. Despite being down a pair of goals in the second half, the Cosmos came back to equalize through a Lucky Mkosana 90th-minute leveler. With NYCFC having a chance to win in penalty kicks, goalkeeper Jimmy Maurer persevered, made the save and ultimately helped earn the Cosmos the win.
Like Savarese, Maurer and the rest of the Cosmos players were coy when it comes to staking a claim as the best team in New York. However, Maurer did admit that facts are facts, and if you look at their records, the Cosmos have a unique claim.
"On the run, we're 2-0," Maurer said with a smile, referencing last season's victory over the New York Red Bulls. "I don't want to get too much into it, but we're 2-0. We haven't lost yet, so hopefully we can keep it going."
The Cosmos will now keep their U.S. Open Cup run going, with the draw set for Thursday. However, it was hard for some of the team's players not to take a moment or two to reflect on a game that meant so much to the team.
Goalscorer Leo Fernandes said the victory was "amazing" while both Mkosana and penalty kick scorer Hunter Gorskie called the night not just one of the best of their careers, but of their entire lives.
Gorskie in particular hopes there are many more nights like this, as the defender spoke highly of the atmosphere created by both his side's fans and the traveling NYCFC faithful. The defender says that games like these are the ones that build a team, as the Comsos topped a local rival while continuing their push towards a spot in continental competition.
"I think for us there is a big emphasis on the Open Cup and establishing ourselves as a global brand," Gorskie said. "Playing a quality side, an MLS side, there's a little extra in that and I'm just glad that we could go out and prove that we're a talented team and a force to be reckoned with.
"I think the brand has already been build with the Cosmos of old and we're just trying to maintain that legacy. Obviously the goal is to win the Open Cup and get into CONCACAF and really compete on an international level."
But for now, the focus returns towards the next step. Having wrapped up an NASL Spring crown and taken down their local rival, Savarese says the Cosmos are just starting to heat up. At the end of the day, the Cosmos are still a long way away, even if Wednesday's victory may just go down as one of the biggest in the club's young history.
"We did well last year and we also want to do well this year," Savarese said. "The win is showing that we are a team that can compete. Regardless of whatever people could say about the level of the NASL or the level of our team, we're capable of achieving great things.
"For tonight, besides delivering a great match for the fans, it's being able to qualify for the next round. It puts us now closer to our goal."