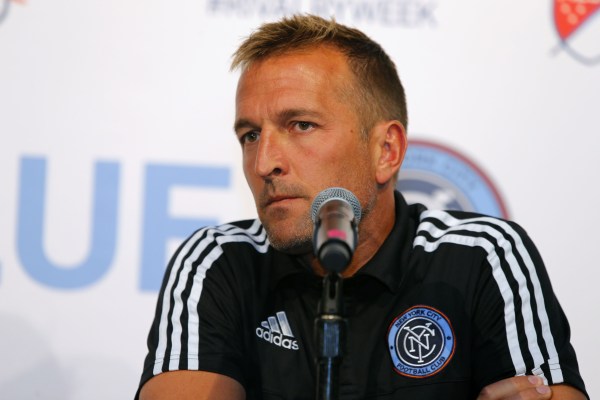 Photo by Noah K. Murray/USA Today Sports
BY MICHAEL PENG
NEW YORK — In what has been a bit of a roller coaster season for New York City FC thus far there have been more lows than highs for the expansion club up until this point.
The team, after its latest 3-1 loss to crosstown rivals New York Red Bulls, currently possesses just 17 points through 17 contests on the season and sits in ninth place in the Eastern Conference.
However, the cavalry is on the way to perhaps help this club climb out of its current predicament.
Frank Lampard, for one, will officially begin his tenure with NYCFC beginning July 1 and is expected to train with his newest club this week.
"Obviously, it's big for us," NYCFC midfielder Mix Diskerud said on Lampard impending participation. "He's a legendary player and he will add a lot to the club. I'm definitely excited to train with him and I'm sure I can learn a lot from him."
"[Lampard's] resume and what he has done in soccer speaks for itself," added midfielder Tommy McNamara, "and to have someone so experienced with a lot of leadership qualities would make a very positive addition to our squad, not to mention his talent."
Apart from Lampard, a pair of Spanish defenders in Jose Angel Tasende and Andoni Iraola will also be eligible for selection beginning July 8 to beef up what has been an inconsistent NYCFC defense so far this season.
Tasende was acquired on loan two weeks ago from Manchester City, where the 18-year-old Spanish youth international impressed NYCFC head coach Jason Kreis and was quoted to have a "fighting mentality that you want to see in a young professional" by Kreis in the press release.
Iraola, meanwhile, is coming off a successful and lengthy career with Athletic Bilbao. The 32-year-old right back made 510 appearances (406 league) with 38 goals for Bilbao over the past 12 seasons and also earned seven caps for the Spain national team from 2008-11.
"We've said all along that we were going to be looking to improve this team in the summer," Kreis reiterated on Sunday. "I think we are going to do that, so I'm excited about that."
However, while the three mentioned above are sure to join the club in the coming days, it is the potential arrival of Italian legend Andrea Pirlo that has everyone buzzing for weeks.
The swirling rumors about Pirlo's possible signing with NYCFC only appeared to inch closer to facts when Pirlo was shown on the Yankee Stadium jumbotron along with Lampard during Sunday's game, promptly drawing "We want Pirlo" chants from those in attendance.
Team personnel, including Kreis and the players, have played coy in responding to Pirlo questions for weeks, but should the 36-year-old superstar don the sky blue in the near future, it would not only give NYCFC one of the more competitive lineups in the league, but also the most expensive payroll in MLS history.
Until all things are made official, however, all there is for NYCFC to do is to play the hypotheticals.
"Is he coming?" McNamara jested with the media when asked about Pirlo on Sunday. "I mean, I guess if he was to come, once again, another very talented player and it's exciting, but we'll wait to see whether it really happens or not."