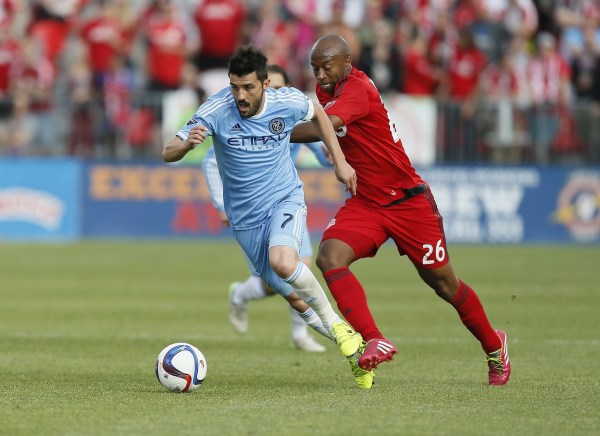 Photo by John E. Sokolowski/USA TODAY Sports
By RYAN TOLMICH
Despite suffering a midweek setback in the U.S. Open Cup, New York City FC's league form continues to trend upwards.
Led by a pair of David Villa strikes, NYCFC went into BMO Field and topped Toronto FC, 2-0, to capture the team's third straight victory in MLS play following the team's 11-game winless run.
The visitors opened the scoring in the ninth minute through Villa, who slotted home a penalty kick to snag an early lead.
Villa's penalty kick came as a result of a Benoit Cheyrou handball, as the TFC midifelder was called for the penalty on a bouncing corner kick. Villa stepped up and slotted the ensuing penalty kick to the left of the goal, giving NYCFC the 1-0 lead.
Villa added his second in the 58th minute, taking advantage of a TFC turnover to score on a Mehdi Ballouchy assist.
Following a turnover deep in their own half, Toronto FC were put on the backfoot as Mix Diskerud found Tommy MacNamara on the edge of the box. The midfielder slid a pass to Ballouchy, who opted to tee up Villa rather than shoot one-on-one. Villa's shot was contested, but he fired right into the back of the net for the Spaniard's second goal of the night.
Villa's second gave NYCFC some much-needed breathing room following a first half that was almost all TFC. Sebastian Giovinco, Michael Bradley and Luke Moore each provided looks in a two minute span starting in the 29th minute, forcing Josh Saunders into a trio of spectacular saves.
The best of Saunders' stops came on Bradley, as the NYCFC goalkeeper stopped the midfielder's first-time shot from inside the goal area to preserve the NYCFC lead.
NYCFC did get a decent look to push the lead to 3-0, as Diskerud's first time sliding shot was claimed by an onrushing Chris Konopka to keep the advantage at two. However, two would be more than enough as NYCFC cruised through the second half for the team's third straight win.
The victory puts NYCFC up to 17 points through 16 games, while Toronto FC remains on 19 points through 12.
NYCFC returns to action on June 28 with a derby matchup with the New York Red Bulls at Yankee Stadium, while TFC returns on Wednesday against the Montreal Impact.