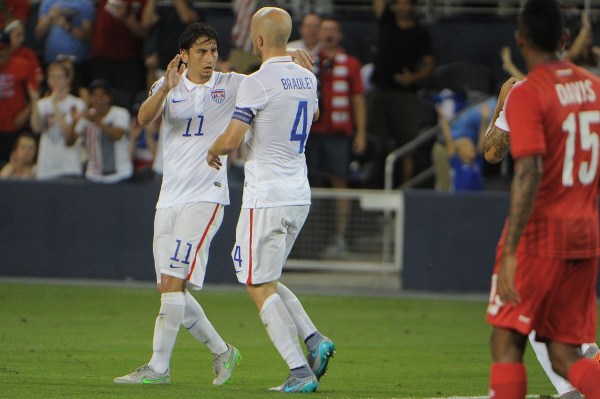 Photo by John Rieger/USA Today Sports
By SKYLAR ROLSTAD
Having started the tournament on the bench due to injury, Alejandro Bedoya was determined to make his return to the U.S. Men's National Team a productive one.
Dealing with a knee injury suffered on the club level, Bedoya's first start of the Gold Cup came on Monday night, and it was a successful one for the USMNT midfielder, who provided an assist en route to a hard-earned 1-1 draw against Panama.
For Bedoya, Tuesday's start wasn't about making any sort of statement; it was about continuing the journey towards match fitness and, ultimately, more playing time in the game's later stages.
"It felt good to get back in the starting lineup," Bedoya said. "For me, the most important thing was to get match fitness up. I felt like I wasn't fully sharp, but I definitely was working. I tried to get in behind the defense and try different things.
"I felt at times I wasn't as sharp as I could be but I got out there and ran around."
Despite some physical play that left Bedoya slightly battered, the USMNT midfielder proved decisive in picking out the pass on the equalizing goal. With Michael Bradley on the end, Bedoya's cross over the Panama six-yard box drew the United States level in what would end up as a 1-1 game.
Bedoya was subbed out in the 65th minute, but both the player and USMNT head coach Jurgen Klinsmann were happy with the midfielder's return from injury.
In particular, Klinsmann was pleased with Bedoya's presence in the midfield, an aspect of his game that almost netted the midfielder a goal late in the first half. However, the head coach also understands that Bedoya is nowhere near 100 percent, something that Klinsmann hopes will be remedied with a bit more game action.
"I think Ale played a very good first game. Coming off a long break, we were very patient with his build-up," Klinsmann said. "We observed it day-in, day-out and waited until today to give him a go. After 65 minutes it was pretty much done, and that's OK.  You see his quality. You see his ability to keep the ball, shield it, and also to make runs and surprise the opponent.
"Overall, his game was very positive for the fact that he hasn't played in quite some time. Now we keep building. We probably give him some sort of rest now, but we keep building for the next one."
Although Bedoya was upbeat on his personal performance, some reflection from the team as a whole was demanded.
With the knockout stages looming, Bedoya understands that both he and his team need to finally shake off the cobwebs and emerge as the team many expect them to be. For Bedoya and the USMNT, it's now do-or-die, a fact that is not lost on the midfielder.
"We all need to look ourselves in the mirror and know that we need to give more," Bedoya said. "We know it has to be better, we need to put more of our game into the game, our style."
"Now we have a couple more days longer to rest than usual. It's important that we recover mentally and physically and look at videos. We all know that we ned to improve and do better and what we can be better at. Moving forward to the knockout rounds, this is where it really matters.