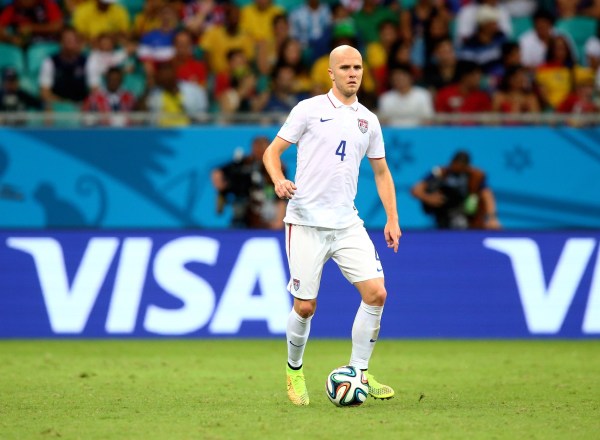 Photo by Mark J. Rebilas/USA Today Sports
By RYAN TOLMICH
Michael Bradley knows that Tuesday night will be special, but the U.S. Men's National Team midfielder also understands that the night will be about much more than his personal achievements.
The U.S. kicks off the 2015 Gold Cup Tuesday night (9:30 p.m., FOX Sports 1, UniMas), taking on a tough Honduras team to start play in Group A. For Bradley, that matchup presents the potential for his 100th cap, a real milestone on a road that has featured plenty of twists and turns.
Bradley calls that milestone"special", one that he will cherish when the time is right. However, that time is certainly not Tuesday night, as the USMNT captain understands that the night is about moving towards a Gold Cup crown more so than his personal achievements.
"When you talk about pride and honor and responsibility, that only adds to it, but as I've touched on, this week at this point, I'm not making any more of that than there needs to be," Bradley said. "We're excited to get this tournament going. we've all been looking forward to it for a long time. It's a big opportunity for us. It's a big tournament and everybody's mentality is to push and push so that, at the end of the month, we can be the ones holding up a trophy.
"They're very hard to play against," Bradley said. "So we'll be committed to stepping on the field, and trying to be sharp and trying to push the tempo and getting after them and seeing if we can start [the Gold Cup] off with a good result."
Bradley is correct in his assessment that this tournament is a big one, one that could see the U.S. claim its sixth Gold Cup and, more importantly, it's second straight on the road to a berth in the 2017 Confederation's Cup.
After kick-starting its tournament run with a friendly win against Guatemala, the U.S. now enters a very difficult group, one that is kicked off by a tough Honduras team.
Led by former Costa Rica head coach Jorge Luis Pinto, Honduras is an improved team, especially on defense, where the Catrachos will play in the same style Pinto  used to help to steer Costa Rica to a place in the World Cup quarterfinals.
Defensively stout, Honduras also features some familiar faces in attack. Houston Dynamo ace Oscar Boniek Garcia, former Seattle Sounder Mario Martinez and former MLS Rookie of the Year Andy Najar lead the offense.
Because of Honduras' talent on both sides of the ball, Bradley knows that the first match of the Gold Cup will be a tough test, and the U.S. is certainly not looking past a Honduras team that could pose plenty of threats.
"They're a very good team. We watched the game the other night against Mexico," Bradley said. "I think you see a lot of the qualities of a Pinto team. Defensively, they're very organized, very difficult to play against, very quick to close down the space and they also have quality going forward. We know that it will be a difficult game, but we're excited to get going."
"We saw them play against Mexico, we saw them go, they were all over the place," added U.S. goalkeeper Brad Guzan . "They're a lot more physical than Guatemala, a better footballing side. You just have to be careful on the counter. They play with five backs so you have to be patient. We have to move the ball a lot faster than we did against Guatemala to open them up."
Gold Cup debutant Greg Garza, who will be playing near his hometown of Grapevine, Texas, understands that the game will be difficult, but the fullback believes that the U.S. is more than ready to finally get the tournament underway.
Ready for his first appearance, Garza enters with a bit of confidence, a trait that he believes will be crucial in pushing the U.S. past Honduras and, in later weeks, into yet another trophy ceremony.
"I think this is our time. It's a wonderful competition for us to win, and I think that we're ready for that.," Garza said. "We've prepared ourselves in the best way possible Friday night against Guatemala and now we have to get ready for Honduras.
"Just thinking of it game to game and hopefully we'll lift the cup at the end of the tournament. "