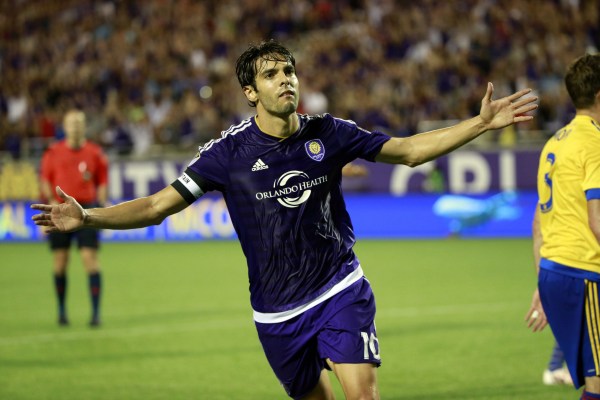 Photo by Kim Klement/USA TODAY Sports
By RYAN TOLMICH
MLS's Collective Bargaining Agreement has been ratified, and now the salaries of each and every in the league has been made public by the MLS Players Union.
The latest figures were released on Friday morning, and Orlando City star Kaka is MLS's highest earner, taking in $7,167,500 to edge out the Toronto FC duo of Sebastian Giovinco ($7,115,555.67) and Michael Bradley ($6.5 million).
In total, MLS now boasts 21 players making at least seven figures, a group that includes the league's most recent high-profile additions in LA Galaxy duo Steven Gerrard and Giovani dos Santos, and New York City FC midfielders Frank Lampard and Andrea Pirlo.
Lampard and Pirlo will make $6 million and $2,315,694, respectively, following their mid-season arrivals. Gerrard, meanwhile, will collect $6,332,504, and Dos Santos, whose signing was announced Wednesday, will bring in $4,100,008.
Bradley remains as the league's highest-paid American player, followed by TFC teammate Jozy Altidore ($4.75 million), Clint Dempsey ($4.6 million) of the Seattle Sounders, and the New England Revolution's Jermaine Jones ($3 million).
In addition, fellow Americans Mix Diskerud and Sacha Kljestan will make $750,000 and $537,000, respectively.
Take a closer look at the 21 players making over $1 million and their exact salaries below:
1.Kaka, Orlando City: $7.16 million
2. Sebastian Giovinco, Toronto FC: $7.11 million
3. Michael Bradley, Toronto FC: $6.5 million
4. Steven Gerrard, L.A. Galaxy: $6.33 million
5. Frank Lampard, New York City FC: $6 million
6. David Villa, New York City FC: $5.61 million
7. Jozy Altidore, Toronto FC: $4.75 million
8. Clint Dempsey, Seattle Sounders: $4.6 million
9. Robbie Keane, L.A. Galaxy: $4.5 million
10. Giovani Dos Santos, L.A. Galaxy: $4.1 million
11. Jermaine Jones, New England Revolution: $3.05 million
12. Obafemi Martins, Seattle Sounders: $3 million
13. Andrea Pirlo, New York City FC: $2.31 million
14. Shaun Maloney, Chicago Fire: $1.58 million
15. Omar Gonzalez, L.A. Galaxy: $1.45 million
16. Pedro Morales, Vancouver Whitecaps: $1.41 million
17. Gilberto, Toronto FC: $1.2 million (on loan to Vasco da Gama)
18. Federico Higuain, Columbus Crew: $1.17 million
19. Kevin Doyle, Colorado Rapids: $1.17 million
20. Innocent Emeghara, San Jose Earthquakes: $1.04 million
21. Liam Ridgewell, Portland Timbers: $1 million