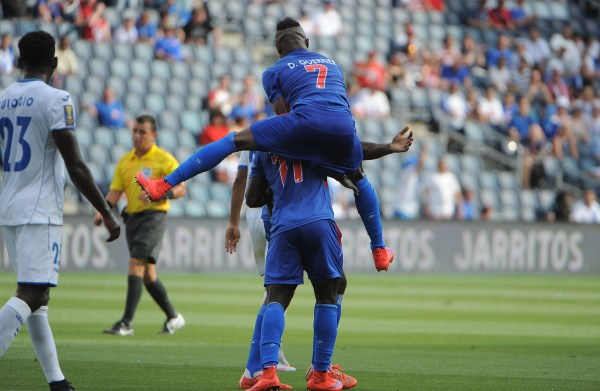 Photo by John Rieger/USA TODAY Sports
By SKYLAR ROLSTAD
Haiti claimed a historic win against Honduras in its final Gold Cup group stage game, as it won, 1-0, thanks to a goal from Duckens Nazon in the 13th minute.
The win for Haiti puts the team in position to qualify for the knockout rounds with four points in Group A, its most since the 2009 Gold Cup. Honduras exits the tournament with only one point.
Nazon extended for a half-volley in the 13th minute to claim the goal that would prove a winner. The ball bounced past Honduran center back Maynor Figueroa to give Nazon a chance to shoot into the far-bottom corner of the Honduras goal.
Honduras had the upper hand in possession with a 62-percent share, but it could only equal Haiti's eight shots at Sporting Park in Kansas City.
From the 13th minute on, Honduras seemed to control most of the proceedings but did not create any golden opportunities.
The best chance for Honduras to equalize came in the 58th minute when midfielder Kevin Lafrance received the ball on a breakaway but shot it right into Haitian goalkeeper Johny Placide's body while the defense closed in.
While heat took its toll on the Haitian players, in the 26th minute, forward Kervens Belfort left the match due to injury.
After beating French Guyana in the playoffs of Gold Cup Qualifying, Honduras has yet to win a competitive game since March 29. The slump comes after Jorge Luis Pinto arrived as head coach of Honduras after leaving Costa Rica.