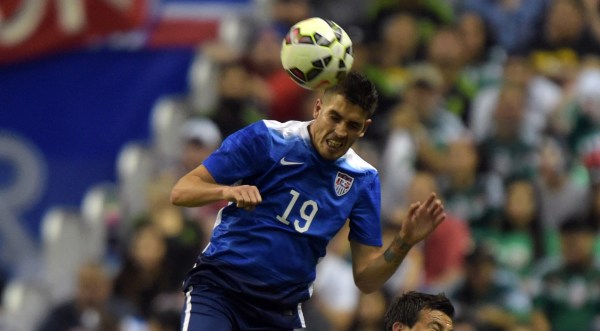 By SKYLAR ROLSTAD
A disappointed Ventura Alvarado emerged from the U.S. locker room Monday night.
The 22-year-old centerback went 90 minutes in a 1-1 draw against Panama to close out the 2015 Gold Cup group stage but lost Luis Tejada in the 34th minute to allow a cross to be turned in by Blas Perez for a Panama lead.
However, the Americans turned it around to find an equalizer in the second half and Alvarado rebounded to help the U.S. claimed a point. Frustrated by his role in the goal conceded, Alvarado was far from pleased with his play, although the young centerback did take positives from the performance put forth in the second half.
"Mentally, I felt real bad," Alvarado said of his attitude after the first half. "I was real bad, and I got mad.
"I was like, 'I'm going to give it all I have [in the second half], I'm not going to lose', and I felt better."
In the post-match press conference, Klinsmann acknowledged the mistakes made by Alvarado and his central-defense partner John Brooks, also 22 years old, but pointed out that the players are being evaluated on the basis of reaching their potential.
Brooks picked up a yellow card in the 16th minute and will miss the next Gold Cup match due to yellow card accumulation. However, Klinsmann says that the team has continued faith in the duo's quality going forward while adding that, should they see the field again, the team will have full confidence in their abilities.
"We believe in everyone that starts the game, no matter if he's young, old or whatever," Klinsmann said. "It's about the quality they bring and what they deliver at the end of the day. The only way for younger players to mature and get better and get stronger is to grow in these games and have that experience.
"I think Ventura and John grew with every minute. There were some situations that were a bit shaky in the first half, but in the second half, they cleaned it up. They were on top of things. This is a process."
Klinsmann is very familiar with that type of process, as the head coach drew a comparison of the backline's situation to his choice to hand then 19-year-old Per Mertesacker a Germany debut in 2004.
For Klinsmann, that process is one of his favorite parts of coaching, as the German coach is now looking forward to seeing how the duo develop in the face of adversity.
"One of the fascinating sides of coaching a team is to see players develop and go through some pain and go through difficulties," Klinsmann said. "You have the big hope that they will mature, they will go through it, they have the right attitude, the willingness to learn and the ability to swallow setbacks. Setbacks will be with you your whole life.
"We read the potential of players and we hope to help them to reach that potential one day," Klinsmann added. "At the end of the day, it's them. They need to carry on and understand, and go through difficult moments and clean things up. It's not going to be perfect."