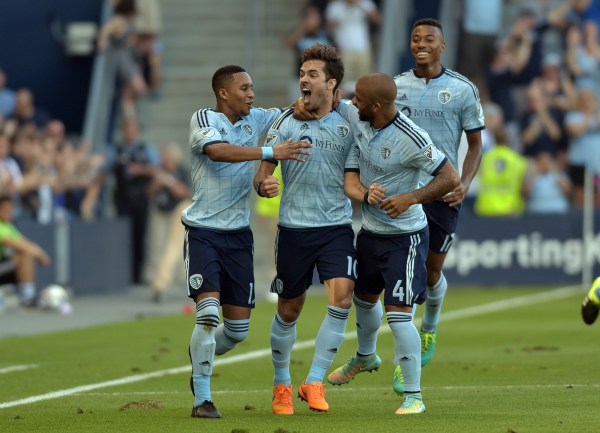 Photo by Denny Medley/USA TODAY Sports
By SKYLAR ROLSTAD
A star has been shining at Sporting KC in 2015, and Saturday evening, he stole the show again.
Although Montreal Impact star Ignacio Piatti managed to pull a goal back in the second half, Benny Feilhaber led Sporting to a 2-1 victory vs. the Montreal Impact with a goal and an assist at Sporting Park.
Feilhaber was just one of Sporting KC's stars who had a hand in the dominant win. His goal in the fourth minute was assisted by forward Krisztian Nemeth, while Sporting KC forward Dom Dwyer scored his sixth goal on the season in the 34th minute.
Piatti, the Impact's captain , dribbled past rookie right back Saad Abdul-Salaam in the 59th minute and finished past Sporting KC goalkeeper Tim Melia to make the score 2-1, but it wasn't enough on the night.
Feilhaber assisted Dwyer's goal with a through ball from within SKC's own half. Dwyer raced past Impact defender Laurent Ciman to shoot past goalkeeper Evan Bush.
Over the last two seasons, Dwyer has been impressive in games against Montreal, scoring seven goals against the Impact in four matches.
In the 63rd minute, Nemeth left the game for Connor Hallisey. With a US Open Cup match on Tuesday, it's likely Nemeth will play after having his night ended early.
Feilhaber also exited the game in the second half when Paulo Nagamura made his return from injury to replace Feilhaber in the 74th minute.
The Impact looked particularly weak against Sporting compared to their 3-0 win over the Columbus Crew last Saturday and has now lost three of its last five games.
Sporting KC, on the other hand, are first in the league in points-per-game and added another win in league play to move into second place in the Western Conference, just one point behind the Los Angeles Galaxy.