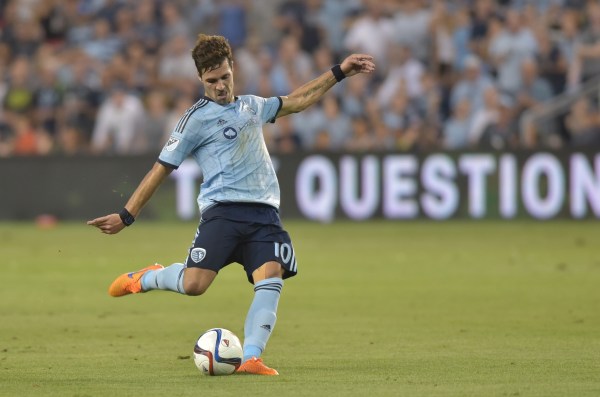 Photo by Denny Medley/USA Today Sports
By SKYLAR ROLSTAD
After Sporting Kansas City's 2-1 win over the Montreal Impact Saturday night, the team's eighth straight home win in all competitions, one may have expected a much more cheerful Peter Vermes.
Instead, the Sporting KC manager was satisfied with the three points, but lamented the inability to control the game.
"We weren't great with possession, but we were really good with creating chances," Vermes said. "They were better with possession."
SKC jumped out to a 2-0 lead by the 34th minute with a fourth-minute goal from Benny Feilhaber kickstarting the festivities. Dom Dwyer, assisted by Feilhaber, added the team's second in the 34th minute before the team succumbed to the Impact's initiative to fight back from the deficit.
Sporting uncharacteristically conceded 61.7 percent of the game's possession to the Impact but recorded 10 shots to the Impact's six. The difference, however, may have been Sporting's ability to win the ball in meaningful situations, as Kansas City won 28 tackles to Montreal's 16.
For Feilhaber's first goal, that was evident when Roger Espinoza won the ball from Marco Donadel 25 yards from goal. Having advanced the ball into the 18-yard box, Feilhaber pounced to score in the fourth minute and help SKC ease into the game with complete confidence.
That confidence was dented a bit int he 55th minute, as Ignacio Piatti brought the Impact to within a goal. Unfortunately for the Impact, that goal was as close as they could come, as SKC killed the game to earn the three points.
Vermes does believe there are positives to be taken from his team's ability to weather the storm and earn a difficult victory, but the Sporting KC head coach would like to see his side be just a bit more decisive in putting teams to the sword to limit any doubt.
"[The early lead] takes a lot of pressure off and makes the other team have to give a lot more," Vermes said. "We chased the game quite a bit. I thought we created some really quality chances tonight but just didn't finish them."
Although Feilhaber himself was not disappointed with the three points, he admitted Sporting could work on the way they were gained.
"It was a bit of an ugly win. I don't think we played the way we want to play at home," Feilhaber said. "The mindset changes a little bit that [the Impact] have to come at us. We could have done a better job at continuing to emphasize the things we were good at."