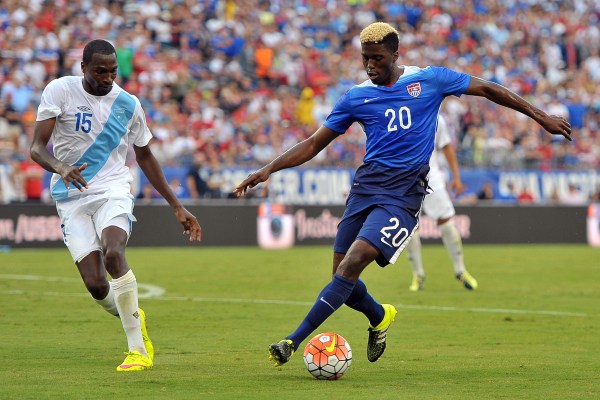 photo by Jim Brown/USA Today Sports
By FRANCO PANIZO
The scoreline may have been complimentary, but the performance was far from flattering.
The U.S. Men's National Team played its final tuneup before the start of the CONCACAF Gold Cup last Friday, picking up a 4-0 victory over Guatemala at Nissan Stadium in Nashville, Tennessee. The blowout scoreline indicated that the U.S. cruised to victory, but head coach Jurgen Klinsmann and his players confessed in the aftermath that improvements needed to be made.
It is hard to argue otherwise. Whether it was in possession, in the final third, or defensively, the Americans were far from sharp against Guatemala, especially in the first half. A better opponent would have punished the U.S. given some of the quality looks in front of goal that the Guatemalans had, and the Americans know that it must avoid repeating that if they are to be kings of the region again this summer.
That said, it was not all bad vs. Guatemala. Some players were real bright spots with their individual performances, and there were also other positives for the Americans to build on as they gear up for Tuesday's Gold Cup opener against a tougher Honduras side.
Here is what SBI is mulling over after the U.S.'s 4-0 rout of Guatemala:
DEMPSEY STRUGGLED UP TOP
It may have been because of his recent lack of playing time or the fact that he's adjusting to a new role, but Clint Dempsey looked rusty in his first competitive minutes since his U.S. Open Cup fiasco.
Dempsey scored with a panenka in the second half that showed he's still playing with his trademark gutsiness. Still, something seemed amiss about Dempsey. He failed to connect with forward partner Jozy Altidore for much of the game – something head coach Jurgen Klinsmann pointed out afterwards – never really threatened from the run of play, and did not have the same type of confidence about him that is normally seen in matches.
It could be that Dempsey is working off some rust after spending nearly two-and-a-half weeks on the sidelines. It could be that he is adapting to what is needed of him tactically now that he's been asked to play up top. Or it could be that he is still rebounding from the recent incident that saw him suspended, criticized, and stripped of the U.S. captaincy.
Whatever it is, Dempsey will need to be better during the Gold Cup for the U.S. to have a shot at repeating, and his performances throughout the tournament will be something to keep an eye on.
ZARDES HELPED U.S. BECOME MORE THREATENING
The Americans had a dreadful first half, one that saw them fail to convert a penalty kick and only claim a lead through a disastrous own goal.
The USMNT's fortunes picked up in the second half, however, due in large part to the performance of Gyasi Zardes.
Zardes came off the bench to replace a quiet Graham Zusi at halftime, and immediately made an impact as a left midfielder. His speed, confidence on the ball, and decision-making all helped the Americans improve in possession, and gave them another threatening weapon in the attack while starting forwards Altidore and Dempsey struggled to test the Guatemala back line.
The 23-year-old Zardes also capped his strong showing with a simple but great assist, playing a nifty one-two pass with Dempsey before racing down the left and setting up fellow substitute Chris Wondolowski.
Zardes' development has been a real plus for the U.S. so far in 2015, and his overall play has made a good case for why he should be include in the starting lineup come Tuesday.
BACK LINE GOING TO HAVE GROWING PAINS DURING GOLD CUP
One area that was of real concern in the 4-0 win over Guatemala was the defensive showing. That might be odd to consider given that the back line posted a shutout, but the clean-sheet only happened after Guatemala put on a display of horrendous finishing that still baffles the mind.
The U.S. back line was exposed on a number of plays against Guatemala, and goalkeeper Brad Guzan had to come up with timely interventions on a number of play. The defensive frailties could be chalked up to the U.S.'s inability to sustain possession for stretches, but the back four also did not do a tremendous job of stymieing Carlos Ruiz, Marco Pappa, and the rest of the Guatemalan attack.
There is no denying that there is talent in the U.S. defense, especially with Fabian Johnson looking like he's moving to left back, but the group has not played together much. Omar Gonzalez only recently returned to the fold, and does not have many repetitions with fellow centerback John Brooks. Timmy Chandler has been starting recent matches, but there are still moments in games in which he shows that he's not on the same page as the rest of the back line.
Solid defenses are built on good individual play and understanding as a unit, but the U.S.'s back four just does not have much chemistry right now. The lack of familiarity is not something that can be fixed overnight, and it is likely that the American defenders experience growing pains at the Gold Cup.
The U.S. just has to hope that they are not too severe. Otherwise, the attack is going to have to carry a large load in order to win the tournament.
YEDLIN UNHINDERED BY LACK OF PLAYING TIME
DeAndre Yedlin sure did not look like a player who had seen precious few minutes at the club level in recent months.
Yedlin was one of the most impressive U.S. players from start to finish on Friday, as he routinely was involved in dangerous attacks. Playing as a right midfielder once again under Klinsmann, Yedlin used his speed and aggressiveness to take on defenders and whip in crosses. The Tottenham youngster's service and end product was not always great, but it was still the only way the Americans repeatedly threatened Guatemala in the fist half.
Much has been said about how Yedlin's lack of playing time for his club – he saw just 11 minutes for Spurs since joining in January – will affect his form for country. Yet Yedlin looked plenty capable of making an impact vs. Guatemala, and showed that he will be able to contribute at this Gold Cup. The 21-year-old Yedlin likely will not be a starter once the tournament commences, but he can continue to be a super-sub.
WONDOLOWSKI SHOULD PLAY PIVOTAL ROLE THIS SUMMER
Chris Wondolowski might not be a fan favorite among U.S. supporters., but he should still be a key figure in the Americans' Gold Cup campaign.
Wondolowski once again did what he does best by scoring against Guatemala in the 86th minute on Friday. The goal was a rather easy finish after some good work down the left from Zardes, but it was another case of Wondolowski putting himself in a good position.
While there is a valid argument for why Wondolowski should not be included on U.S. rosters against more talented opponents, he has proven time and again that he can get the job done against CONCACAF opponents. His tireless runs and knack for finding the right spots in the penalty area give the more undisciplined CONCACAF defenders fits, and will be useful late in matches in the Gold Cup.
Some might prefer Aron Johannsson as the primary forward off the bench, but Wondolowski is more experienced in the type of games the U.S. will face this summer. In fact, nine of Wondolowski's 10 international goals to date have come against teams from the region.
That scoring output is something Klinsmann should not and will not ignore. No matter how much it might go against public opinion.