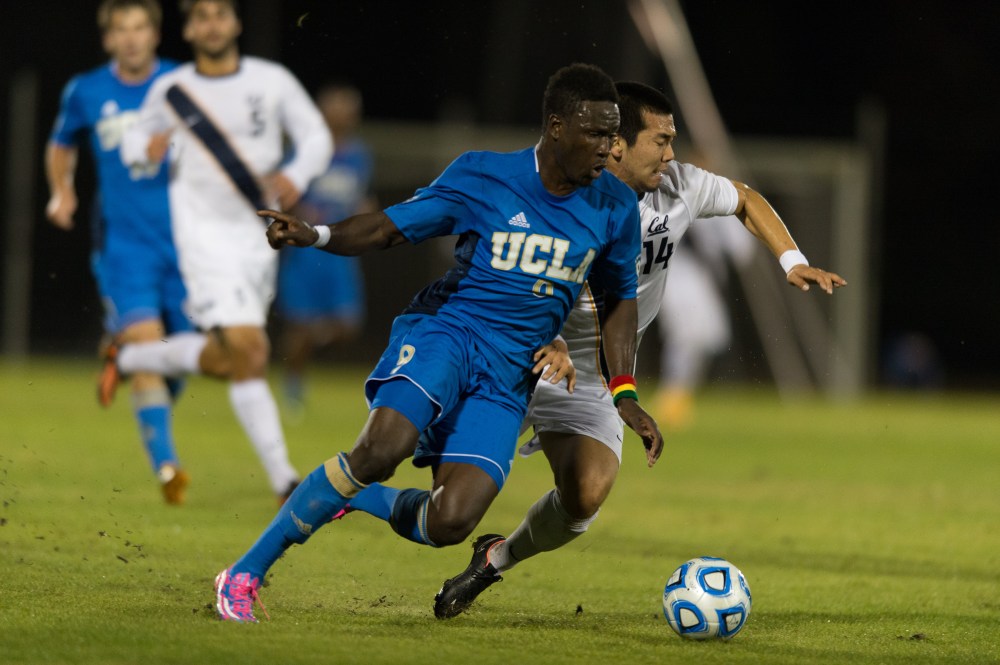 Following his freshman campaign with UCLA, Abu Danladi was tasked with some tough choices. A talented youngster, Danladi had the opportunity to move on to the next level, succeeding in attaining his life dream of playing the game professionally.
But yet he didn't, and he couldn't be happier with his decision to stay.
Now entering his sophomore season with the Bruins, Danladi enters on the heels of a strong, but frustrating, opening campaign. Hampered by injuries throughout, Danladi still produced five goals and six assists in just 12 appearances, rocketing his name up plenty of draft boards ahead of MLS signing season.
For Danladi, the situation just wasn't right. While chasing his professional dream is still something that is very much a goal, Danladi says that part of his reason for staying back was that he had another goal in mind: gaining an education while doing a bit of growing up in the process.
"It was really hard for me to make that decision, because I was at a point, it's every kid's dream to play professional soccer, and I had to make sure I had to make the right decision," Danladi told SBI." It's easy to say, 'I don't want to go to school anymore, I just want to play,' but you have to make the decision based on what's best for you in the future, not what you're thinking about now. School is very important to me.
"It was my own decision, and I'm glad I did that. If coaches were interested in me last year, if I come back and I do well and I help my team and play with my team and play the game like I always do, there will always be that opportunity for me. I wanted to stick with school and make sure I got as many credits in as possible, took as many classes and really enjoyed my time at UCLA."
For Danladi, that time is UCLA is special, as the star forward says he knows full well the pride and responsibility that come with pulling on a jersey with those letters. Preceded by greats like Carlos Bocanegra, Cobi Jones and Brad Friedel, among plenty of others, Danladi knows just how important this opportunity is from a sporting perspective.
But yet, for Danladi at least, the chance to play and learn at a place like UCLA is one that he greatly appreciates, especially given the sacrifices made to get there.
Born in Ghana, Danladi was raised in hard times. Not able to afford schooling, Danladi was forced to watch his mother take care of him and his five siblings, calling her the "strongest women I know".
It was those siblings that helped instill the love of soccer into the now 19-year-old forward. Having seen his siblings develop quite the respect on the local level for their skills, Danladi was simply the next in line in a family of talented players.
Looking up to players like Zinedine Zidane as a child, Danladi developed a passion for the game that continues today. That passion was ignited when Danladi was given the chance to move stateside via the Right to Dream program, setting him on a path towards where he is today.
Now a college soccer star, Danladi remembers his time in Ghana well. For Danladi, his past experiences are something that will always motivate him, as he is not just tasked with performing well for himself and his family, but also providing yet another role model to the kids that were in the same shoes as he was as a child.
"I didn't know what I was getting myself into, but I knew it was the right step," Danladi said. "It was a chance worth taking, and I really wanted to do this because it was the education I needed. It's something I always told myself, that if I had the chance to go to school, I really want to go to school. Many kids can't do that.
"I want to set a good example for other people to hold onto. I know there are other Ghana boys, so many people in Africa in general, that would love to have this opportunity. Since I'm here and have this opportunity, being at a great school with a great education, I really want to make the best out of it as best as I can while also being a good person and a good role model to show people that if you work hard, anything is possible and if you put your mind to something, anything is possible."
Part of that belief was stroked for Danladi this past summer, when the forward got the chance to prove his mettle as a member of the Ventura County Fusion of the PDL. Despite being once again hampered by injury, Danladi scored in the U.S. Open Cup to lead the Fusion past LA Galaxy II, giving the forward the confidence and belief that he can compete against players that are on the professional level.
UCLA head coach Jorge Salcedo was quick to agree that Danladi sure does have the potential to compete as a professional. Supremely athletic and with an innate ability to read the game, Danladi has everything it takes to play and score goals at the next level.
Yet, Salcedo doesn't want to see Danladi simply compete; he wants to see him dominate. For that to happen, Salcedo says there is still much to learn as Danladi continues to grow older and wiser ahead of making the jump.
"He obviously has an abundance of talent," Salcedo said, "and, for me, what I really try to portray to him is, 'let's turn this untapped potential, this abundance of talent, into one of the most consistent and dynamic players in college soccer.' That takes really paying attention to the process everyday in preparing for training, having good training sessions, taking it one day at a time and not looking ahead to what might be in his future or what opportunities he might have.
"It's to really focus on the process, his everyday and his approach, and ultimately, the opportunities will go his way, but for me, that right now is the most important thing: to be the consummate professional. A professional soccer player understands that it's not only what you do in between the white lines, but what you do in your every day life that gets you the consistency to be on the field."
Danladi, too, is hoping to find that consistency, which for him starts with staying healthy enough to remain on the field, something he struggled to do last season.
Still, Danladi was there for the home stretch, knowing full well the pain of last season's ending: a national championship loss.
That loss still stings to the Ghanian-born forward, and will serve as plenty of motivation going forward. For Danladi, that loss is just another hurdle to be cleared in a life and a career that have taught the 19-year-old exactly what it takes to push through even the most difficult of times.
"Definitely the number one priority is to win the national championship," Danladi said. "We got close, but being close is not good enough, and I think the team will agree with that. Either you win the national championship, or you're any other team in the tournament. It's one of the biggest goals, to win the national championship.
"Since I've been here, you have to make sure you have a positive mind and make sure you're working hard to come back. That's one thing I really learned: no matter what happens in your career, it's up to you to be on your feet and make sure you come back strong."