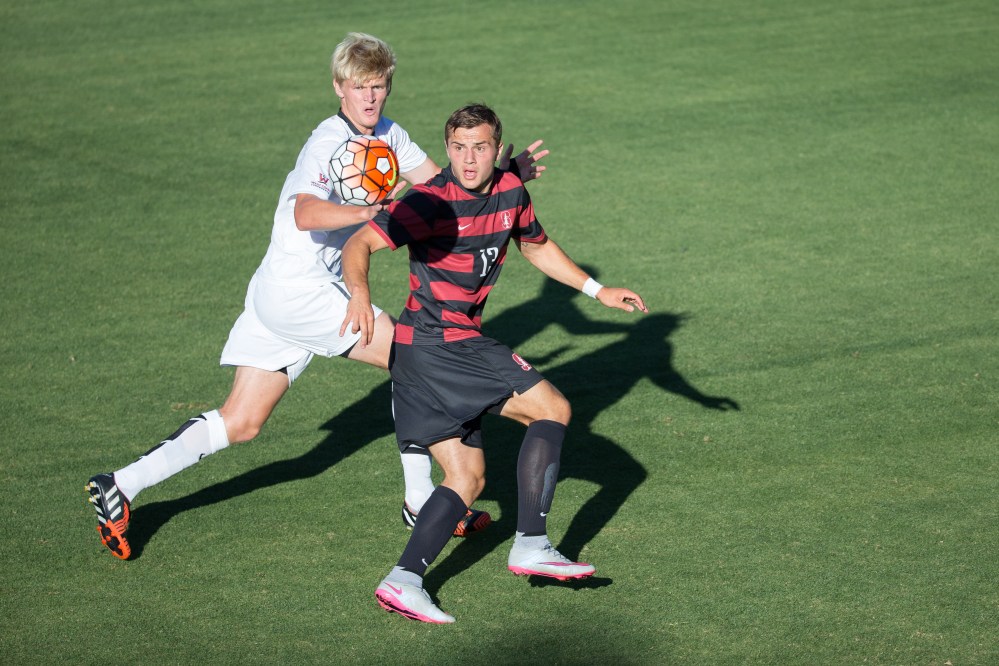 Being a student-athlete is far from easy. You have to worry about classes and practices, exams and games, studying material and opponents, travel, and so much more.
Being a student-athlete who does all that while also representing the U.S. Men's National Team? Well, that's a whole other challenge.
Jordan Morris experienced something that very few other Americans have, as he was called up by the U.S. while still being a college player. It was not just a one-time thing either. Morris was summoned on multiple occasions by U.S. head coach Jurgen Klinsmann during the fall months of 2014 and also selected for a U.S. Under-23 camp during that time, all of which helped to accelerate the young forward's development by exposing him to higher levels of the game.
It was all a dream come true for Morris, but it also came at a price. Having to travel far for camps was admittedly tough for him, and the fact that they came during the college season meant he missed several games for Stanford. He could not, would not turn down the calls to represent his country, of course, but his production for the Cardinal dropped. Morris went from six goals and seven assists in his freshman year in 2013 to four and six as a sophomore.
With Morris still seen as one of the more talented U.S. prospects and key international games like Olympic qualifiers on the horizon, the 20-year-old junior will likely be put through the wringer and miss matches again for Stanford this season. That still will not be enough of a reason for him to not up his goal and assist numbers, not if the Cardinal is to build on an impressive 2014 campaign that saw them win the Pac-12 before getting upset in their first game of the NCAA tournament.
Experience is on his side, however, after a whirlwind year that saw him juggle so many commitments.
"He's been through this before now," Stanford head coach Jeremy Gunn told SBI. "I think for him as an individual he'll be quite ready to manage the challenges that you face when you're hopefully continuing to get action with the Under-23s – they'll have qualifiers and different things.
"Obviously you never take anything for granted, but at least if he's fortunate enough to be called upon again I think he'll be more experienced with managing the environment. It has to be an incredible thrill, but an incredible roller coaster of a year when you're going from one thing to the next, to the next, and suddenly your whole world changes."
That it has. Morris may be an unassuming person by nature, but he is no longer your typical student-athlete. He has just north of 12,000 followers on Twitter, and is getting recognized more and more on campus. He is also talked about quite a bit in the public sphere, with press and fans already trying to make future decisions for him by saying when he should leave school and turn pro and whether he is better off signing with MLS or a league abroad.
Frankly, Morris is more like a highly-coveted college football prospect these days than your average college soccer star, at least from an attention point of view.
This level of publicity may be preparing Morris for what is to come when he inevitably joins the professional ranks, but is not necessarily something he is enjoying. Whereas some college players would welcome the exposure, the 5-foot-11, 185-pound Morris is still in the process of managing it all, learning how to block the outside noise while keeping focused on the task at hand that is this season.
"It has been a little bit tougher," Morris told SBI. "I'm definitely a guy that likes to lay low in the shadows, and to have all this come out I've had to change that a little bit. I've been in the spotlight a little bit more – which is unbelievable and such a dream come true to be able to play for my country and it's just such an honor – but it has been tough. I still haven't quite learned how to deal with it, but I feel like I'm getting better.
"What I try to do is just try to not read the stuff, the tweets and all that stuff. I just try and kind of stay away from that as much as I can. When I first came out, I was like, 'I need to read all the stuff, see what people are saying,' but there's so many people out there that have their opinion, you just have to kind of let that one go and just push that stuff off to the side."
Morris noticed the biggest change in his public persona this past April after he scored a game-winning goal in another 2-0 U.S. win against arch-rival Mexico in a friendly. His performance had many U.S. fans drooling, with some even going as far as comparing Morris to American legend Landon Donovan, whose first international goal was also a winner in a 2-0 victory over El Tri.
If the hype train had not left the station then, it surely did in June when Morris assisted on a decisive 90th-minute strike for the U.S. against the Netherlands. Morris, however, did not get to build on that performance at the CONCACAF Gold Cup in July because he needed the first surgery of his career.
The Mercer Island, Washington, native was sidelined for a chunk of the summer because of the procedure on his leg, and only resumed training fully with Stanford about a-week-and-a-half ago. He is not feeling 100 percent himself yet on the field, but is still more than eager to getting back to competing in games that count for the Cardinal after an offseason that was made to feel longer because of his spell of inacvity.
"It was really tough, for sure," said Morris. "It was not exactly how I wanted to spend my summer, it wasn't the best summer I would have to say. It was frustrating, but I have to put that behind me now and just focus on the season and focus on what I can do to help the team.
"No matter how I'm feeling, just go out there and do what I can to help the team achieve its goals. That's the main thing. It was very frustrating, but moving on from it and now I'm excited to play."
Morris is even more enthusiastic about getting the season underway because he believes his finishing is the aspect of his game that has most improved from 2014. Not totally pleased with the numbers he put up, Morris worked on his finishing in the winter and spring in preparation for this upcoming campaign.
Questions, of course, will persist during the course of the coming months as to whether this is his final year at Stanford. Morris has the tools to turn pro right now, but has pushed off doing so because he wants to enjoy the college experience since it is one he will "never get back".
Whenever Morris does decide to play professionally, he will have to make a decision as to whether or not he takes the Seattle Sounders up on a Homegrown Player deal, turns that down and becomes the gem of the MLS Draft, or explores opportunities abroad.
For now, though, he has put thinking about that on pause and shifted his much of his attention towards trying to help Stanford enjoy a strong year.
"That stuff is in the future, and right now I just focus on helping my team throughout the season and hopefully helping my team win a national championship," said Morris. "I think that's our ultimate goal, and that's what we all want. For right now that's my main focus and after the season is over we can reevaluate that stuff a little bit, but for now just really focused on helping my team.
"I want to score more goals and try to be the leading goal-scorer in the country, the lead goal-scorer for our team, but that's all in an attempt to help out the team do as well as we can."