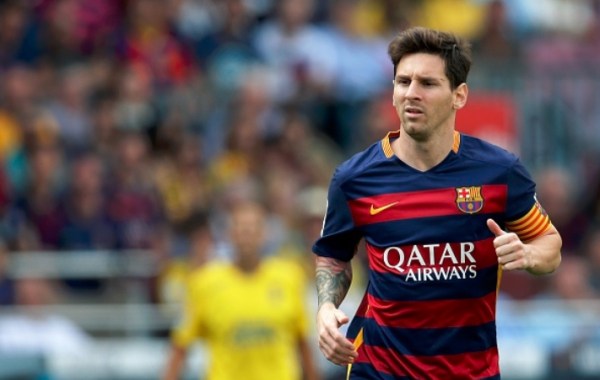 Lionel Messi is expected to miss time at the club and international level during the upcoming weeks, but how much so appears up for debate.
The Argentine star limped off the field in Barcelona's eventual 2-1 win against Las Palmas Saturday. While the team initially stated he would miss seven-to-eight weeks due to ligament damage in his left knee, the Argentine football association team doctor expects Messi to return earlier than most.
"For years I've known Leo and I have no doubt that he will be ready in the shortest possible time of the injury, perhaps before that period of six to eight weeks," Donato Villani told Argentine outlet Olé Sunday. "It isn't a rupture that needs surgical intervention. It's cured with rest and rehab as a first step and then kinesiology.
"He gets agitated when he can't play, when he's not with the ball. Because of that I know that he's going to recover quickly and in the best way because he's very professional. The desire to play again and the will to heal can influence."
If he does make an early return, Messi would most likely be available for selection when Barcelona travels to the Bernabeu to face rival Real Madrid Nov. 21.  He will miss Argentina's first 2018 World Cup qualifying matches, though, as the team will play Ecuador and Paraguay in early October.
Here are some more news and notes:
KHEDIRA RETURNS TO JUVENTUS TRAINING AHEAD OF UCL PLAY
If Juventus is to make a repeat run to the UEFA Champions League Final, it needs all hands on deck.
Another skilled pair returned Sunday.
The Italian club announced Sunday that midfielder Sami Khedira has returned to training, and he will most likely be available for selection in Wednesday's UCL match against Sevilla.
"The German midfielder, who suffered a thigh injury during Juventus' friendly against Marseille on 1 August, made his return alongside those who didn't feature at the San Paolo last night, while the remainder of the squad underwent a warm-down," a statement from the club read.
Juventus already secured a UCL win, defeating Manchester City in England, and another victory would vault it into prime position to finish first in the group.
TOTTENHAM TECHNICAL DIRECTOR PARTS WAYS WITH CLUB
After a spell of underwhelming player signings the past two seasons, Tottenham and its technical director have decided to part ways.
Monday, Tottenham Hotspur announced that Franco Baldini has mutually agreed to part ways with the club in order to spend time away from the competition.
Baldwin took the reigns of the EPL side in 2013 after he held a similar position at AS Roma. He attempted to help restructure the team at White Hart Lane following the transfer of Gareth Bale to Real Madrid, but a handful of signings did not perform up to standards.
Players like Paulinho and Roberto Soldado did not help Tottenham maintain a top-five finish in the EPL table during the 2014-15 season.
QUICK KICKS:
AS Roma forward Edin Dzeko will miss three-to-four weeks after sustaining an injury to his right knee. (REPORT)
Manchester United boss Louis Van Gaal is "proud" to see his club top the EPL table early in the season. (REPORT)
Liverpool manager Brendan Rogers says he can compete with the best in the EPL when he has talented players. (REPORT)