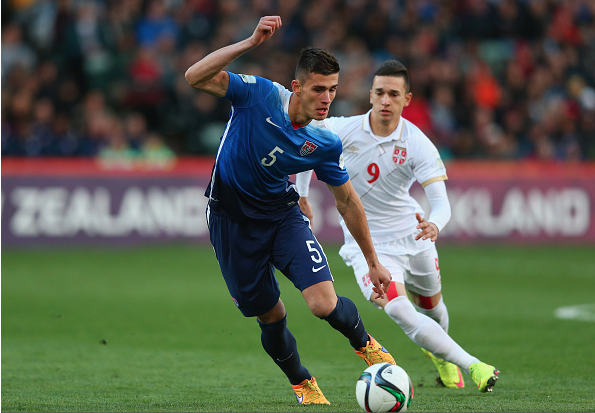 Heading into an Olympic qualifying tournament loaded with pressure and potential pitfalls, it would be easy for any coach to write off youth as a potential asset.
Not Andi Herzog.
The U.S. Under-23 Men's National Team coach expects his assembled squad to be heavily influenced by the group's youngest call-ins.
With six players joining up with the U-23s on the heels of an Under-20 World Cup run, Herzog believes the group's youth movement isn't some sort of indictment on the group's more established players. Rather, it's a signal of growth and the talent that the U.S. possesses as the group tries to qualify for its first Olympic games since 2007.
"We have a lot of very good technical players, so I expect a lot from them," Herzog said Wednesday. "Even if  they are really young, we have some very young players in our group, but I always like to have some potential, some very young potential. I had the same situation in Austria, and I expect a lot from them
"Players like Emerson Hyndman and Gedion Zelalem and (Cameron) Carter-Vickers, they're really young, but also really, really good. I would be stupid if I don't take them because I see a lot of potential in them."
According to Herzog, there is a balance to be found with this current U.S. team, no matter how talented the group of U-20s proves to be. Featuring U-20 stars in Hyndman and Zelalem, as well as MLS regulars in Fatai Alashe, Wil Trapp, Matt Polster and Marc Pelosi, Herzog is left with a wealth of options in the midfield.
Jordan Morris leads the forward line, while U-20 forward Maki Tall is expected to feature as well. Toulon Tournament standout Jerome Kiesewetter provides depth up front and on the wings, while Alonso Hernandez could also fill in out wide or in a more attacking position.
Where the cupboard appears to be a bit bare, however, is in central defense, where Herzog will rely heavily on the young duo of Matt Miazga and Carter-Vickers. The pair, who are joined by Will Packwood, were expected to be called-in alongside veteran Shane O'Neill, but Herzog says he was unable to strike a deal with his club team to secure his services in time for the tournament.
Still, Herzog goes into the tournament confident in what he has, even if he is disappointed in O'Neill's exclusion.
"Of course Carter-Vickers is very young," Herzog said, "but he's already very impressive with his style of play and with his personality. Matt Miazga is a regular starter for New York. I don't have any problems with younger players. I have a lot of confidence in them. Will Packwood looked very good in the last camp in England, even if he is without a club.
"I think Matt, even though he's two years younger than most of the other players," Herzog added, "his physical play, his size, his power, and for his power, he's very mobile. That's what I like. He's very good with his feet. I think he's one of the most talented centerbacks in the U.S., and hopefully he will have a great qualification.
"He has a future in the men's national team in the next couple of months, not in the years, but hopefully the next couple of months. That's what he has to prove."
Another duo with plenty to prove will be found in net, as Zack Steffen and Charlie Horton will be the team's only two goalkeepers through the first two group stage games.
Projected starter Ethan Horvath is set to remain with his club, Molde, until October 4, keeping him out of the team's first two group stage contests. Horvath was the lone player Herzog was willing to let arrive late to the qualifying tournament, which is why some other notable players were ultimately left off the final roster, like Rubio Rubin.
Despite missing some key players, and having to rely on players who are on the younger end of the spectrum, Herzog is confident he has the team to secure Olympic qualification for the U.S.
"I had the same situation in Austria, and I expect a lot from them," Herzog said of his young squad, "even if every game will be a real battle because CONCACAF teams, they know how to defend and play hard and aggressive. It's important for us to keep the ball, create a lot of chances and show right from the beginning that we are favorites in this tournament."
"Obviously, playing in the qualification, I have to find the right balance, but bringing in some younger players mixed with a lot of experience and hard-working guys with a lot of personality like Wil Trapp, Fatai Alashe. I don't see any problems, and I hope we will do fine."