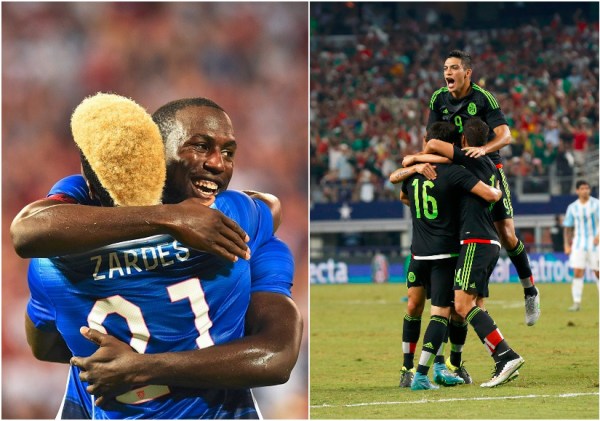 On Oct. 10, the U.S. Men's National Team and Mexico will meet in Pasadena, California for arguably one of the most important matches in the two fierce rivals' history.
And with only a few weeks remaining before kickoff, one side appears to have the edge heading into the CONCACAF Cup.
While not consistently dominant from start to finish, Mexico claimed the Gold Cup title this past summer, and recent club form of El Tri's starters has the U.S.'s counterpart shaping up to be the favorite. That being said. Both the U.S. and Mexico have struggled to produce consistent performances in recent months, posting below-average results in friendlies and competitive matches alike.
With the CONCACAF Cup just three weeks away, here is a closer look at how the teams are shaping up, and we ask SBI readers to tell us how confident they are in the USMNT beating Mexico:
Mexico appears to be the favorite to win the CONCACAF Cup, with players like Jesus Manuel Corona and Hector Moreno. Corona scored twice for FC Porto in his debut over the weekend, and Moreno scored a goal to help lead PSV to a comeback win against Manchester United in the UEFA Champions League.
Corona also featured for FC Porto in its 2-2 UCL tie with Dinamo Kiev, joining Mexican international teammates Hector Herrera and Miguel Layun, who also regularly feature for the Portuguese giant. Even Javier 'Chicharito' Hernandez opened his goal-scoring account for Bayer Leverkusen, scoring against BATE Borisov in the team's 4-1 UCL win Wednesday.
One potential stumbling block is the health of Gold Cup MVP Andres Guardado, who recently suffered an ankle injury that could rule him out of the CONCACAF Cup.
Guardado's injury aside, with good form and the CONCACAF Gold Cup title, El Tri should be full of confidence before the Confederation's Cup playoff.
Meanwhile, the Americans have shown they have the potential to do well against the world's best in 2015, winning six in a row at one time, including wins against Mexico, Netherlands and Germany in consecutive games. Mexico also hasn't beaten the Americans since June 2011, when El Tri defeated the U.S. in the Gold Cup final.
Yet, a fourth-place finish in the summer's Gold Cup and below-average performances in September friendlies have many U.S. fans worried that Mexico will be the one to represent CONCACAF in the 2017 Confederations Cup.
After the Gold Cup tournament, head coach Miguel Herrera was sacked after punching a journalist. Ricardo Ferretti stepped up as interim manager, and so far, the new boss has not had too many issues, leading his squad to two ties against Trinidad & Tobago and Argentina.
The September international window was supposed to help Mexico regroup and focus on October. However, while Mexico looked dangerous during long stretches of both games, only a late Hector Herrera goal kept Trinidad & Tobago from winning the first friendly. A calamitous finish from Mexico's back line and goalkeeper saw Argentina score two goals after the 80th minute to tie in the team's second match.
The U.S. didn't have a strong September showing as well, though, and the team has left much to be desired since the summer.
Despite topping their group, the U.S. failed to register complete performances in the Gold Cup, with Clint Dempsey seemingly being the only member to aid and contribute to the team's success.
The Americans' lackluster play was finally exposed by a pacey Jamaica side in the semifinals, and the U.S. finished in fourth place after losing to Panama in a penalty shootout.
Likewise, the Americans expected to use friendlies against South American sides Peru and Brazil to help them prepare for October's clash with Mexico. While the team was able to pull off a 2-1 win against Peru, the U.S. did not look in control most of the game, and Peru scored first. Gyasi Zardes, Tim Ream and Jermaine Jones turned in notable performances, but they were all seemingly nonexistent against Brazil the following Tuesday.
Only a late, long-range bullet from Danny Williams gave the U.S. a silver lining, but there was little to take away from the 4-1 drubbing they received.
Now, with no more friendlies to be played, and with two weeks to go before the teams convene in Southern California to prepare for the CONCACAF Cup, SBI wants to know how confident you are that the USMNT will beat Mexico.
Cast your vote here:
[polldaddy poll=9082970]
How did you vote, and why? Who do you see winning the CONCACAF Cup? Think Mexico will pull out the victory? See the Americans finding a way to beat 'El Tri'?
Share your thoughts below.