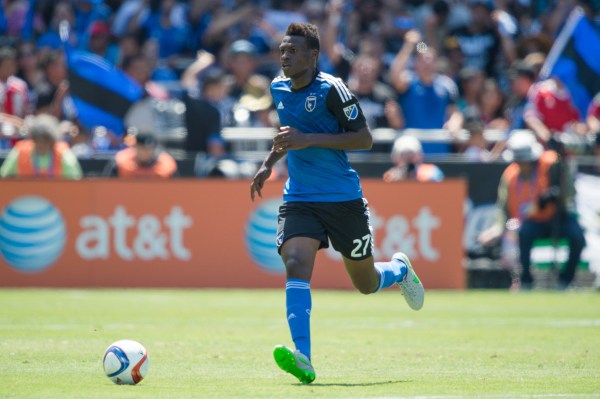 photo by Kyle Terada/USA Today Sports
By FRANCO PANIZO
Dom Kinnear can still remember the conversation. Not long after drafting Fatai Alashe back in January, Kinnear was asked by a colleague whether he thought Alashe would help the San Jose Earthquakes in 2015. Kinnear responded by saying, "I don't think he'll help us this year. I know he will."
He could not have been more right.
The 2015 MLS season has seen Alashe become a key figure for the Earthquakes and one of the standout rookies of the year. The 21-year-old midfielder has carved out a permanent starting role in San Jose's midfield, and he has done so almost since the start of the campaign. In total, Alashe has amassed 24 league starts in 25 appearances, scored two goals and made countless big plays on the defensive side.
Those steady contributions are pretty impressive for any one player, but what makes Alashe's production, up to this point in the season, so much more remarkable is that he has done it all as a rookie. Even at times, like a month ago or two ago, when he felt some accumulated fatigue from the grind of the MLS season.
"I wouldn't say it was like hitting a wall. I would more say you kind of just start to realize that your body is taking a while longer to recover," Alashe told SBI. "At the start of a season you could play a game and a day, day-and-a-half later you were fine again and kind of were like, 'All right, I could play again now.' Later on in the season, it starts to wear on you, little stuff starts coming up, and maybe it takes you 4-5 days to recover.
"Towards that period in the season you might be playing three games in seven days so you don't really have that time to completely recover and maybe your muscles are tight and fatigued. Being a soccer player that's stuff you have to push through. Obviously you have to be smart and take care of your body and not pick up injuries that will keep you out for a long period of time, but there's types of things you can push through and that's kind of what you have to do."
Learning on the fly has been part of the job this year for Alashe, who has recently played three games at centerback to try and cover for the injury absence of regular starter Victor Bernardez. Alashe has played the position without making so much as a complaint, and garnered generally positive reviews.
While it is his versatility that is being talked about aplenty right now, it is the overall body of work that the Michigan State product has provided that has him in the conversation for the MLS Rookie of the Year award. He has impressed mopping up behind the likes of Chris Wondolowski and Matias Perez Garcia, and he has helped the club be in a position to make a push for the playoffs during this final month of the regular season.
Alashe has competition, however. Both Chicago Fire midfielder Matt Polster, who has also contributed by playing defense for his club, and Orlando City's Cyle Larin are also in the conversation. Alashe is fully aware of that and admittedly would like to edge them for the rookie honors, but he is focusing all of his attention on San Jose's quest for the playoffs and not this individual accolade.
"Of course it's something you want to win, because it's an award. Everyone likes winning awards," said Alashe. "It's a cool award, so it would be nice, but that's not something that you really worry about throughout the season. That's one of those things that at the end of the season, you win it you're happy, you don't, OK, and kudos to whoever does win it.
"I think, as a whole, it's kind of cool looking and seeing all the rookies as well. That's something that's pretty important. We're trying to help bridge the gap and help other players that come out of college, give them opportunities and let people know that it's possible for those guys to have success as well. It's not so important who wins it. Obviously, it would be really cool, but it's something that you don't really think about."
Unfortunately for Alashe and the Earthquakes, the 6-foot youngster will soon miss a chance to further add to his case and help his club reach the playoffs in the crowded Western Conference. Alashe was recently included in the U.S. Under-23 Men's National Team that will attempt to qualify for the 2016 Olympics in Brazil, and as such, he will miss the Oct. 3 meeting at home against the Vancouver Whitecaps.
It's a big blow to San Jose to lose Alashe for such a crucial game, especially since the club is currently on the outside of the playoff picture looking in. Nevertheless, the Earthquakes are choosing to focus on the positives of having Alashe away at a time when picking up points is so precious.
"You never want to see your guys leave you for any reason, but what can you do? It's the Olympics, it's the Under-23 national team," Earthquakes head coach Dom Kinnear told SBI. "The Under-23 national team obviously holds a very important place in our structure of developing our young professionals, and for us to try and deny a player or two the chance to play internationally for their country in an important tournament would be, I think, a little bit naive and misunderstanding on our part.
"Obviously, selfishly, we would like for the players to stay. Absolutely, we would. I think everyone understands that, but in the bigger picture we're still growing this sport in America and if this can actually develop a good handful of players and, in the end, help our national team become better and more competitive on the international stage then we all have to do our best to make sure that we participate."
Should San Jose do well in their rookie's absence and should he return and help the club reach the postseason for the first time since 2012, Alashe would strengthen his case for Rookie of the Year. He has already helped his cause tremendously by playing regularly and faring well while making the transition from the sprint that is the college season to the marathon that is the MLS campaign.
Still, things do not end there for Alashe. He wants to play in the postseason, and he also is hoping to continue his development. Yes, the early returns have been largely positive, but there is still more to come, as far he and the Earthquakes are concerned.
"A lot of that is entirely up to him and if he wants to get better and if he's open to getting better," said Kinnear. "If a player after one year thinks he has arrived, then he's in for a shock because that's not the case. Do I think he has the potential to become a better player? Absolutely. I think he's got a lot of great tools. I think the more he plays, he'll learn from his mistakes, I think he's a pretty bright kid where he doesn't seem to make the same mistake twice.
"You don't want to say the sky is the limit for him, but I think what we see now and what you can possibly see in a year or two could be a different player but a different player in a better way."