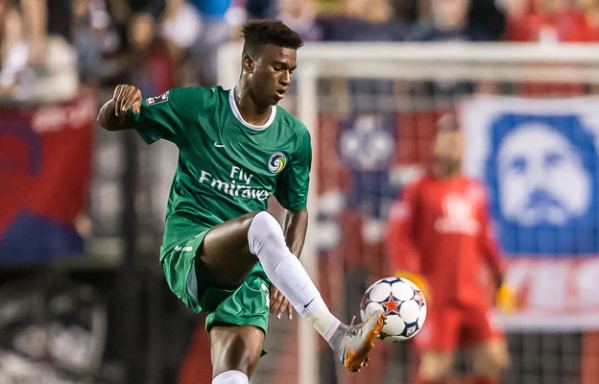 Photo by New York Cosmos
By RYAN TOLMICH
A little more than five months after the all but unprecedented decision that kickstarted his club career, Haji Wright is hoping lessons he has learned will be applied to a special run in October's Under-17 World Cup.
Back in March, Wright, a U.S. Under-17 Men's National Team forward that has been widely regarded as one of the brightest prospects in the U.S. talent pool, spurned options in favor of joining the New York Cosmos of the NASL. It was a significant signing for a league fighting to gain respect in crowded American soccer landscape.
In Wright, the Cosmos acquired a highly-talented forward, one who could one day lead the forward line of the U.S. men's national team.
In the Cosmos, Wright found a club that he believed had his best interests in mind, both on and off the field.
Wright had plenty of suitors. Previously a member of the LA Galaxy's youth system, Wright trained abroad with clubs like Germany's Schalke in the years leading up to his Cosmos signing.
Yet, Wright felt he had a sense of freedom in joining the NASL's structure, as well as potential mentors in Spanish legend Raul and Cosmos head coach Giovanni Savarese.
Now nearly half a year into his professional career, Wright is finally starting to find a groove. Having spent the majority of his time with the Cosmos' reserve side, Cosmos B, Wright has begun to crack the first team's lineup, going so far as to pick up an assist on Lucky Mkosana's late-game winner against the Carolina RailHawks on August 30.
"I didn't expect to come in and start every game immediately," Wright told SBI. "I knew there would be a point where I played with Cosmos B and I knew that I might not play many games with the first team. You train hard, work hard, and do my best.
"I'm very happy with my decision. Players like Raul, Marcos Senna and, of course, Gio. They help me along every day and help me grow as a player."
Savarese, too, is happy with Wright's decision to join the Cosmos, although the head coach insists there is a lot of work to be done.
In Wright, Savarese sees a player with all of the tools to succeed. With break-neck speed, Wright can cruise past many a defender. With his 6'2″ frame, the ever-growing Wright has the size to bully defenders off the ball.
Brandishing physical tools and technique to match, Wright's next step, according to Savarese, is mastering the mental side of the game. For Savarese, Wright's biggest leap will come with consistency in terms of play, decision making and reading of the game.
"When Haji came here, one of the things that we wanted to work with him was getting his confidence, getting him trusting in his abilities," Savarese told SBI. "We see his growth since he's been here. Now he's practicing on a constant basis with professional players. They make it very difficult for him. It's not easy always for him because he needs to grow. He has great qualities to make sure that he uses those qualities in the best possible way and he's doing better and better.
"In the case of Haji, it's a good situation because we always try to take his best interest in his development while making sure he continues with his growth. Right now, it's been a very good move for him, but we'll see in the future what's next for him."
Learning from players like Raul will surely help the cause, as Wright says that, after practice, the Spanish legend makes sure to show Wright veteran subtleties that could be the difference when he steps between the lines for real.
Big picture, Savarese says that Wright's future is an open book due to the flexibility that comes with the NASL. Savarese believes that Wright is a player that has the talent to play on the wing or at the forward position, as well as the skill to someday play abroad.
However, Wright's immediate future lies in South America; Chile to be specific. As a player expected to be a major part of the U.S. squad heading to this summer's World Cup, head coach Richie Williams has kept a close eye on the forward's growth in the coming months.
Wright says conversations with Williams are frequent, although they have little to do with laying down guidelines and expectations. Rather, its more about checking in on Wright's doings on the club level, a move that Williams says he is certainly in favor of.
Williams says that, as U-17 head coach, he is always more than willing to give advice to players regarding decisions on their futures. Is a player ready for the next step? Is college the right opportunity? What decision would be best for growth as a player?
With Wright's decision, Williams has seen plenty of positives. Citing his belief that just training with pros isn't good enough, Williams says that Wright's ability to get time with both the first team and Cosmos B has led to a more confident, fine-tuned forward.
"In terms of Haji going to the Cosmos," Williams told SBI, "(he and his family) thought it was the best for him to go there and be training, day-in, day-out with professionals so that he would be able to handle the physicality, be more aggressive. Training with professionals and competing with professionals, it would help him with his development.
"I think it's helped him. You can definitely see he's been more aggressive. He's been stronger and he understands what it takes to compete day in, day out."
For Wright, that competition has been difficult, yet one that has proven slightly enjoyable.
Wright admitted that the experience has been much harder than he expected, citing the level of training as something that took an adjustment.
Physically, Wright says he has to be better. Technically, Wright says he has to be more refined with his decision making. But the lessons learned to this point are something that Wright believes will be crucial in helping his national team this fall at the World Cup.
Heading into October's tournament, the U.S. has fallen in the Round of 16 each of the last three World Cups, while the group's best performance was 1999's fourth-place finish. Now, the U.S. faces a tough group, drawn with Nigeria, Croatia and hosts Chile.
"I get very excited just thinking about it," Wright said. "Playing against the best players my age from around the world, having a lot of people watch you, playing in great stadiums that some of the best players have played in. Especially, in such a soccer country like Chile, it's going to be very exciting and very intense.
"I want to go really far with the U.S.," Wright added, "the semifinals or finals. I want to dominate as a team, dominate every team that we play against."
A deep run at the Under-17 World Cup is just one of Wright's goals. On the club level, the 17-year-old forward wants to become a mainstay in the Cosmos lineup while contributing goals to a team full of talent. Internationally, Wright wants to be a difference maker for a U.S. youth national team that many believe is one of the most talented in the nation's history at that age group.
But most of all, Wright has just one goal in mind.
"Just win," Wright said. "Win everything I can."