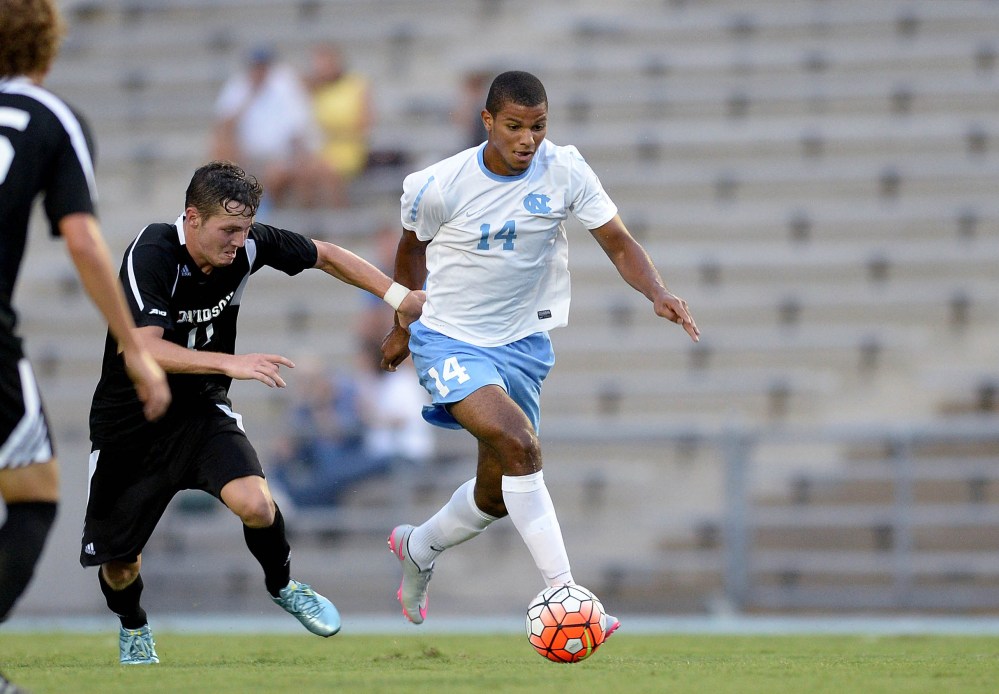 With career advice coming from Jamaican national team captain Rodolph Austin and North Carolina head coach Carlos Somoano, pro prospect Omar Holness knows his professional career is bright, no matter where he ends up.
After making his Reggae Boyz debut during a friendly against Canada on Sept. 9, 2014, Holness bested that international success by being named to Jamaica's 30-man preliminary roster for the 2015 Copa America. Most recently, though, he was called into Jamaica's roster for the 2015 Gold Cup knockout rounds.
Despite the constant international interest surrounding the 21-year-old midfielder, Holness turned down a contract to sign with MLS during the 2015 SuperDraft in January, and while he told SBI that he does have a U.K. passport and a move to Europe would be "ideal," he said a deal with MLS is still "100 percent" a possibility.
"The MLS is a great league to start and build careers, and I think it's improving year by year," he told SBI. "The amount of publicity it is getting right now is just incredible. And you have the familiar faces — (Didier) Drogba, Kaká, (Frank) Lampard, David Villa — coming into the MLS, and as a youngster, to play with those guys or against those guys is simply a dream because they are the best in the world."
Holness, who is a Generation Adidas candidate, has grown up playing through Jamaica's youth national teams, but he experienced something a little better during the summer. The dynamic and pacey midfielder was called into the senior Reggae Boyz squad during its run to the Gold Cup final against Mexico. While he didn't make an appearance, he made connections with his Jamaican brethren and has remained in touch ever since.
"What stuck out to me the most was definitely the mutual respect they have for each other, irrespective of where they came from, how much they were making — that kind of stuff," Holness said when asked about what he had learned from the experience. "I think it's just imperative for me to bring that into the setup here at UNC and have the younger guys learn from that."
"I bonded mostly with Rodolph Austin, the captain of the team," he added. "His humility and his passion for the game was something that stuck with me for sure, just his desire to win and desire to fight in the middle of the pitch. That was definitely something I took away from and something I am thankful for."
The pair has remained in touch since the summer, with the Jamaican captain regularly checking in on Holness to make sure he is doing well.
Holness, who most recently appeared for the Reggae Boyz's Under-23 national team, will not fly to Rio de Janeiro next year, as he and the team did not advance to the next stage of CONCACAF qualification for the 2016 Summer Olympics. He said he and the team really should have done better against Cuba, who will compete in October, but he hopes to learn from the experience.
Despite his hiccup with the national team, an undefeated season is still on the cards at the collegiate level, as SBI No. 2 North Carolina is 7-0-1 to start the 2015 campaign and play Pittsburgh Friday. Holness would like nothing more than to be a champion with the Tar Heels, and there is one vital thing he has learned from the international level: give each game everything you've got.
"The main difference I think is when you're playing against another country, you're laying your life on the line for your country, and at the collegiate level, you don't really see that tenacity and that will and that urge to do every single thing to win, even though that is something we stress here at UNC," he said.
While Holness doesn't see the same fire and passion in every player's eyes at the collegiate level, there is at least one person who sees the young Jamaican international giving every game his all: his head coach.
Somoano said he does not worry about Holness' commitment or desire with the team. He knows that Holness will perform to the best of his abilities no matter where he goes or who he plays for, always playing with the same fight in every game, which is what makes him so special and coveted at the next level.
"For some players, you might anticipate having to manage a little bit extra, keep them focused on the here and now, but not with Omar," Somoano told SBI. "He's so committed to our program, to the university and to being a Tar Heel, and I know that he is 100 percent committed to being a Reggae Boy as well, playing with the senior national team with Jamaica or U-23s.
"He's a fully committed and well-balanced person, that's probably a lot of the reason that he's had success and why (his game) translates in different environments, because he is able to commit to the here and now of where he is. With Jamaica, he'll be 100 percent committed, but when he's with us, he's 100 percent committed to us."
Somoano trusts Holness, and the feeling is mutual.
"I do have thoughts to go pro (at the end of the 2015 season)," Holness said, "but it's something Carlos, my coach, and I will have to discuss toward the end of the season because eventually, I have 100 percent trust in him, and I think he will make the right judgment for me and my career — he will make the right decision when it comes to that."