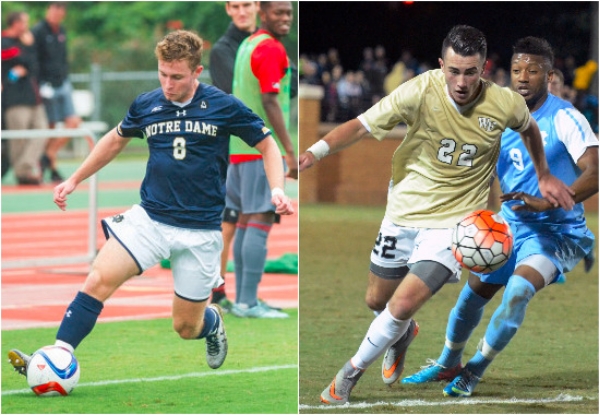 The regular season is slowly approaching its end for most Division I teams, and with tournament play around the corner, this is a crucial time for teams to kick it up a notch.
SBI No. 14 Notre Dame has struggled as of late, which is not what the 2013 College Cup winner wants with the tournament season upcoming. After starting the year with wins against South Florida, Clemson and Indiana, the Fighting Irish have not looked as impressive recently, tying four of their last five games.
Meanwhile, the Demon Deacons look like a real contender, especially after defeating North Carolina, 1-0, last Saturday. Freshman Jack Harrison has been playing lights out for Wake Forest in 2015, scoring four goals while assisting on nine others. Wake Forest has also outscored its opponents 33-6 through 14 games.
The teams are heading in different directions results-wise, but they will meet at Spry Stadium on Friday (7 p.m., ESPN3).
Across the country, No. 2 Stanford and UCLA battle for the second time in seven days. The Cardinal won the first meeting by a scoreline of 2-1 thanks to a game-winner from U.S. Under-23 Men's National Team forward Jordan Morris. He currently leads Stanford with six goals, and on the other side of the ball, Abu Danladi will be key if the Bruins want to find a win this time around.
On Saturday, two teams with already-impressive resumes have a chance to add another crucial win, as No. 10 South Florida and No. 15 SMU face off in an American Athletic Conference battle at Corbett Stadium. Junior forward Nazeem Bartman has led the Bulls' charge, scoring six goals and assisting five other ones this season.
For the Mustangs, sophomore Mauro Cichero has been a sensation. The 6-foot-3 forward has scored nine goals and assisted six times for SMU this campaign. Chichero comes from a family that has plenty of professional soccer experience, as his father and sibling have both played for the Venezuelan national team.
Here is a rundown of where all of the top teams will be playing during the eighth weekend in men's college soccer:
THIS WEEKEND'S COLLEGE SOCCER SCHEDULE
FRIDAY
7 p.m. – (3) Wake Forest vs. (14) Notre Dame
7 p.m. – (4) Clemson vs. (23) Boston College
7 p.m. – (5) North Carolina vs. Louisville
7 p.m. – (21) Syracuse vs. North Carolina State
7 p.m. – Virginia Tech vs. (11) Virginia
7 p.m. – Charlotte vs. South Carolina
7:30 p.m. – Maryland vs. (19) Washington
10 p.m. – UNLV vs. (12) Seattle
11 p.m. – (2) Stanford vs. UCLA
SATURDAY
12 p.m. – Western Michigan vs. (6) Akron
2 p.m. – Longwood vs. (8) Coastal Carolina
7 p.m. – St. John's vs. (9) Georgetown
7 p.m. – (10) South Florida vs. (15) SMU
7 p.m. – Hofstra vs. (18) Elon
7 p.m. – (13) Old Dominion vs. (23) Kentucky
7 p.m. – UC Santa Barbara vs. (25) Cal Poly
7 p.m. – Indiana vs. (20) Michigan
7 p.m. – Monmouth vs. Niagara
7 p.m. – Xavier vs. Marquette
8 p.m. – (1) Creighton vs. Villanova
10 p.m. – Portland vs. (7) Denver
SUNDAY
1 p.m. – (24) Rutgers vs. (16) Ohio State
4 p.m. – UNLV vs. Utah Valley University
5:30 p.m. – Grand Canyon vs. (12) Seattle