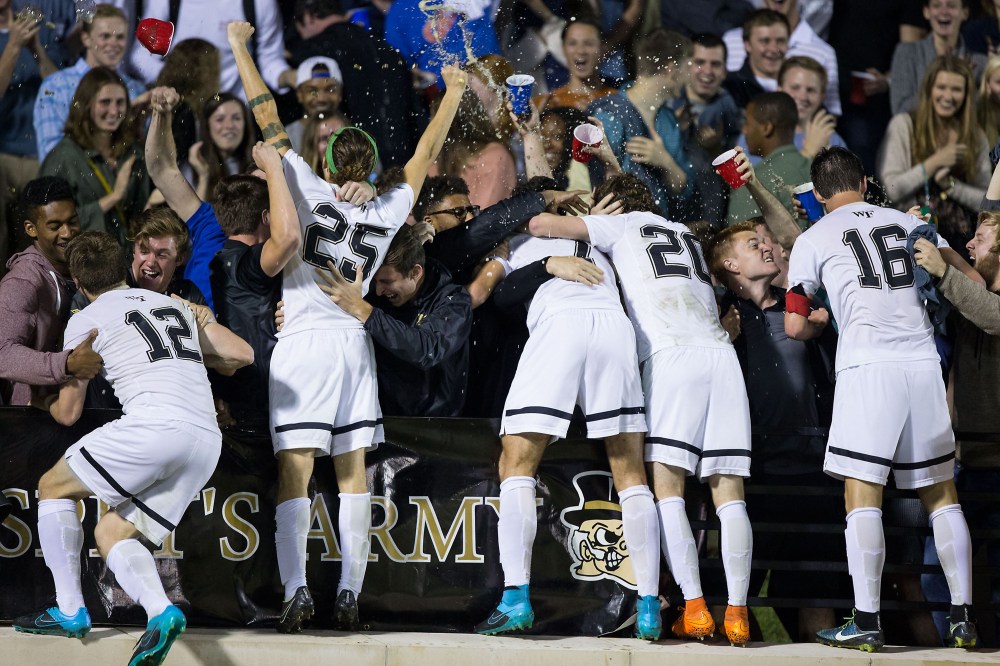 Every game in the condensed college soccer season is important, but the key to any successful season is to save your best soccer for the end of the year.
SBI No. 3 Wake Forest appears to be doing exactly that in 2015.
The Demon Deacons were losing by a scoreline of 1-0 against No. 14 Notre Dame at the start of the second half, but a equalizing goal from freshman star Jack Harrison and a 87th-minute tally from sophomore midfielder Jon Bakero saw the home side win its 12 game of the season at Spry Stadium.
Harrison, who has made a name for himself being more of a playmaker, tallied his fifth goal of the year, while Bakero's late game-winning strike was the sophomore's sixth.
Across the nation, No. 2 Stanford was unable to repeat its performance of a week ago, as the Cardinal had to settle for a 2-2 tie against rivals UCLA at home. Foster Langsdorf and Brandon Vincent scored for Stanford, but Abu Danladi found the scoresheet yet again, scoring in the first half before assisting Seyi Adekoya in the second.
Meanwhile, No. 1 Creighton cruised to a 5-1 victory against Marquette. Junior attacker Fabian Herbers scored his 12th goal of the year in the blowout.
Another college standout continued his fine form over weekend, as SMU forward Mauro Cichero scored his 10th goal of the season in a 2-2 tie with No. 10 South Florida.
Here are the results from this weekend's top teams in college soccer:
FRIDAY
(2) Stanford 2, UCLA 2. (RECAP)
(3) Wake Forest 2, (14) Notre Dame 1. (RECAP)
(4) Clemson 1, (23) Boston College 0. (RECAP)
(5) North Carolina 2, Louisville 1. (RECAP)
Virginia Tech 0, (11) Virginia 1. (RECAP)
UNLV 2, (12) Seattle 3. (RECAP)
Maryland 1, (19) Washington 0. (RECAP)
(21) Syracuse 2, North Carolina State 1. (RECAP)
Charlotte 2, South Carolina 0. (RECAP)
SATURDAY
(1) Creighton 5, Villanova 1. (RECAP)
Western Michigan 1, (6) Akron 1. (RECAP)
Portland 0, (7) Denver 0. (RECAP)
Longwood 1, (8) Coastal Carolina 2. (RECAP)
St. John's 0, (9) Georgetown 1. (RECAP)
(10) South Florida 2, (15) SMU 2. (RECAP)
(13) Old Dominion 0, (23) Kentucky 0. (RECAP)
Hofstra 1, (18) Elon 0. (RECAP)
Indiana 1, (20) Michigan 0. (RECAP)
UC Santa Barbara 2, (25) Cal Poly 2. (RECAP)
Monmouth 5, Niagara 3. (RECAP)
Xavier 1, Marquette o. (RECAP)
SUNDAY
Grand Canyon 0, (12) Seattle 1. (RECAP)
(24) Rutgers 1, (16) Ohio State 0. (RECAP)
UNLV 2, Utah Valley University 1. (RECAP)