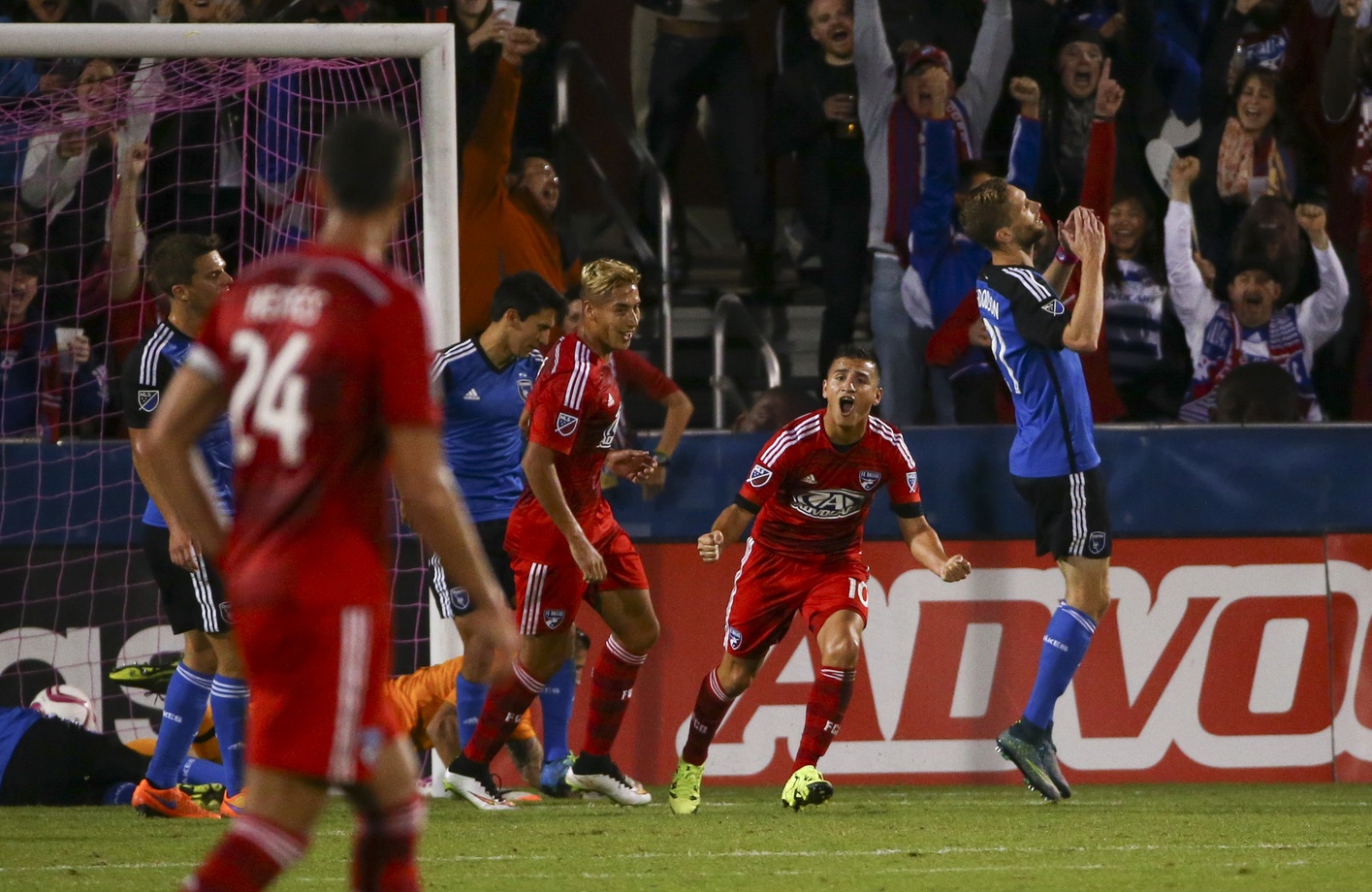 The San Jose Earthquakes took an early lead to keep their playoff hopes alive on Decision Day, but the quality and attacking talent of the stars from FC Dallas came through in the end.
Oscar Pareja's Dallas side came from behind in a 2-1 home victory over Dom Kinnear's Earthquakes on Sunday night. Quincy Amarikwa struck first on the night, but Dallas rallied through Mauro Diaz and a late winner from Victor Ulloa to end their strong season.
Amarikwa fought his way to a goal in the 13th minute to put his side up. Chris Wondolowski chested a ball for Amarikwa to run onto just outside the box, where Amarikwa fended off his first man and then pushed another off the ball before firing a low shot to the far post.
Diaz equalized for Dallas after a scramble in the 38th minute. Fabian Castillo received the ball on the left flank, beat his man and whipped in a driven cross on the ground in front of goal. Shaun Francis had a chance to clear the ball from his box, but he couldn't get it out from under his legs, and Diaz fired it into the empty net.
The Earthquakes went down to 10 men in the 67th minute after a red card to Matias Perez Garcia. Garcia got into a scuffle with Diaz off the ball, but retaliated with a hit to the back of the Dallas player's head to earn his ejection.
In the 79th minute, Dallas capitalized on their man advantage and scored the game-winner through Ulloa. Clarence Goodson failed to clear a weak ball in from Diaz, and Castillo intercepted the ball and played Ulloa through to make the score 2-1 over the Earthquakes.
With the result, Dallas finishes as the top team in the Western Conference, but a win from the New York Red Bulls kept the it from the Supporters' Shield. On the other side, the Earthquakes stayed put in seventh place, just outside the final playoff spot in the West.
Dallas will bypass the midweek round of postseason matchups, riding their first-place finish to a first-round bye.