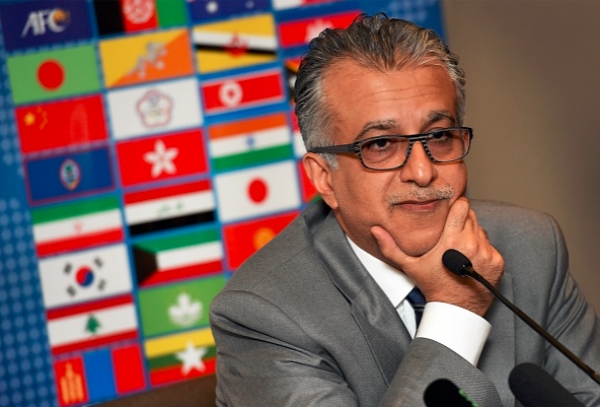 The campaign period to become the next FIFA president has only just started, yet one candidate is already having to fight allegations.
Presidential hopeful Sheikh Salman bin Ibrahim Al Khalifa, 49, issued a strong statement of denial in response to claims that he helped human rights abuses after pro-democracy protests in Bahrain during 2011.
According to the Associated Press more than 150 athletes and sports officials were detained during the protests, and some even claimed that they were tortured by government officials. According to the claims, Sheikh Salman, who was the head of the Bahrain Football Association during the protests, chaired a panel which identified certain soccer players and other athletes in order to send them to jail.
"Recent allegations are entirely false and categorically denied by Sheikh Salman," his campaign office said in a statement.
"For the record," the statement continues, "and in light of the recycling of historic allegations in the media, Sheikh Salman had absolutely no involvement in the identification, investigation, prosecution or mistreatment of any individuals as has been alleged."
Sheikh Salman, who is the current president of the Asian Football Confederation, is one of seven candidates in the running to become the next FIFA president. The election will be held on Feb 26.
Here are some more news and notes:
FORMER CHELSEA DOCTOR EVA CARNEIRO SUES CLUB
Former Chelsea team doctor Eva Carneiro is ready to take her matter and the club to court.
Carneiro's lawyers served Chelsea a notice Thursday that she intends to seek a constructive dismissal claim, according to Press Association Sport. Carneiro and the club have not reached a settlement thus far, and unless one is made out of court, a hearing will take place.
After Jose Mourinho criticized her and team physio John Fearn on Aug. 8, the doctor was removed from first-team duties. The Chelsea boss has been cleared by the English Football Association of any wrongdoing, which includes discriminatory language, but Carneiro has been critical of the FA's investigation into the matter.
"I wonder whether this might be the only formal investigation in this country where the evidence of the individuals involved in the incident was not considered relevant. Choosing to ignore some of the evidence will surely influence the outcome of the findings," Carneiro said earlier this month.
"Last season I had a similar experience at a game at West Ham FC, where I was subject to verbal abuse. Following complaints by the public, the FA produced a communication to the press saying there had been no sexist chanting during this game. At no time was I approached for a statement despite the fact that vile, unacceptable, sexually explicit abuse was clearly heard."
MARTIN ODEGAARD WANTS LOAN FROM REAL MADRID
The 16-year-old playmaker from Norway is not seeing as many minutes as he would like at Real Madrid, and he wants a move.
According to Marca, Martin Odegaard is not satisfied with simply training with the first team, and he is hoping for a loan deal to happen during the January transfer window because he is disappointed with the lack of minutes head coach Rafa Benitez has given him this year.
Odegaard has only appeared twice for Real Madrid under Benitez, with both of those matches coming during the preseason. He does not believe playing with the B-team, Real Madrid Castilla, in Segunda Division B, the third tier of Spanish soccer, will help his development, according to Marca.
QUICK KICKS:
Referee Cagatay Sahan and his assistants were locked in the Turkish Trabzonspor stadium for several hours after he called a controversial late penalty. (REPORT)
Aston Villa captain Micah Richards thought Tim Sherwood "was on to a really good thing" before he was let go by the club board. (REPORT)