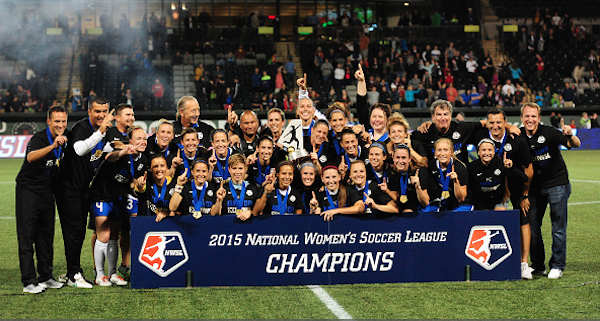 By FRANCO PANIZO
Lauren Holiday is riding off into the sunset as a champion.
Holiday and her club, FC Kansas City, successfully defended their NWSL title by winning the championship match, 1-0, against the Seattle Reign on Thursday night. Amy Rodriguez scored the lone goal in the 78th minute of the match played at Providence Park in Portland, Oregon.
The triumph marked the second straight year that Kansas City defeated Seattle in the NWSL final. The Blues won the 2014 title game, 2-1. The 2015 championship also came a day after MLS outfit Sporting Kansas City beat the Philadelphia Union in the U.S. Open Cup final.
Holiday, who announced her retirement plans shortly after helping the U.S. Women's National Team win the World Cup this summer, went the distance in her last game as a professional. The veteran midfielder was almost stretchered off the field shortly after Rodriguez's headed winner, but she walked off the field under her own power before getting back on to help close out the match.
FC Kansas City's goal came following a cross from Heather O'Reilly, making the club the back-to-back champion of the NWSL.
What do you think about FC Kansas City winning the NWSL over the Reign? How happy are you to see Holiday retire as a champion? Is Kansas City the U.S. Soccer capital right now?
Share your thoughts below.