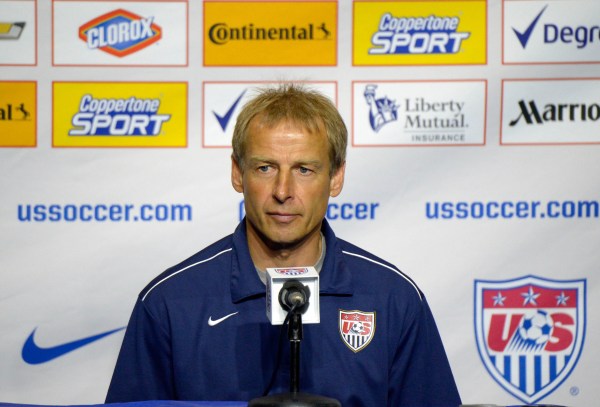 photo by Kirby Lee/USA Today Sports
By FRANCO PANIZO
It has been far from a banner year for the U.S. Men's National Team, and pressure is really ramping up as a result.
The U.S. will play its biggest game since last summer's World Cup this Saturday by facing off with arch-rival Mexico in the CONCACAF Cup. A berth to the 2017 Confederations Cup in Russia and bragging rights will be up for grabs, meaning that this match at the Rose Bowl in Pasadena, California, holds more weight than all the others the Americans have played this year.
This highly-anticipated affair would have been avoidable had the U.S. won a second consecutive CONCACAF Gold Cup this summer, but Jurgen Klinsmann's side flamed out of the competition by losing in the semifinals. Adding insult to injury and further hurting a bruised ego was the fact that the Americans lost the third-place game to Panama via penalty kicks, leaving the U.S. without a top-three finish in the regional tournament for the first time since 2000.
The lack of success at the Gold Cup and the poor and, frankly, erratic performances throughout left many U.S. fans to call for Klinsmann's head. U.S. Soccer president Sunil Gulati has publicly stuck by Klinsmann in the aftermath of that failure, but the displeased voices have only grown louder, with some – like retired player Landon Donovan – coming out and saying this week that Klinsmann should get the axe if he does not win this weekend.
There might be those on the outside that believe that such a move would be overreacting, but, in all honesty, it wouldn't be.
The U.S. has looked far from a cohesive team this year, with performances being anything but consistent. There were a couple of solid showings in come-from-behind wins against the Netherlands and Germany in June and a strong one prior to that vs. Mexico's B Team in April, but the momentum from all that was killed off by a subpar Gold Cup group-stage campaign and subsequent shock elimination to Jamaica in the semifinals.
Losing happens – this is pro sports, after all – but the way in which the U.S. has gone about its business is concerning. There has been no semblance of an identity on the field for the Americans this year. No set style of play. Some players even talked last month about the U.S. losing a bit of its never-say-die attitude. The constant tinkering with lineups and rosters from Klinsmann surely has not helped.
Klinsmann has picked up several good results in his tenure as U.S. coach doing things his way, but there is no denying that he has struggled for consistent performances and victories in 2015 in games that either matter or are against equal or superior opposition. That has put the direction of the program into question, especially since World Cup qualifying is around the corner.
If Klinsmann adds to this year's woes with another major letdown on Saturday, he should absolutely be fired. Not only would a defeat be the latest in a series of major setbacks for the U.S., but it would also mean that the Americans miss out on competing in a tournament in the 2017 Confederations Cup that Klinsmann has stressed as being important.
That lack of success would cost Klinsmann his job in most other nations across the world. Heck, former U.S. head coach Bob Bradley  was fired more or less for the same thing four years ago.
The 51-year-old Klinsmann should, however, be surpassing, not matching what Bradley did. Klinsmann has to be held to a higher standard because he is being paid more handsomely – much more handsomely – and has talked a big game about changing the U.S. into a team that is more proactive and less reactive.
How then can Klinsmann explain the U.S. being outshot 36-17, per U.S. Soccer statistics, against Honduras, Haiti, and Panama in the group stage of the Gold Cup four years into his tenure? That's a mind-blowing statistic on its own, and even more astonishing given the homefield advantage the U.S. had in the tournament, and the talent superiority the Americans possess.
How can Klinsmann also continuously ignore attack-minded players who are putting up good numbers in MLS like Benny Feilhaber, Sacha Kljestan, and Lee Nguyen in favor of Mix Diskerud, Alfredo Morales, and Kyle Beckerman? That demonstrates a confusing contradiction in the coach's own ideas.
All this could still be somewhat overlooked if the U.S. was getting better results, but it isn't. Beating Germany and the Netherlands in friendlies is nice, but is it that much better than, say, topping Spain in the Confederations Cup? Yes, you can point to getting out of a tough group in the 2014 World Cup as an accomplishment, but the end result of being bounced out in the Round of 16 was exactly the same as it was four years prior.
Klinsmann with his experience and knowledge is supposed to elevate the U.S. program, and there are no real signs that he is doing that. He has expanded the player pool, introduced new ideas, and challenged the status quo, but it has not translated consistently on the field, especially not this year.
There has been talk from Klinsmann about helping transform the U.S. into a soccer-crazed nation, one in which a lack of results leads to intense scrutiny, pressure, and occasional changes.
That is all slowly beginning to happen, so Klinsmann better deliver on Saturday vs. Mexico. He would deserve to be fired otherwise. Even if he won't be.