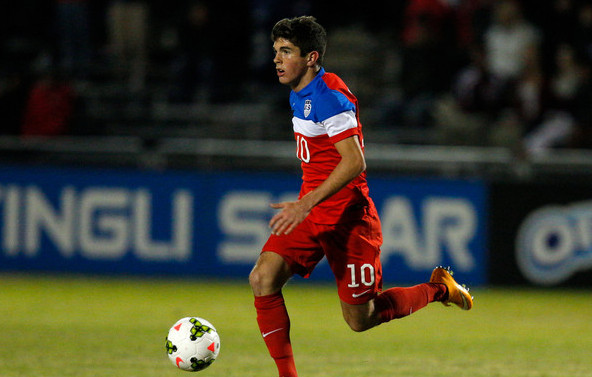 By SBI SOCCER
U.S. Under-17 Men's National Team head coach Richie Williams has named his squad for the upcoming U-17 World Cup.
Forward Haji Wright, midfielder Christian Pulisic and defender Danny Barbir headline the 21-man roster bound for Chile. The U.S. is set to kick off the tournament against Nigeria on Oct. 17 before taking on Croatia and Chile on Oct. 20 and 23, respectively.
"I think it's a pretty well-rounded roster," Williams said in a release. "When you look over the two-plus years we've been together, we've had the ability to push forward and score goals with a lot of talented attacking players, but also on the defensive end we've had a lot of great games where we've defended well.
"We were able to play a good amount of international matches and domestic matches, and we hope through all of those experiences we have a really balanced team of 21 players that comes together and gets positive results."
The roster features all nine of the U-17s goalscorers from throughout 2015, including leading scorer Josh Perez. Overall, 20 players on the roster were a part of the team that defeated Jamaica in March to seal World Cup qualification.
Take a closer look at the roster below:
GOALKEEPERS: Eric Lopez (LA Galaxy II; Westminster, Calif.), William Pulisic (Richmond United; Mechanicsville, Va.), Kevin Silva (Players Development Academy; Bethlehem, Pa.)
DEFENDERS: Tyler Adams (New York Red Bulls II; Wappinger Falls, N.Y.),Hugo Arellano (LA Galaxy Academy; Norwalk, Calif.), Danny Barbir (West Bromwich Albion; Allentown, Penn.), Tanner Dieterich (Real Salt Lake Academy; Nashville, Tenn.), John Nelson (Internationals; Medina, Ohio), Matthew Olosunde (New York Red Bulls Academy; Trenton, N.J.), Auston Trusty (Philadelphia Union Academy; Media, Pa.), Alexis Velela (New York Cosmos; San Diego, Calif.)
MIDFIELDERS: Eric Calvillo (Real So Cal; Palmdale, Calif.), Luca de la Torre (Fulham F.C. San Diego, Calif.), Thomas McCabe (Players Development Academy; South Orange, N.J.), Christian Pulisic (Borussia Dortmund; Hershey, Pa.), Alejandro Zendejas (FC Dallas; El Paso, Tex.)
FORWARDS: Pierre da Silva (Orlando City SC Academy; Port Chester, N.Y.), Joe Gallardo (C.F. Monterrey; San Diego, Calif.), Josh Perez (Unattached; La Habra, Calif.), Brandon Vazquez (Club Tijuana; Chula Vista, Calif.), Haji Wright (New York Cosmos; Los Angeles, Calif.)
—-
What do you think of the roster? Any standouts? Which players do you see making a major impact in Chile?
Share your thoughts below.