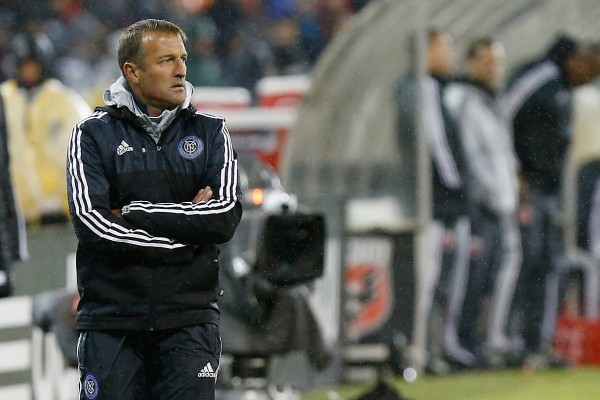 A frustrating first year at the helm of New York City FC might also be Jason Kreis' last.
SI.com reported on Wednesday that Kreis is at risk of losing his job, and could be replaced by famous former French player Patrick Vieira. No decision has been made on Kreis' future, but the report states that the 39-year-old Vieira has been interested in finding a head-coaching job.
NYCFC has already missed out on the playoffs despite there still being a week left in the MLS regular season, and has compiled a disappointing 10-16-7 record under Kreis. The expansion club has been plagued by injuries and inconsistent performances throughout the year, and not even having three big-name Designated Players could help New York City enjoy a successful campaign on the field.
If Kreis winds up being replaced by Vieira, NYCFC would have a World Cup winner leading the charge. Vieira, who has a coaching job with NYCFC's parent club Manchester City, won the 1998 tournament with France. He has not previously been a manager of a club, however.
NYCFC closes out its first year on Sunday with a home game vs. the New England Revolution.
What do you think of Kreis potentially being replaced by Vieira? Think Kreis should be fired but replaced with someone else? Should NYCFC give Kreis another year?
Share your thoughts below.