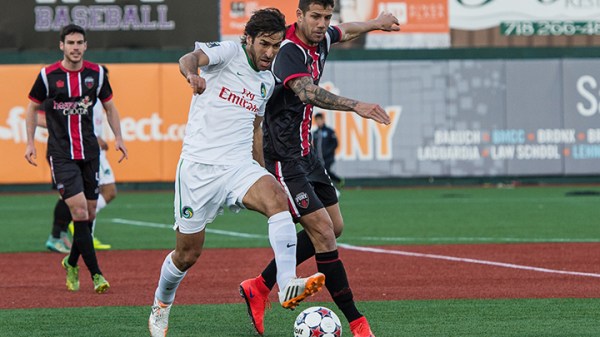 By SBI SOCCER
Raul's 21-year career is set to come to an end.
The New York Cosmos announced Thursday that Raul will officially retire at the end of the NASL season in November. The Spanish star's retirement puts an end to an illustrious career that saw Raul feature for Real Madrid, Schalke and Al Sadd prior to joining the Cosmos ahead of the 2015 season.
"When I signed for the New York Cosmos in December, I said I would evaluate how I felt towards the end of the year and assess whether I would continue to play," Raul said. "My decision is to retire from playing at the end of this season. I am fully focused on finishing the season strong and helping the New York Cosmos win the NASL Championship. In the coming months I will decide the next step in my career.
"Playing soccer has been part of my life for so long and the decision to retire is not an easy one but I believe it is the right time. I'm thankful to everyone who has supported me throughout my career and I look forward to playing my final games with the New York Cosmos over the coming weeks."
Raul has scored seven goals in 26 NASL appearances this season while leading the Cosmos to a Spring Season title. The Cosmos have two games remaining in the regular season before postseason play begins.
Upon his signing last year, Raul stated his intentions of helping the Cosmos develop young talent, although it is yet to be revealed what his role will be with the club going forward.
Internationally, Raul retires as Spain's second all-time leading scorer with 44 goals in 102 appearances. With Real Madrid, Raul netted 228 goals, second to only Cristiano Ronaldo in club history, in 550 appearances for the Spanish club. Raul's scoring record is good for fifth-best in La Liga history.
"Raúl is one of the world's most iconic players," said Cosmos head coach Giovanni Savarese. "I knew when we signed him what he would bring on pitch but his knowledge, passion, professionalism and commitment has exceeded my expectations.
"In less than a year, Raúl has become a big part of the team and he will always remain part of the Cosmos family."
Raul and the Cosmos return to action October 24 against the San Antonio Scorpions.
What do you think of Raul's retirement? How will the Cosmos fare without him next season? What do you expect the Spanish star's next step to be?
Share your thoughts below.