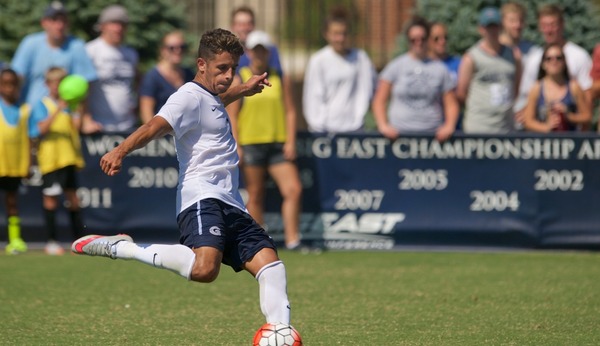 Georgetown is back.
After starting as the SBI College Soccer Preseason No. 1 and subsequently failing to post a win or goal in its first three games, Georgetown has won eight out of its last nine and has not lost since Sept. 4 against Akron.
The Hoyas move up two spots to No. 8 in this week's edition of the SBI College Soccer Top 25, while Virginia and Coastal Carolina fall outside of the Top 10 after posting losses this past week.
Following a pair of defeats in a five-day span, the Cavaliers drop to No. 14, while the Chanticleers slip to No. 11.
South Florida and Elon make the biggest jumps up the ladder, as the Bulls move to 12th after being 19th in last week's rankings and the Phoenix is now 15th after coming in at 22nd last week.
Meanwhile, Maryland and American jump back into the Top 25. The Terrapins have enjoyed back-to-back wins and can further bolster their resume with an important meeting with Indiana upcoming.
Here is a look at the SBI College Soccer Top 25 for Oct. 16:
SBI COLLEGE SOCCER TOP 25
1. (1) CREIGHTON (13-0)
2. (2) NORTH CAROLINA (11-0-1)
3. (3) STANFORD (9-1-1)
4. (5) CLEMSON (10-1-2)
5. (4) WAKE FOREST (9-1-2)
6. (7) NOTRE DAME (8-2-3)
7. (9) AKRON (9-2-1)
8. (10) GEORGETOWN (8-2-2)
9. (11) DENVER (10-0-2)
10. (13) OLD DOMINION (7-1-1)
11. (8) COASTAL CAROLINA (8-1-1)
12. (19) SOUTH FLORIDA (9-3)
13. (15) SYRACUSE (9-3-1)
14. (6) VIRGINIA (7-3-2)
15. (22) ELON (11-2)
16. (12) SEATTLE UNIVERSITY (10-3)
17. (20) HOFSTRA (10-3)
18. (NR) BOSTON COLLEGE (8-3-1)
19. (21) SMU (9-2-2)
20. (14) UCSB (10-4-1)
21. (17) UNC-WILMINGTON (7-3-2)
22. (NR) NORTH CAROLINA STATE (7-2-3)
23. (NR) AMERICAN UNIVERSITY (9-4-1)
24. (NR) OHIO STATE (7-4-1)
25. (NR) MARYLAND (6-3-3)
———
HONORABLE MENTION
Kentucky (7-2-1), South Carolina (7-4-1), Omaha (7-3-1), Oregon State (7-4-1), Michigan (6-3-3), New Mexico (6-4-2), Xavier (7-4-1), UCLA (6-5), Indiana (7-4-1), Florida International (7-4)