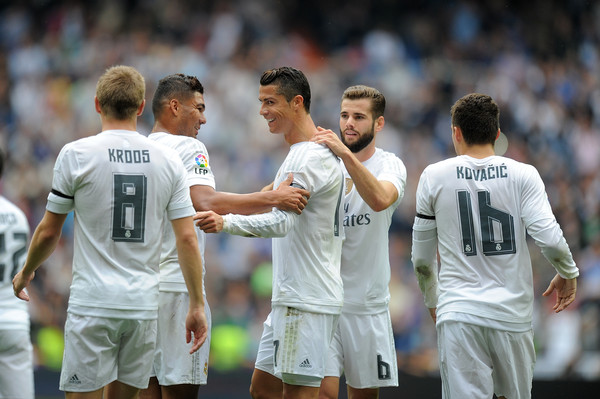 Whether it's the UEFA Champions League, CONCACAF Champions League or U-17 World Cup, Wednesday presents plenty of soccer action scattered throughout the day.
Kickstarting Wednesday's events is the UEFA Champions League, which is headlined by a matchup pitting Real Madrid against Paris Saint-Germain. Meanwhile, reigning runners-up Juventus take on Borussia Monchengladbach while Manchester United takes on CSKA Moscow.
In CCL play, the LA Galaxy look to secure the top overall seed of the knockout rounds with a win over CSD Comunicaciones while Tigres and Herediano battle for advancement.
Elsewhere, the U-17 World Cup returns to action with for games, headlined by Germany's clash with Argentina. In North America, domestic soccer also boosts some crucial matchups as Sporting KC takes on the Colorado Rapids in MLS play, while the Jacksonville Armada take on Ottawa Fury FC and the San Antonio Scorpions take on the Fort Lauderdale Strikers in NASL action.
If you will be watching today's soccer, please feel free to share your thoughts, opinions and some play-by-play in the comments section below.
Enjoy the action (Here is today's Soccer TV schedule):
2:45 p.m. – ESPN 3 – Malmo vs. Shakhtar Donetsk
2:45 p.m. – Fox Deportes – Real Madrid vs. Paris-Saint Germain
2:45 p.m. – Fox Sports 2 – CSKA Moscow vs. Manchester United
2:45 p.m. – ESPN 3 – Wolfsburg vs. PSV Eindhoven
2:45 p.m. – ESPN 3 – Atletico Madrid vs. Astana
2:45 p.m. – ESPN 3 – Galatasaray vs. Benfica
2:45 p.m. – ESPN 2 – Juventus vs. Borussia Monchengladbach
2:45 p.m. -ESPN Deportes – Manchester City vs. Sevilla
4 p.m. – Fox Soccer 2Go – Belgium U-17 vs. Honduras U-17
4 p.m. – Fox Soccer 2Go – Australia U-17 vs. Mexico U-17
5 p.m. – ESPN 3 – Columbia vs. Wingate
5 p.m. – ESPN 3 – Northern Kentucky vs. Oakland
6 p.m. – ESPN 3 – Valparaiso vs. Milwaukee
7 p.m. – Fox Soccer Plus – Ecuador U-17 vs. Mali U-17
7 p.m. – Fox Sports 2 – Germany U-17 vs. Argentina U-17
7 p.m. – ESPN 3 – Niagara vs. Canisius
7 p.m. – ESPN 3 – Cleveland State vs. Wright State
7 p.m. – ESPN 3 – Manhattan vs. Monmouth
7:30 p.m. – ESPN 3 – Fort Lauderdale Strikers vs. San Antonio Scorpions
7:30 p.m. – ESPN 3 – Jacksonville Armada vs. Ottawa Fury FC
8 p.m. – UniVision Deportes – Tigres UANL vs. Herediano
8:30 p.m. – MLS Live – Sporting KC vs. Colorado Rapids
9 p.m. – ESPN Deportes – Atlas vs. Tijuana
10 p.m. – Fox Soccer Plus – CSD Comunicaciones vs. LA Galaxy