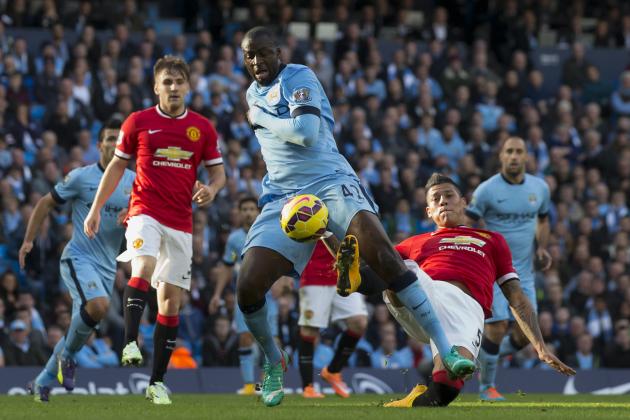 The Manchester derby returns this weekend with a little extra flavor as two of the top teams in the English Premier League will battle for league supremacy to go along with some bragging rights.
Sitting atop the English table with 21 points is Manchester City, which will look to avenge a 4-2 loss back in April at Old Trafford, while Louis van Gaal's squad — which trails City by two points — will try to build on the momentum of a 3-0 win over Everton in last weekend's fixture.
Meanwhile, the FIFA U-17 World Cup will wrap up its group stage, and the U.S. will most likely need a win against host nation Chile and some help from the group-leading Nigeria in its game against second-place Croatia in order to advance to the knockout phase.
Elsewhere, Atlético Madrid-Valencia and Fiorentina-Roma provided two of the more enticing matchups in Europe while MLS wraps up its regular season.
Here is a rundown of all the soccer action on TV for this weekend:
FRIDAY
FIFA U-17 WORLD CUP
4 p.m. — Fox Sports 1/Fox Sports Go/Fox Soccer 2Go/NBC Deportes en Vivo Extra — Korea Republic vs. England
4 p.m. — Fox Soccer Plus/Fox Soccer 2Go/NBC Deportes en Vivo Extra — Guinea vs. Brazil
7 p.m. — Fox Sports 2/Fox Sports Go/Fox Soccer 2Go/NBC Deportes en Vivo Extra — United States vs. Chile
7 p.m. — Fox Soccer Plus/Fox Soccer 2Go/NBC Deportes en Vivo Extra — Croatia vs. Nigeria
SPANISH LA LIGA
2:30 p.m. — beIN Sports en Español/beIN Sports Connect — Rayo Vallecano vs. Espanyol
GERMAN BUNDESLIGA
2:30 p.m. — Fox Sports 2/Fox Sports Go — Hoffenheim vs. Hamburg SV
FRENCH LIGUE 1
2:30 p.m. — beIN Sports Connect — Lyon vs Toulouse
MEXICAN LIGA MX
8:30 p.m. — Univision Deportes — Veracruz vs. Toluca
10:30 p.m. — Azteca America — Santos Laguna vs. Cruz Azul
ENGLISH LEAGUE CHAMPIONSHIP
2:45 p.m. — beIN Sports USA/beIN Sports Connect — Rotherham United vs. Sheffield Wednesday
NCAA MEN
3 p.m. — Pac-12 Network — California vs. San Diego State
7 p.m. — YES Network/ESPN3 — Notre Dame vs. Wake Forest
7 p.m. — ESPN3 — Virginia vs. Virginia Tech
11 p.m. — Pac-12 Network — Stanford vs. UCLA
NCAA WOMEN
7 p.m. — Longhorn Network — Texas vs. Oklahoma
7 p.m. — Pac-12 Network — Washington vs. California
7 p.m. — SEC Network + — Ole Miss vs. Tennessee
8 p.m. — SEC Network + — Arkansas vs. Texas A&M
8 p.m. — SEC Network + — Kentucky vs. Auburn
8 p.m. — SEC Network + — Georgia vs. Vanderbilt
8 p.m. — SEC Network + — Missouri vs. Alabama
SATURDAY
FIFA U-17 WORLD CUP
3 p.m. — Fox Sports 2/Fox Sports Go/Fox Soccer 2Go/NBC Deportes en Vivo Extra — Ecuador vs. Belgium
3 p.m. — Fox Soccer Plus/Telemundo/Fox Soccer 2Go/NBC Deportes en Vivo Extra — Mali vs. Honduras
6 p.m. — Fox Soccer Plus/Fox Soccer 2Go/NBC Deportes en Vivo Extra — Argentina vs. Australia
6 p.m. — Fox Sports 2/Fox Sports Go/Fox Soccer 2Go/NBC Deportes en Vivo Extra — Germany vs. Mexico
ENGLISH PREMIER LEAGUE
10 a.m. — NBC Sports Live Extra — West Ham United vs. Chelsea
10 a.m. — NBC Sports Live Extra — Aston Villa vs. Swansea City
10 a.m. — USA Network/NBC Sports Live Extra — Leicester City vs. Crystal Palace
10 a.m. — NBC Sports Live Extra — Norwich City vs. West Bromwich Albion
10 a.m. — NBC Sports Live Extra — Stoke City vs. Watford
12:30 p.m. — NBC/NBC Sports Live Extra — Arsenal vs. Everton
SPANISH LA LIGA
10 a.m. — beIN Sports USA/beIN Sports en Español/beIN Sports Connect — Celta de Vigo vs. Real Madrid
12:15 p.m. — beIN Sports en Español/beIN Sports Connect — Granada vs. Real Betis
2:30 p.m. — beIN Sports en Español/beIN Sports Connect — Sevilla vs. Getafe
4:05 p.m. — beIN Sports en Español/beIN Sports Connect — Málaga vs. Deportivo La Coruña
GERMAN BUNDESLIGA
9:30 a.m. — Fox Sports 2/Fox Sports Go — Bayern Munich vs. Cologne
9:30 a.m. — Fox Soccer Plus/Fox Deportes/Fox Soccer 2Go — Bayer Leverkusen vs. VfB Stuttgart
9:30 a.m. — Fox Soccer 2Go — Darmstadt 98 vs. VfL Wolfsburg
9:30 a.m. — Fox Soccer 2Go — Mainz vs. Werder Bremen
9:30 a.m. — Fox Soccer 2Go — Hannover 96 vs. Eintracht Frankfurt
12:30 p.m. — Fox Sports 2/Fox Sports Go/Fox Deportes/Fox Soccer 2Go — FC Ingolstadt vs. Hertha Berlin
ITALIAN SERIE A
9 a.m. — beIN Sports Connect — Empoli vs. Genoa
Noon — beIN Sports USA/beIN Sports Connect — Carpi vs. Bologna
2:45 p.m. — beIN Sports USA/beIN Sports Connect — Palermo vs. Inter
FRENCH LIGUE 1
11 a.m. — beIN Sports Connect — Lorient vs. Stade de Rennes
2 p.m. — beIN Sports Connect — Gazélec Ajaccio vs. Nice
2 p.m. — beIN Sports Connect — Angers vs. Guingamp
2 p.m. — beIN Sports Connect — Montpellier vs. Bastia
MEXICAN LIGA MX
6 p.m. — Univision Deportes/Univision — Club América vs. Querétaro
8 p.m. — Univision Deportes — Monterrey vs. Tijuana
9:06 p.m. — NBC Universo/NBC Deportes en Vivo Extra — Pachuca vs. Morelia
9:30 p.m. — Azteca America — Atlas vs. Guadalajara
10 p.m. — ESPN Deportes — Dorados vs. Tigres UANL
ENGLISH LEAGUE CHAMPIONSHIP
7:30 a.m. — beIN Sports USA/beIN Sports en Español/beIN Sports Connect — Blackburn Rovers vs. Burnley
10 a.m. — beIN Sports Connect — Charlton Athletic vs. Brentford
NASL
7:30 p.m. — ESPN3/WatchESPN — Tampa Bay Rowdies vs. Carolina RailHawks
7:30 p.m. — ESPN3/WatchESPN — Indy Eleven vs. Fort Lauderdale Strikers
8 p.m. — ESPN3/WatchESPN — Minnesota United vs. Atlanta Silverbacks
8:30 p.m. — ESPN3/WatchESPN/One World Sports — San Antonio Scorpions vs. New York Cosmos
NCAA MEN
1 p.m. — ESPN3 — Milwaukee vs. Cleveland State
1 p.m. — ESPN3 — Green Bay vs. Northern Kentucky
7 p.m. — ESPN3 — Appalachian State vs. Georgia Southern
7 p.m. — ESPN3 — North Florida vs. Jacksonville
7 p.m. — ESPN3 — Detroit vs. Wright State
NCAA WOMEN
1 p.m. — ESPN3 — Valparaiso vs. Detroit
7 p.m. — ESPN3 — Illinois-Chicago vs. Youngstown State
7 p.m. — ESPN3 — Oakland vs. Cleveland State
7 p.m. — ESPN3 — Saint Peter's vs. Canisius
SUNDAY
ENGLISH PREMIER LEAGUE
8 a.m. — NBCSN/NBC Sports Live Extra — Sunderland vs. Newcastle United
10:05 a.m. — NBCSN/Telemundo/NBC Sports Live Extra — Manchester United vs. Manchester City
10:05 p.m. — DirecTV/NBC Sports Live Extra — Bournemouth vs. Tottenham
12:15 p.m. — NBC Sports Live Extra — Liverpool vs. Southampton
FIFA U-17 WORLD CUP
3 p.m. — Fox Sports 2/Fox Sports Go/Fox Soccer 2Go/NBC Deportes en Vivo Extra — France vs. Syria
3 p.m. — Fox Soccer Plus/Fox Soccer 2Go/NBC Deportes en Vivo Extra — Paraguay vs. New Zealand
6 p.m. — Fox Sports 2/Fox Sports Go/Fox Soccer 2Go/NBC Deportes en Vivo Extra — Costa Rica vs. Korea DPR
6 p.m. — Fox Soccer Plus/Fox Soccer 2Go/NBC Deportes en Vivo Extra — Russia vs. South Africa
SPANISH LA LIGA
7 a.m. — beIN Sports en Español/beIN Sports Connect — Levante vs. Real Sociedad
11 a.m. — beIN Sports en Español/beIN Sports Connect — Las Palmas vs. Villarreal
1:15 p.m. — beIN Sports USA/beIN Sports en Español/beIN Sports Connect — Barcelona vs. Eibar
3:30 p.m. — beIN Sports en Español/beIN Sports Connect — Atlético Madrid vs. Valencia
GERMAN BUNDESLIGA
10:30 a.m. — Fox Sports 2/Fox Sports Go — Borussia Dortmund vs. Augsburg
12:30 p.m. — Fox Sports 1/Fox Sports Go — Borussia Mönchengladbach vs. Schalke 04
ITALIAN SERIE A
7:30 a.m. — beIN Sports USA/beIN Sports Connect — Sampdoria vs. Hellas Verona
10 a.m. — beIN Sports USA/beIN Sports Connect — Juventus vs. Atalanta
10 a.m. — beIN Sports Connect — Milan vs. Sassuolo
10 a.m. — beIN Sports Connect — Udinese vs. Frosinone
1 p.m. — beIN Sports Connect — Fiorentina vs. Roma
1 p.m. — beIN Sports Connect — Lazio vs. Torino
3:45 p.m. — beIN Sports Connect — Chievo Verona vs. Napoli
FRENCH LIGUE 1
9 a.m. — beIN Sports Connect — Stade de Reims vs. AS Monaco
Noon — beIN Sports Connect — Lille vs. Marseille
Noon — beIN Sports Connect — Bordeaux vs. Troyes
4 p.m. — beIN Sports USA/beIN Sports Connect — Paris Saint-Germain vs. Saint-Étienne
MEXICAN LIGA MX
2 p.m. — Univision Deportes/Univision — Pumas UNAM vs. Chiapas
7 p.m. — Univision Deportes — Puebla vs. León
SCOTTISH CHAMPIONSHIP
8:30 a.m. — Fox Soccer 2Go — St. Mirren vs. Rangers
MLS
5 p.m. — YES Network/Fox Sports Go/DirecTV — New York City FC vs. New England Revolution
5 p.m. — DirecTV/MLS live — Montreal Impact vs. Toronto FC
5 p.m. — DirecTV/MLS Live — Philadelphia Union vs. Orlando City SC
5 p.m. — Fox Sports 1/Fox Sports Go/Fox Deportes — Columbus Crew vs. D.C. United
7 p.m. — ESPN/ESPN Deportes/WatchESPN/MLS Live — Sporting Kansas City vs. LA Galaxy
7 p.m. — DirecTV/ESPN3/MLS Live — Vancouver Whitecaps vs. Houston Dynamos
7 p.m. — DirecTV/MLS Live — Chicago Fire vs. New York Red Bulls
7 p.m. — DirecTV/ESPN3/MLS Live — Portland Timbers vs. Colorado Rapids
7 p.m. — DirecTV/ESPN3/MLS Live — FC Dallas vs. San Jose Earthquakes
7 p.m. — DirecTV/ESPN3/MLS Live — Seattle Sounders vs. Real Salt Lake
NASL
3 p.m. — ESPN3/WatchESPN — Edmonton vs. Jacksonville Armada
NCAA MEN
1 p.m. — ESPN3 — Notre Dame vs. Duke
1 p.m. — ESPN3 — Kent State vs. Toledo
1 p.m. — ESPN3 — Louisville vs. NC State
1 p.m. — ESPNU — Florida State vs. Virginia
1 p.m. — Big Ten Network — Rutgers vs. Ohio States
3 p.m. — ESPNU — Mississippi State vs. Alabama
6 p.m. — Pac-12 Network — California vs. UCLA
NCAA WOMEN
2 p.m. — Pac-12 Network — USC vs. Colorado
2 p.m. — SEC Network + — Missouri vs. Vanderbilt
3 p.m. — SEC Network + — Georgia vs. Auburn
3 p.m. — Big Ten Network — Michigan State vs. Indiana
5 p.m. — SEC Network + — Tennessee vs. Kentucky
5 p.m. — Longhorn Network — Texas vs. Baylor
6 p.m. — SEC Network + — Arkansas vs. Florida
7 p.m. — SEC Network + — Ole Miss vs. Texas A&M
8 p.m. — Pac-12 Network — Washington vs. Stanford
INTERNATIONAL FRIENDLY (WOMEN)
3 p.m. — Fox Sports 1/Fox Sports Go — United States vs. Brazil