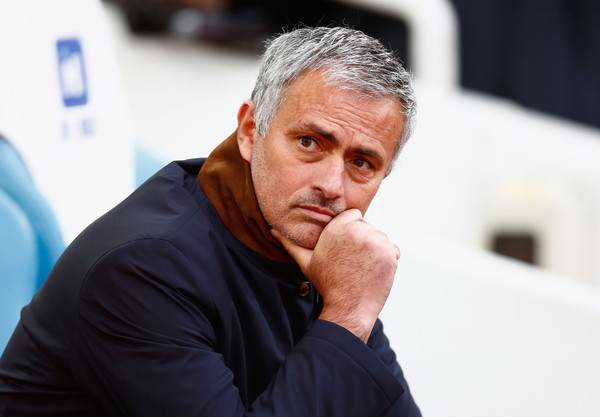 Chelsea has had a rough start to the English Premier League season, and it appears as though its head coach is already lining up his next job.
With the London-based club sitting in 15th out of 20 teams on the EPL table, manager Jose Mourinho has begun to create a contingency plan in case he is fired from his position with Chelsea. According to ESPN FC, his representatives are looking into the possibility of a move to Paris Saint-Germain or Inter Milan.
Chelsea has only secured 11 points through ten games, which includes five Premier League losses. Club owner Roman Abramovich is willing to give Mourinho more time to turn results around and in the favor of the Blues, but if the Portuguese boss were to go, his first choice would be PSG.
Meanwhile, Carlo Ancelotti has been suggested as a replacement for Mourinho at Chelsea, with the Italian manager currently available after he was relieved from his duties at Real Madrid in May.
Here are some more news and notes:
ALEXIS SANCHEZ WANTS TO BE ARSENAL'S HIGHEST PAID PLAYER
Alexis Sanchez has arguably been Arsenal's crucial key to success this season in the English Premier League, and he wants to be paid as such.
The 26-year-old Chilean international wants to forge a new contract with the Gunners, which will make him Arsenal's highest earner, a position currently held by German midfielder Mesuit Ozil. Sanchez and his agents want an increase on his $199,000-a-week (£130,000-a-week) wages, according to Goal.com.
In 10 EPL games for Arsenal this campaign, Sanchez has scored six times, but he is the third-highest earner, behind Ozil and Theo Walcott.
While Real Madrid has reportedly shown an interest in acquiring him, he apparently has no intention of leaving England for the time being.
EIGHT CANDIDATES IN RUNNING FOR FIFA PRESIDENCY
Deadline day to submit a bid into the running to become the next FIFA president has come and passed, and only eight men remain.
The candidates include David Nakhid, Prince Ali bin al-Hussein, Gianni Infantino, Sheikh Salman bin Ebrahim al-Khalifa, Musa Bility, Tokyo Sexwale, Jérôme Champagne and Michel Platini.
Gianni Infantino and Musa Bility were late additions to the group, while former FIFA secretary general Michel Zen-Ruffinen attained the required number of nominations, five, from federations in order to submit a bid, but he declined to enter.
Sepp Blatter's successor will not be be voted into his new position until Feb. 26, 2016, and the number of candidates is expected to thin out in the following months.
QUICK KICKS:
Chelsea head coach Jose Mourinho and coach Silvino Louro, along with West Ham, have been charged by the English FA following Saturday's match. (REPORT)
Brazilian star Ronaldinho said Neymar is his "heir" and "will do what other Brazilians who came before him did." (REPORT)
Dynamo Kiev is considering segregating black fans inside the stadium in order to prevent racism. (REPORT)