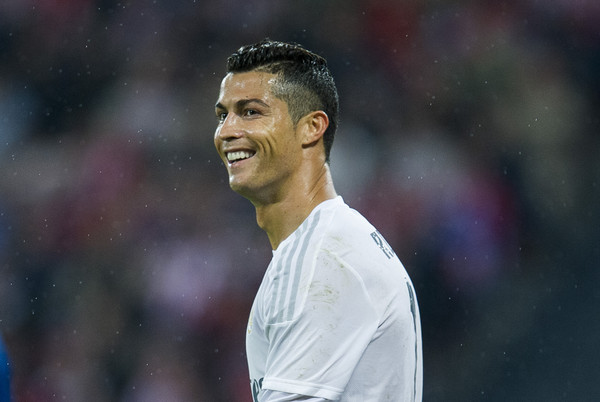 Cristiano Ronaldo knows that, one day, his illustrious career will come to an end. He just hopes that day comes as a remember of Real Madrid.
Ronaldo says that he wants to remain with the Spanish giant for as long as possible, while acknowledging that he believes he has five or six more years in him to compete at the top level. Currently, Ronaldo has three years remaining on his contract with the club.
"I want to win more. I still feel good, I feel young," Ronaldo said. "I am 30 and I want to play five or six more years, and in these years I want to do well and try and keep the level of recent seasons. I know that it gets harder all the time, but in my head it is possible.
"I want to win and I am at the best club in the world. Logically, I have a contract up to 33, and as I have said many times my dream was to finish here at Real Madrid, because I feel good, I feel useful, and I want to stay."
Here are some more news and notes to kick off your Wednesday morning:
FIFA CANDIDATE PRINCE ALI HOPES FOR NO ELECTION DELAY
FIFA presidential candidate Prince Ali bin al-Hussein hopes that the upcoming election goes on as scheduled.
The Jordan Football Association president, who was defeated by Sepp Blatter for the presidency earlier this year, says that the upcoming election must not be delayed. FIFA's Executive Committee is set to hold a meeting next week where the topic of delaying the election may be discussed, something Prince Ali is strongly opposed to.
"Recent events at FIFA have shown us that no one is above the law," Prince Ali said. "The Ethics Committee must now be allowed to do its work in a robust and timely fashion.
With FIFA's crisis deepening, the organization needs to move beyond interim leadership and elect an accountable president.
"Members of the FIFA Executive Committee should remember that Football Associations, players, coaches and fans the world over are watching. The Exco should not interfere with an ongoing process that was put in place by the ad hoc electoral committee. The election date of February 26 was set three months ago with a clear procedure that meets all of FIFA's statutory requirements. Candidates have had plenty of time to declare and still do. The rules should not be changed after the game has started."
ENGLAND, LITHUANIA CHARGED OVER CROWD TROUBLE AT QUALIFIER
Both England and Latvia are set to face punishment for the actions of their fans at a recent Euro 2016 qualifier.
UEFA is set to discipline both nations as a result of crowd issues in England's 3-0 win in Lithuania on Monday. Disturbances in the stands broke out ahead of kickoff, forcing riot police to enter the stands. The Lithuanian federation was also charged over ticket breaches, as well as blocked stairways. The cases will be heard on October 22.
"We were naturally concerned to witness scenes of disorder in Lithuania," said an English FA spokesman. "However, we must be clear that these incidents did not happen within the official England Supporters Travel Club area, where supporters who had bought tickets from the FA were housed.
"We would encourage the authorities to identify anybody involved in disorder and deal with them appropriately through the criminal system and with banning orders. We will, of course, fully co-operate with UEFA."
QUICK KICKS
Harry Redknapp says that Liverpool offered Carlo Ancelotti the club's managerial position before hiring Jurgen Klopp last week. (REPORT)
Victor Valdes' agent says the goalkeeper must leave Manchester United in January. (REPORT)
South African official Lindile Kika has been given a six-year ban for match fixing. (REPORT)
Former Liverpool striker Djibril Cisse has been arrested as part of an investigation into alleged blackmail regarding a sex tape. (REPORT)
—
What do you think of Ronaldo's statements? What do you expect from the FIFA elections? How would you handle crowd trouble like that seen in Lithuania-England?
Share your thoughts below.