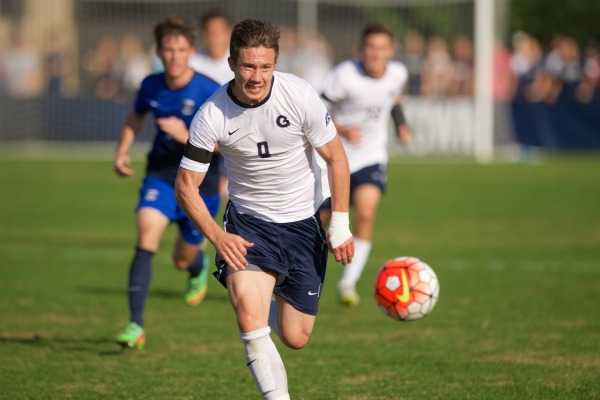 Chosen as the SBI College Soccer Preseason No. 1 team back in August, Georgetown failed to live up to the billing early on but blazed through the Big East Conference and is now right back on track.
The SBI No. 4 Hoyas now have a conference semifinals meeting with Xavier on the schedule for Thursday, while No. 7 Creighton and Providence face off in the second contest that day.
The Hoyas are currently on a tear, having won 13 of their previous 14 contests. Brandon Allen, who has a team-leading nine goals this campaign, has been red-hot for Georgetown, but so too has Alex Muyl. A New York Red Bulls Academy product, Muyl has assisted nine times during the 2015 season.
In order to keep the team's 11-game win streak going, though, they will both need to stay on their toes, as the Musketeers have shown the ability to take down top foes this season. Xavier has posted important wins against Notre Dame and Creighton this year, but in its only meeting with the Hoyas, they lost, 1-0, at home.
Elsewhere, the ACC semifinals kick off Wednesday. At Spry Stadium, No. 1 Wake Forest will ride the good form of freshman Jack Harrison and sophomore midfielder Jon Bakero, while the No. 14 Fighting Irish will hope senior Patrick Hodan and in-form defender Brandon Aubrey connect for the third straight game.
Here is a look at this week's tournament action:
ATLANTIC COAST CONFERENCE

Semifinals (Wednesday)
7 p.m. — Wake Forest vs. Notre Dame
7 p.m. — Clemson vs. Syracuse
——————
ATLANTIC 10 CONFERENCE
Quarterfinals (Thursday)
11 a.m. — George Washington vs. VCU
2 p.m. — Fordham vs. Massachusetts
5 p.m. — Dayton vs. Duquesne
8 p.m. — Saint Louis vs. Rhode Island
——————
AMERICA EAST CONFERENCE
Semifinals (Wednesday)
7 p.m. — Vermont vs. UMBC
7 p.m. — Albany vs. Binghampton
——————
BIG EAST CONFERENCE
Semifinals (Thursday)
2 p.m. — Georgetown vs. Xavier
8 p.m. — Creighton vs. Providence
——————
BIG SOUTH CONFERENCE
Quarterfinals (Tuesday)
7 p.m. — Campbell vs. Longwood
7 p.m. — Winthrop vs. UNC Asheville
7 p.m. — Radford vs. Gardner-Webb
7 p.m. — Coastal Carolina vs. High Point
——————
BIG WEST CONFERENCE
Semifinals
10 p.m. — Cal State Fullerton vs. Cal Poly
10 p.m. — UC Santa Barbara vs. UC Davis
——————
CONFERENCE USA
Semifinals (Wednesday)
2 p.m. — Old Dominion vs. FIU
4:30 p.m. — South Carolina vs. New Mexico
7 p.m. — Charlotte vs. Marshall
——————
HORIZON LEAGUE
First Round (Monday)
7 p.m. — Cleveland State vs. Detroit
7 p.m. — Northern Kentucky vs. Wright State
Semifinals (Thursday)
7 p.m. — Oakland vs. Winner of Match 1
7 p.m. — UIC vs. Winner of Match 2
——————
METRO-ATLANTIC CONFERENCE
Finals (Monday)
Rider 3, Monmouth 2. (RECAP)
——————
MISSOURI VALLEY CONFERENCE
First Round (Wednesday)
3 p.m. — Drake vs. Central Arkansas
6 p.m. — Missouri State vs. Loyola
——————
PATRIOT LEAGUE
First Round (Tuesday)
2 p.m. — American vs. Army
7 p.m. — Lehigh vs. Bucknell
——————
SUMMIT LEAGUE
Semifinals (Thursday)
6 p.m. — Omaha vs. Oral Roberts
9 p.m. — Denver vs. Western Illinois
——————
SUN BELT CONFERENCE

First Round (Thursday)
9 p.m. — Appalachian State vs. NJIT
——————
WESTERN ATHLETIC CONFERENCE

Thursday (First Round)
7:30 p.m. — UNLV vs. San Jose State
8:30 p.m. — Houston Baptist vs. CSU Bakersfield