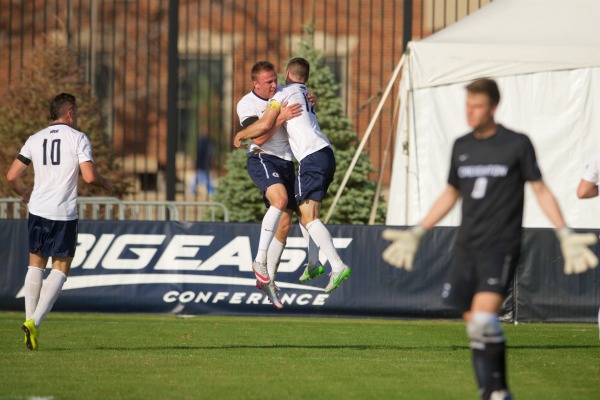 For most of the 2015 season, SBI No. 3 Creighton looked likely to go undefeated and claim the Big East Conference regular season title, but Georgetown made sure that didn't happen.
The SBI No. 9 Hoyas extended their unbeaten streak to 14 games while posting a 2-1 victory at Shaw Field to claim their fifth regular season title in program history on Thursday. Junior forward Brett Campbell tallied the first goal of the afternoon before Bluejays star Fabian Herbers scored his 14th goal of the season.
A Cole Seiler header in the 83rd minute would be the difference, as senior Keegan Rosenberry sent in an inch-perfect free kick to hand the visiting Bluejays their second loss in three games.
Across the country, SBI No. 1 Stanford had its 15-game unbeaten run snapped by Washington on Monday at Husky Soccer Field.
Sam Werner tallied for the visiting Cardinal during the 15th minute. It looked likely that the Huskies were to be routed at home, but Steven Wright scored from the penalty spot before halftime. Kyle Coffee eventually tallied the game-winner in the 64th minute after nutmegging a Cardinal defender on the left wing and sprinting into the penalty area.
Elsewhere, SBI No. 21 Ohio State claimed the Big Ten Conference regular season title with a decisive 3-1 win against rivals Michigan.
In the first round of the ACC Tournament, Louisville upset Duke, 2-1, in Durham, N.C., while Syracuse coolly topped NC State, 2-0, at home.
Here is a rundown of the results from all of the top teams during the week in men's college soccer:
MONDAY
Washington 2, (1) Stanford 1. (RECAP)
TUESDAY
(17) Kentucky 4, Detroit 0. (RECAP)
WEDNESDAY
Michigan State 1, (15) Indiana 4. (RECAP)
High Point 0, (7) Coastal Carolina 0. (RECAP)
(25) Maryland 3, (18) Rutgers 1. (RECAP)
(21) Ohio State 3, Michigan 1. (RECAP)
Elon 0, (24) Radford 2. (RECAP)
ACC TOURNAMENT (WEDNESDAY)
First Round
Duke 1, Louisville 2. (RECAP)
Syracuse 2, NC State 0. (RECAP)
THURSDAY
(9) Georgetown 2, (3) Creighton 1. (RECAP)
Butler 3, (19) Xavier 0. (RECAP)