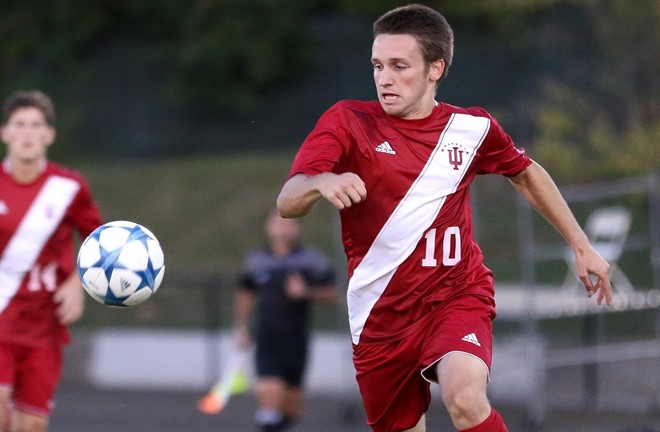 Tournament action in college soccer is here.
While a handful of leagues end regular season play over the weekend, many of the best sides from across the nation kick off or continue their conference tournament runs.
The ACC Tournament is packed with action, as all four quarterfinal games feature one, if not two, top teams. Notre Dame hosts Virginia in one of the four tasty Sunday matchups.
Meanwhile, the Big Ten and Big East tournaments kick off this weekend. Indiana, which has been in superb form as of late, hosts Wisconsin in one of Sunday's quarterfinal contests. Junior midfielder Tanner Thompson has done an excellent job playing provider for the Hoosiers, assisting nine times throughout the season thus far.
Dartmouth can be the first team to claim a spot in the NCAA's postseason tournament with a win against Cornell on Friday.
Here is a rundown of where all of the top teams will be playing during the 10th weekend in men's college soccer:
ATLANTIC COAST CONFERENCE

Quarterfinals (Sunday)
First Round
Duke 1, Louisville 2. (RECAP)
Syracuse 2, NC State 0. (RECAP)
Quarterfinals
1 p.m. — Wake Forest vs. Louisville
1 p.m. — Virginia vs. Notre Dame (ESPN3)
1 p.m. — Boston College vs. Clemson (ESPN3)
1 p.m. — Syracuse vs. North Carolina (ESPN3)
——————
AMERICAN ATHLETIC CONFERENCE
Quarterfinals (Saturday)
7 p.m. — Tulsa vs. UCF (STREAM)
7 p.m. — Temple vs. UConn (STREAM)
7 p.m. — Memphis vs. South Florida
8 p.m. — SMU vs. Cincinnati
——————
ATLANTIC SUN CONFERENCE
First Round (Thursday)
Jacksonville 2, USC Upstate 3. (RECAP)
Semifinals (Saturday)
7 p.m. — Lipscomb vs. North Florida
7 p.m. — FGSU vs. USC Upstate
——————
AMERICA EAST CONFERENCE
First Round (Saturday)
7 p.m. — UMBC vs. New Hampshire
7:30 p.m. — Stony Brook vs. Binghampton
——————
BIG EAST CONFERENCE
First Round (Sunday)
1 p.m. — Butler vs. Providence
1 p.m. — Xavier vs. DePaul
——————
BIG TEN CONFERENCE

First Round (Saturday)
1 p.m. — Michigan State vs. Penn State
Quarterfinals (Sunday)
1 p.m. — Rutgers vs. Northwestern (Big Ten Network)
1 p.m. — Maryland vs. Michigan (Big Ten Network)
1 p.m. — Indiana vs. Wisconsin (Big Ten Network)
4 p.m. — Ohio State vs. Winner of MSU/Penn State (Big Ten Network)
——————
BIG WEST CONFERENCE
First Round (Saturday)
3 p.m. — Cal Poly vs. UC Irvine
10 p.m. — CSUN vs. UC Davis
——————
COLONIAL ATHLETIC ASSOCIATION
Quarterfinals (Saturday)
7 p.m. — James Madison vs. Charleston (STREAM)
7 p.m. — UNC-Wilmington vs. Delaware (STREAM)
——————
METRO-ATLANTIC CONFERENCE
First Round (Thursday)
Siena 1, Niagara 0. (RECAP)
Quinnipiac 1, Canisius 0. (RECAP)
Manhattan 1, Saint Peter's 0. (RECAP)
Quarterfinals (Saturday)
11 p.m. — Marist vs. Siena
11:15 p.m. — Rider vs. Quinnipiac (ESPN3)
2 p.m. — Fairfield vs. Iona
2:15 p.m. — Monmouth vs. Manhattan (ESPN3)
Semifinals (Sunday)

11 a.m. — Winner of Game 3 vs. Winner of Game 4
2 p.m. — Winner of Game 1 vs. Winner of Game 2
——————
SOUTHERN CONFERENCE
Quarterfinals (Saturday)
11 a.m. — Mercer vs. VMI
7 p.m. — ETSU vs. Wofford
——————
COLLEGE WEEKEND REGULAR SEASON SCHEDULE

FRIDAY
5 p.m. — UCLA vs. Oregon State
10 p.m. — San Diego State vs. Washington
SATURDAY
12 p.m. — Florida International vs. Kentucky
4 p.m. — Dartmouth vs. Cornell
7 p.m. — Akron vs. Bowling Green
7 p.m. — IPFW vs. Denver
7 p.m. — South Carolina vs. Coastal Carolina
7 p.m. — Old Dominion vs. Marshall
9 p.m. — Utah Valley University vs. Seattle
SUNDAY
8 p.m. — UCLA vs. Washington