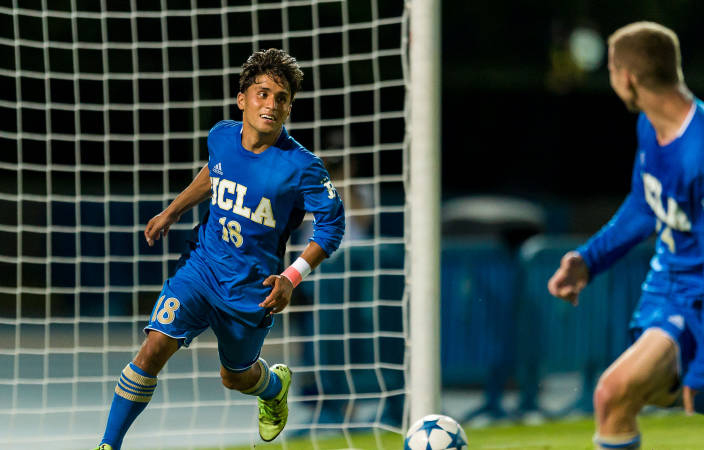 Many predicted UCLA to do well this season, and while those projections didn't pan out, per se, the Bruins pulled out an impressive victory against one of the nation's best teams Sunday.
The Bruins went into FirstEnergy Stadium – Cub Cadet Field and upset SBI No. 6 Akron, 4-2. UCLA (8-7-1) benefited from braces by Jose Hernandez and Seyi Adekoya, bringing both of their goal-scoring totals to 11 on the year.
Meanwhile, Abu Danladi, who has also had an exceptional season for the West Coast side and assisted three times on the day, brings his season assist total to eight. Zips playmaker Adam Najem tallied a goal of his own, and substitute Goncalo Soares added another for the home side, but UCLA claimed arguably its first important win of the season.
Meanwhile, the ACC regular season wrapped up over the weekend, and the conference's top teams had no issue closing out their successful campaigns. The must-see matchup between No. 5 North Carolina and No. 10 Virgina ended in a scoreless tie, however.
Across the nation, No. 1 Stanford coolly grabbed a 2-0 road win against Oregon State, with Slater Meehan and U.S. Under-23 Men's National Team forward Jordan Morris tallying the goals. The U.S. international striker has eight goals this season, which competes for one of the best totals across the country in spite of Morris having missed four games due to national team duty.
No. 3 Creighton bounced back with a 3-1 win against Providence, as Fabian Herbers scored once and assisted twice en route to the team's 16th win of the season.
Here are the results from this weekend's top teams in college soccer:
FRIDAY
Oregon State 0, (1) Stanford 2. (RECAP)
Louisville 2, (2) Wake Forest 4. (RECAP)
NC State 1, (4) Clemson 4. (RECAP)
(10) Virginia 0, (5) North Carolina 0. (RECAP)
Boston College 2, (16) Syracuse 1. (RECAP)
UMKC 3, UNLV 2. (RECAP)
SATURDAY
Providence 1, (3) Creighton 3. (RECAP)
(7) Coastal Carolina 0, (24) Radford 0. (RECAP)
(8) Denver 1, Eastern Illinois 0. (RECAP)
Villanova 1, (9) Georgetown 2. (RECAP)
(14) SMU 2, Temple 0. (RECAP)
Connecticut 2, (12) South Florida 1. (RECAP)
South Carolina 3, (13) Old Dominion 1. (RECAP)
(15) Indiana 1, Wisconsin 0. (RECAP)
Charlotte 1, (17) Kentucky 2. (RECAP)
(18) Rutgers 1, Omaha 0. (RECAP)
(19) Xavier 3, Seton Hall 0. (RECAP)
Pittsburgh 0, (20) Notre Dame 5. (RECAP)
(21) Ohio State 1, (25) Maryland 0. (RECAP)
Marist 2, (22) Monmouth 2. (RECAP)
UC Davis 0, (23) UC Santa Barbara 1. (RECAP)
Sacramento State 2, Cal Poly 4. (RECAP)
Florida International 0, New Mexico 0. (RECAP)
SUNDAY
(6) Akron 2, UCLA 4. (RECAP)
(11) Seattle 4, Incarnate Wood 2. (RECAP)
Holy Cross 0, American 1. (RECAP)
Air Force 2, UNLV 1. (RECAP)