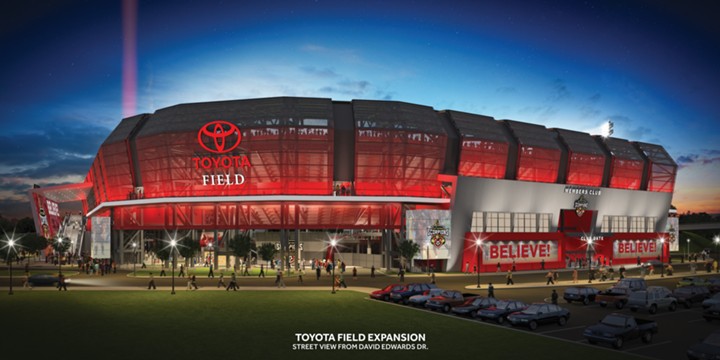 San Antonio might not be in the immediate plans when it comes to MLS expansion, but that is not stopping the city from preparing for a move to the league anyway.
The city of San Antonio, Bexar County and Spurs, Sports & Entertainment (SS&E) have reached an agreement to buy Toyota Field, home of NASL's San Antonio Scorpions, for a total of $21 million. Each of the two public entities will pay $9 million while SS&E will provide an additional $3 million to Scorpions owner Gordon Hartman, but government officials still have to give the deal the green light next week.
Part of the reason for the move to a soccer-specific stadium, which currently seats 8,296 fans but can be expanded to 18,500, is to help land an MLS franchise in the future. SS&E, which also owns the NBA's Spurs, will lease Toyota Field for 20 years and has half that time to win a spot in MLS.
"The Spurs will have to pay a penalty if they don't get there," Bexar county judge Nelson Wolff told the San Antonio Business Journal.
MLS currently has plans to expand to 24 teams by the end of the decade, but Atlanta, a second team in Los Angeles, Minnesota and Miami figure to occupy the four remaining slots. The league has not yet determined exactly when it will push past that number, but commissioner Don Garber said back in April that MLS will continue to grow.
What do you think about this development? See San Antonio landing an MLS franchise some time in the future? How soon do you think the Scorpions could join the league? At what number will MLS stop expanding?
Share your thoughts below.